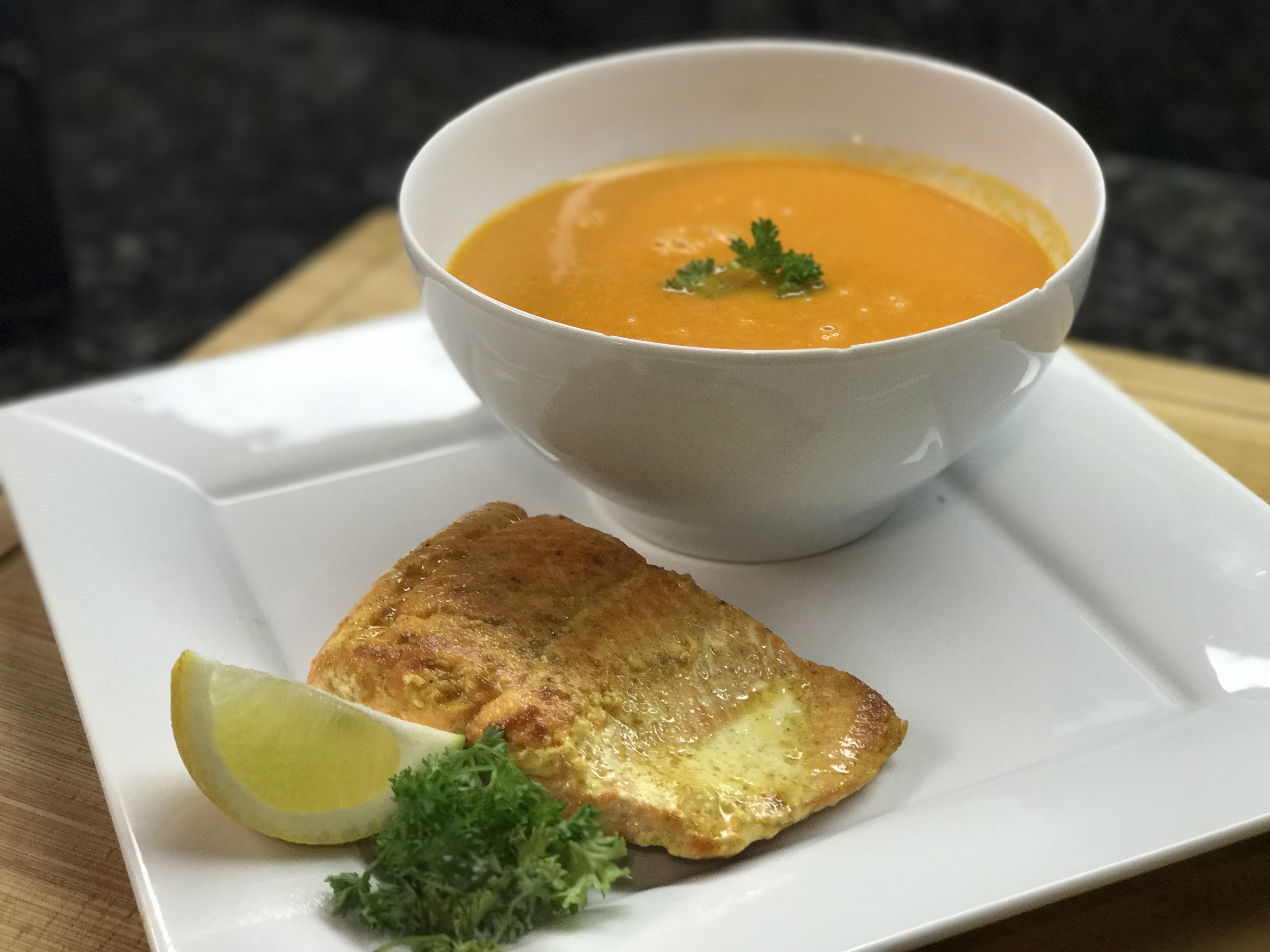 Coconut Tomato Bisque & Pan Fried Salmon:
Makes 3-4 servings
Cooking Time: 25 minutes
Salmon Ingredients:
3-4 6oz pieces of wild-caught salmon with skin on
1½ tsp curry powder
1 tsp garlic powder
Coconut Tomato Bisque Ingredients:
1 28oz can of crushed plum tomatoes
1¼ coconut milk, full fat
1¼ chicken or vegetable broth
½ yellow onion
1½ tsp curry powder
Equipment:
Standard or Immersion Blender
Directions:
In a small bowl, combine the salt, oil, garlic and curry powder. Brush or spoon over each piece of salmon, and turn a non-stick skillet over medium-high heat. Sear the salmon skin side down first for about 2 minutes until crispy and meat begins to turn opaque, then flip and finish cooking until salmon is firm by flaky and opaque up the sides.
In a pot, add the coconut oil, sliced onion, curry powder, and salt. Cook on medium until onions are translucent. Add tomato, broth and coconut milk, bring to a simmer and let cook for another 10 minutes. Taste and add seasoning if needed. Puree with an immersion blender or transfer to a blender carefully, then puree.
***Always opt for organic for any of the ingredients above when possible and always 100% grass fed/grass finished for the meat.
Right after the holiday season, it seems like, junk food inevitably tends to find us right? More often than not we gain a bunch of weight, feel bad and the cycle continues. It's my goal that if this is a pattern for you, we break that this year! 😊
The two sure-fire ways to keep yourself healthy long after the holiday season are to follow simple, Paleo recipes (like this one) that are full of nutrient-rich, whole foods and contain zero refined sugars and carbs.
The second is to understand HOW and WHICH problematic foods can really be affecting your body and how to correct that quickly.
One of the greatest resources I've found (although she's far too humble to admit it) is Autumn's Radiate in 28 Quickstart Guide. It's having a profound impact on hundreds of people lives, including myself. It's helped eradicate my digestive issues I've had for the last 15 years AND I lost 12 pounds too, which was such an added bonus!
So don't let the holidays wreck your health this year! Instead, let's be prepared and intentional. Here's a link if you want to pick up a copy of Autumn's Radiate in 28 Quickstart Guide now - it's even free, we just kindly ask you cover the small S/H cost. Here's to looking and feeling your best ever!