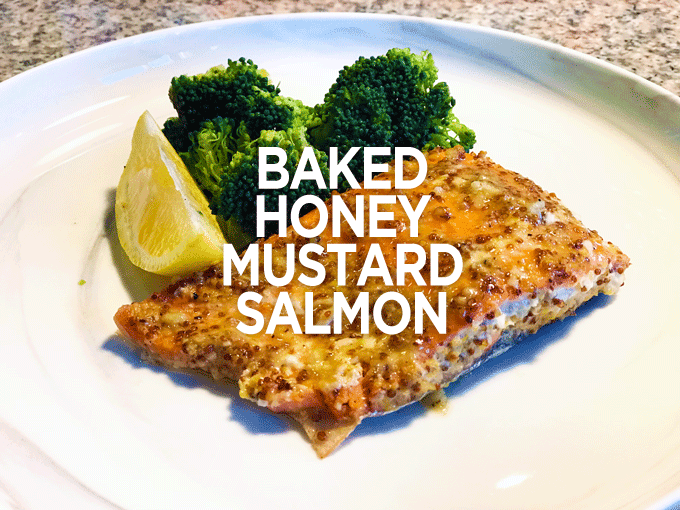 Baked Honey Mustard Salmon
Baked Honey Mustard Salmon
Servings: 4
Cooking Time: 15-20 mins
Ingredients:
2 lbs of wild caught salmon, boneless and skinless
1 Tbsp of fresh parsley leaves, chopped fine
1 batch honey mustard sauce (see directions below)
Optional: coconut oil for greasing
Honey Mustard Sauce Ingredients
1/3 cup whole grain mustard
1/4 cup honey
4 cloves garlic, peeled and minced
2 Tbsp fresh lemon juice
1/4 tsp smoked paprika
1/4 tsp sea salt (Here's my favorite brand)
1/8 tsp fresh black pepper
Optional garnishes: lemon wedge, parsley
Directions:
Heat oven to 375°F.
Prepare your honey mustard sauce by adding all the ingredients into a bowl and whisking together. Set aside.
Line a baking sheet with aluminum foil. (Grease the bottom of the foil with coconut oil to avoid the salmon sticking).
Brush the honey mustard sauce on top of the salmon, and spread it around evenly.
Fold the sides of the aluminum foil up and over the top of the salmon until it is completely enclosed. (If your sheet of foil is not large enough, just place the second sheet of foil on top and fold the edges so that it forms a sealed packet.)
Bake for 14-15 minutes, or until the salmon is almost completely cooked through. (Cooking times will vary depending on the thickness of your salmon, so I recommend checking it a few minutes early if you have a thinner cut of salmon.) Remove the salmon from the oven and carefully open and pull back the aluminum foil so that the top of the fish is completely exposed. (Be careful of the hot steam!)
Change the oven setting to broil, then return the fish to the oven and broil for 2-3 minutes. (Keep a close eye on the salmon while broiling, though, to be sure that the sauce does not burn.)
Remove salmon from the oven. Sprinkle the top of the salmon evenly with parsley, and serve immediately.
Well, I hope you give this recipe a shot soon because I think you're going to love it! Trust me - this is a truly outstanding salmon dish.
Aside from the delightful flavor, salmon has some incredible health benefits you may not have even been aware of too!
Wild caught salmon is full of all those wonderful Omega 3-s fatty acids your body needs for a healthy heart, normalizing and regulating your cholesterol triglyceride levels, and can also have extremely positive effects on brain health! (1) So not only is it delicious but you'll be giving your body some incredible health benefits, too!
P.S. Need a healthy snack for when you're on the go?
They're not only delicious but full of incredible gut healing probiotics. As we're in the middle of flu season it's important to keep your immune system boosted and each stick contains 1 billion probiotic CFUs! They are truly the perfect healthy snack! 😊