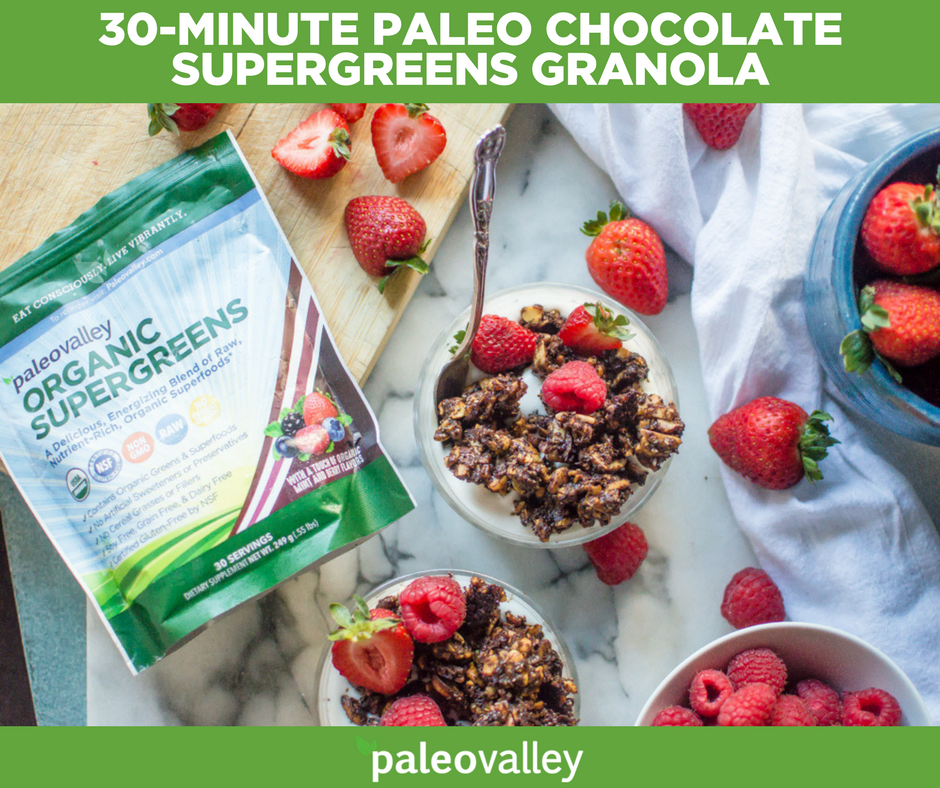 30-Minute Paleo Chocolate Supergreens Granola
Want to kick your breakfasts up a healthy notch?
Our friend and professional food blogger, Taesha Butler, from the Natural Nurturer blog, created this healthy granola recipe that is so darn good, I had to share it with you.
She even got super creative and added our Organic Supergreens to this 30-minute chocolate granola recipe. Because of this, each bite floods your body with over 19 incredibly beneficial superfoods.
Cacao + Supergreens = Deliciousness!
In fact, here's what she said about this recipe...
"This paleo-twist on traditional granola is a healthy ode to the chocolate cereals we all longed for in childhood.....but loaded with protein, fiber and even a dose of hidden veggies! Try it with some coconut yogurt and a few berries for an easy breakfast or snack when you don't feel like cooking and thank me later!" -Taesha
Give this recipe a shot this weekend and if you're running low on Organic Supergreens pick some up here and save up to 30% OFF.
30-Minute Paleo Chocolate Supergreens Granola
Recipe by Taesha Butler (The Natural Nurturer)
Yields 6 Servings
Cooking Time: 20 minutes
Ingredients:
1 cup chopped raw cashews
1 cup chopped raw almonds
1 cup chopped raw pecans
1/3 cup cacao or unsweetened cocoa powder
1/4 cup maple syrup or raw honey
1 Tbsp coconut oil
1 tsp pure vanilla extract
2 Tbsp chia seeds
1/2 tsp cinnamon
1/4 tsp sea salt
2 Tbsp coconut sugar
Optional garnishes: Strawberries, Bananas, Raspberries, Mango. Get creative and add your favorite seasonal fruits.
Directions:
Preheat your oven to 325F and line two large baking sheets with parchment paper or a silicone baking mat. Set aside.
In a large bowl, combine nuts, chia seeds, Paleovalley Supergreens powder, sea salt, cinnamon, and coconut sugar. Mix a few times to combine. Set aside.
Put a small saucepan on medium heat and combine cacao/cocoa powder, honey/maple syrup, vanilla and coconut oil. Whisk until the oil is melted and the mixture has a smooth consistency without lumps.
Pour over the nut mixture in the large bowl. Toss several times with a spoon until all of the nuts are evenly coated in chocolate.
Divide the granola evenly between the two lined baking sheets and spread it out, flattening the mixture onto the baking sheets.
Bake for 10 minutes. Stir. Bake another 10 minutes or until the nuts are aromatic. The granola may still seem soft. That's normal and it will crisp up as it cools.
Cool on baking sheet complete before transferring the granola to an air-tight container. Store at room temperature for up to 2 weeks.