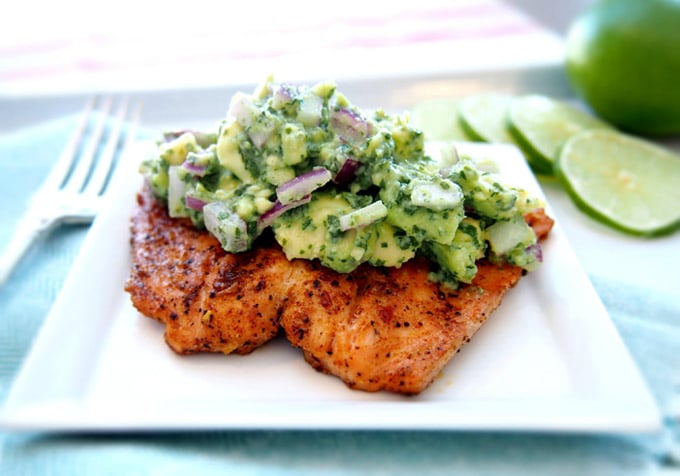 27 Of The Most Amazingly Delicious Whole30 Recipes
Do you WHOLE30?
Before we start, you may be wondering, "What is Whole30, and how does it differ from Paleo?"
As Whole9Life states, "The Whole30 is based on a Paleo framework, but restricts some foods that might be considered "Paleo" in nature. (Of course, the exact definition of Paleo varies, based on who you ask.) The goal of the Whole30 is to eliminate all foods that may be having a negative psychological or physiological effect on how you look, feel and live. As such, some technically "Paleo" foods (like honey, or desserts made with almond flour) are ruled out for the duration of your program."
So, here are 27 of my most coveted Whole30 recipes. They range from breakfast and midday snacks to elegant light dishes like roasted halibut, Thai cuisine, and even desserts which your kids are going to love. This vast array of recipes will bring not only some new and improved flavors to your family dinner table but incredibly beneficial nutrition as well.

So, without further ado-- let's get started!
1. Carne Asada With Avocado Salsa



Don't have a grill? No problem! Here's an easy, broil method you can utilize in the comfort of your own kitchen. When you need a quick meal, try whipping up this delectable avocado salsa ahead of time. You'll have more time to spend with the family. Check out this recipe here.

2. Greek Meatballs with Avocado Tzatziki Sauce



I personally am addicted to lamb. Part of the reason is due to the fact that it is grass-fed and lean. As another option, you can always substitute grass-fed ground beef. But, you might just want to try the lamb with the tzatziki sauce. I'm sure that you are going to love this dish. Grab the full recipe here.

3. Fresh Salsa with Garden Tomatoes


Whether it's for a game day or a BBQ in the backyard, everybody wants a tasty salsa. Here's a simple and thoroughly delicious recipe here.

4. Big Old Bacon Burgers


Try this recipe as a lettuce wrap with Napa cabbage or large portabella mushrooms as seen in the photograph. Remember, you can never go wrong with beef and bacon. This amazingly tasty dish will leave you completely satiated. Grab this delicious recipe here.

5. Magic Wings


Most people think "wings" and automatically assume you need to start prepping the grill. Well, this mouth-watering recipe makes wings easy by baking them in the oven. Not only that, but the sauce topping for the wings is absolutely to die for. To get the full recipe go here.

6. Slow Cooker Beef Carnitas


It's taco night! How can you spice up your tacos? By slow cooking your beef, they are inundated with flavor. If you're worried about the corn tortilla, just do what I do and substitute them with butter lettuce. Taco night never tasted so good! Grab this recipe here.

7. Balsamic Roasted Brussels Sprouts


There are two universal things that never change: death and taxes! Right? Well, I'd argue that a third one would be anytime you make Brussels sprouts with bacon. It is sure to be the best side dish you've ever tasted. There's something amazingly savory and harmonious about adding pork. It gets people coming back for not only seconds but thirds. Grab the recipe here.

8. Blaukraut German Red Cabbage


Sometimes I really crave a great authentic German recipe, and this one does not disappoint. The tartness from the Granny Smith apples and the delicate spice from the cloves really kick this poignant dish up to a whole new level. Grab this amazing Eastern European dish here.

9. Vegetable Kabobs


Sometimes, you can over think your food. Sometimes simplicity reigns. You can never go wrong by simply seasoning vegetables with sea salt and pepper and throwing them on the grill for a nice char. Perfect for a summer side dish, grab this full recipe here.

10. Pomegranate Habanero Shredded Beef Recipe


This is a dish I highly recommend. What makes a professional dish is the variety of flavors. This one has sweet from the pomegranate, spicy from the habanero, and savory from the slow roasted beef. I guarantee this will be one you will add to your recipe box for those special occasions. Go here for the full recipe.

11. Fajita Omelette


They say you can tell how adept a chef is by how well he prepares his omelets. Well, this recipe is about as good as it gets. Not only will you have a fluffy omelet, but you'll enjoy a cacophony of spices that explode on your palate. Give this recipe a shot here.

12. Pizza Breakfast Hash


I'm utterly addicted to breakfast hash and for good reason. It's an amalgamation of the best ingredients all combined in one skillet...not to mention the over easy eggs that ooze yolk! It makes me hungry just thinking about it. Prepare this meal like a pro by grabbing this recipe here.

13. Slow Cooker Mocha-Rubbed Pot Roast Recipe


So, you're just in a rush and don't have time to think about dinner. Well, this meal is perfect. You can chuck it all in a crockpot and let the slow roasting bring out all the amazing mocha flavors. This "set it and forget it" recipe will make your whole family ready to rush to the dinner table. Grab the recipe here.

14. Banana Muffins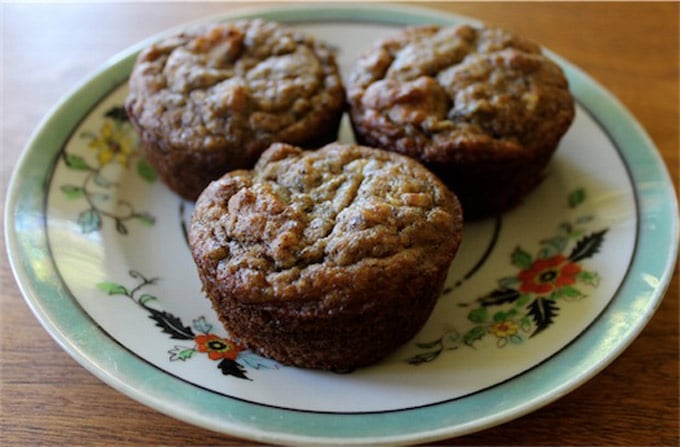 Muffins, muffins everywhere; your kids will jump for joy! The perfect afternoon snack for all ages that's moist, yet filling. I love snacks on the go, and these truly do the trick. Grab the full recipe here.
15. Grilled Salmon With Avocado Salsa


This is my all-time favorite salmon recipe. With the flavor combinations in this dish -- from the poignant pop of red onions to the subtle creamy texture of the avocado to the crispy salmon fillets -- you just can't go wrong. You might be tempted to scarf this one down like a competitive eater! So, enjoy this mouth-watering, fish dish and grab the full recipe here.
16. Roasted Halibut With Fresh Herb Sauce


Often people hate fish, because it's lacking a savory sauce that would take the flavor to new heights. This flaky halibut with this fresh herb sauce will take you one step closer to becoming a true seafood connoisseur. The flavor is utterly phenomenal. You'll feel like it was prepared by a 5-star chef. Grab this recipe here.

17. Garlic Roasted Shrimp With Zucchini Pasta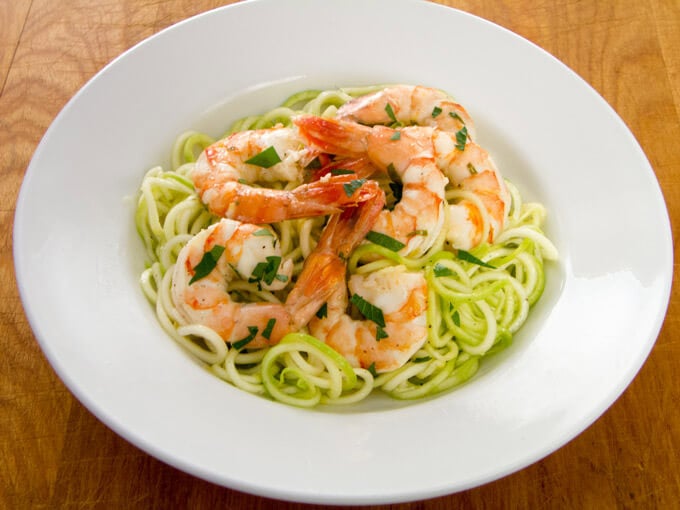 It's no surprise that people switching to Paleo tend to miss their pasta. By substituting the dreaded refined and processed flour strands for zucchini, you can bring back one of my favorite types of cuisines-- Italian. Adding garlic shrimp makes this dish elegant as well as flavorful. Grab this full recipe here.
18. Deviled Eggs


Deviled eggs are one of my favorite hors d'oeuvres to bring to a party. Whether you want to infuse them with bacon fat or make them classic style, you can't go wrong. An amazing trick to make them easier to peel is by adding 1 TBSP of baking soda to the boiling water. This lowers the pH making them much easier to peel. Grab the recipe here.
19. Roasted Duck Breast With Orange Ginger Dipping Sauce


At one family holiday dinner, I made a roasted duck. People were talking about it for years. If you really want to impress your guests, you can't go wrong with roasted duck. Add the orange dipping sauce, and it really sends the flavor of this dish into a new echelon. I cannot recommend this recipe highly enough. Grab the full recipe here.

20. Turkish Eggplant Beef Stew


Simply put, this dish is to die for! This classy, eggplant dish with grass-fed beef will leave you full and satisfied. There's something about this dish that just screams "comfort food!" It's full of flavor and a great way to introduce new, seasonal foods like eggplant to the family. Grab this recipe here.
21. Spaghetti Squash Pad Thai


Thai food has been introduced to the American scene rather rapidly and for good reason. It's a great late night snack and a perfect comfort food bursting with flavor. This dish makes good use of subbing out the flour noodles for spaghetti squash. It gives you the exact same texture, so it doesn't miss a beat. If you've been craving some Far Eastern cuisine, grab this recipe for tonight's dinner here.

22. Roasted Strawberries And Coconut Cream


"What's for dessert?!" How about roasted strawberries with a fluffy coconut cream! It doesn't get more delicious than that. Your kids will love it! You can also spice up a romantic dinner by making this dish ahead of time. It'll definitely set the mood. Grab this full recipe here.

23. Roasted Turnip Fries with Ramp Aioli

Appetizers and fries are two of my favorite things. Here's a great way to incorporate both, but with a twist. Turnips are a relatively high fiber food and an excellent sub for those starchy potatoes. Dipping them in this exquisite aioli will certainly want to have you add this dish to your recipe Rolodex. Grab this recipe here.
24. Creamy Tomato Soup



Tomato soup is just good for the soul. Remember when you were a child and just wanted something to warm you in winter or soothe a cold or a sore throat? Well, this dish does just that. A creamy blend of ripe tomatoes and fresh herbs, this will satisfy your taste buds perfectly. Grab this recipe here.
25. Stuffed Pork Chops



I always see pork as the forgotten meat at the dinner table. If you make it correctly, it is utterly divine. Stuffed pork chops are the way to go for an intense flavor that will leave you completely satisfied. Grab this mouth-watering recipe here.
26. Homemade Coconut Milkshakes



Let's reminisce about our childhood. Most likely we had to say goodbye to those amazing milkshakes we once guzzled as a kid. Not anymore! The great thing about this recipe is that once you learn it, you can add any flavor you want --- from chocolate to vanilla extract to strawberries to rhubarb. I mean the "skies the limit" with this one. Give this nostalgic recipe a shot here.
27. Roasted Beet Noodles with Pesto and Baby Kale

I love beets! However, it seems like nobody ever makes them. This recipe makes use of one of my favorite sauces - pesto. So combined with these amazing root vegetables, this harmony of flavors simply put - works! Try kicking off your dinner with a "bang" by serving this elegant dish first. Grab the full recipe here.
Well, there you have it! I hope this list has inspired you to try some new foods and get creative in the kitchen. Cooking truly is an art. The great news is that all the recipes here make it as simple and turnkey as possible.
By incorporating new foods into your diet, you'll be mixing it up, and you just may find that some foods you never thought you liked, now have incredible flavor. You'll begin to feel like an accomplished chef in your own kitchen. These are great dishes to get your entire family learning to cook together. I always remember the times I spent learning new or passed down recipes in the kitchen with my mom. I believe that's what made me the chef I am today.

So enjoy these delightful Whole30 recipes and be sure to share them with your friends and family. Bon appétit!
P.S. We're still getting some incredible success stories from people going through Autumn's RADIATE IN 28 program! In fact, grab her complimentary book on this page over here. And if I can brag for a second, Autumn is a genius, although she is too humble to admit it. If you haven't been getting the health results you want, I'm confident this RADIATE IN 28 program will be a miracle for you like it was for me. So grab yours now, all we ask is that you cover the small cost of shipping and it's yours. 😊