15 Mouth-Watering Paleo Burger Recipes
The ultimate Paleo burger recipe list is here...
Whether it's a summer cookout, or you're just getting geared up for a party, here are some of the most delicious and amazing Paleo burger recipes! Use these to kick up your get-together another notch. From Hawaiian burgers to Cajun burgers to your classic bacon/avocado burgers, we've got recipes that are guaranteed to whet your appetite and keep you craving seconds.
Without further ado, let's get grilling...
1. Whole30 Big Old Bacon Burgers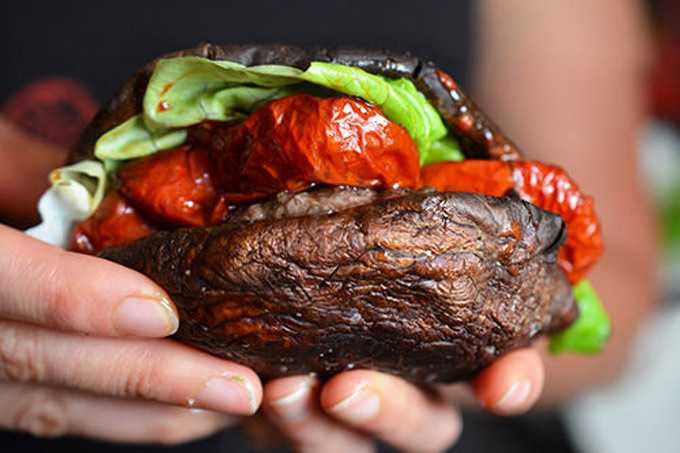 We had to throw in a Whole30 recipe for those who may be on a strict diet. This doesn't mean you have to sacrifice flavor by any means. This truly mouth-watering burger will not disappoint. Bacon, mushrooms, and beef are quite the flavor trio in this Whole30 Big Old Bacon Burger recipe. Grab the full recipe here.
2. Aussie Burger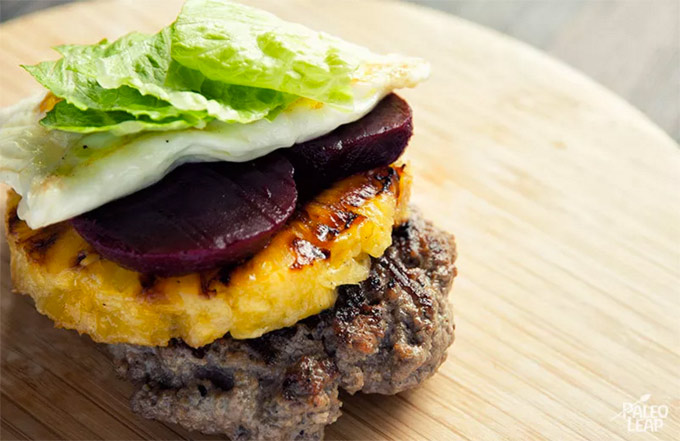 Whether you call it an Aussie burger or a variation of a Hawaiian burger, this recipe has all the ingredients which truly make this burger's flavor harmonious. The sweet from the pineapple with a creamy egg yolk topping blend perfectly with the beets. You will be surprised with the result. I highly recommend switching up your normal burger recipe and giving this one a try! It won't disappoint. For the full recipe go here.
Now before we go any further to the rest of these savory, delicious burger recipes make sure to download our new Paleo Grilling Recipes book from Paleovalley. The best part...it's FREE! Click the image below and you can download it right away: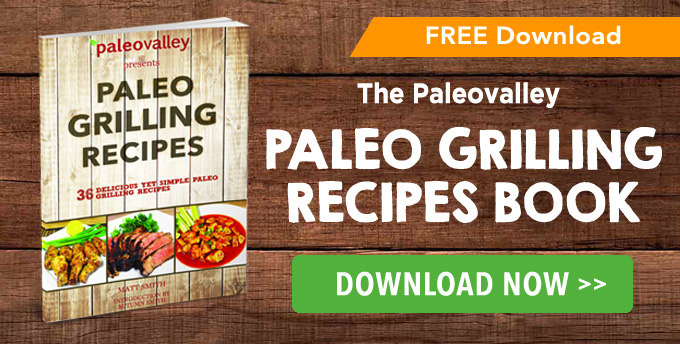 3. Greek Gyro Burger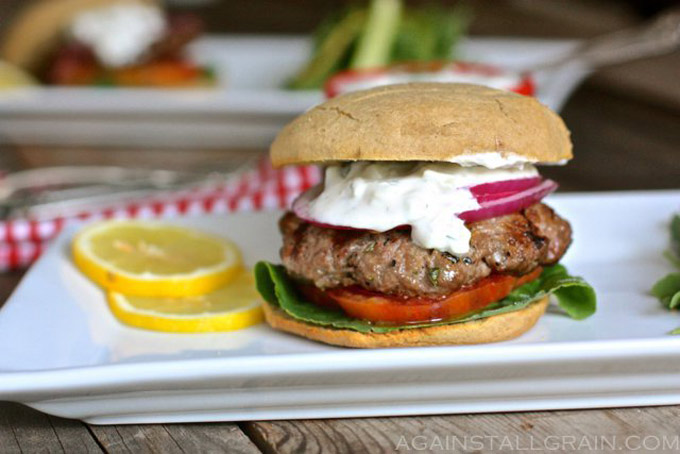 I really think I'm addicted to lamb and for good reason - it's deliciously earthy. This simple recipe is quite the showstopper. While the lemon is a pleasant surprise, it's the lamb mixed with rosemary that is the real genius to this burger! If you worry about the grain-free bun, a simple substitution would be putting it on a bed of lettuce. Grab this full recipe here.
4. Blue Burgers N Slaw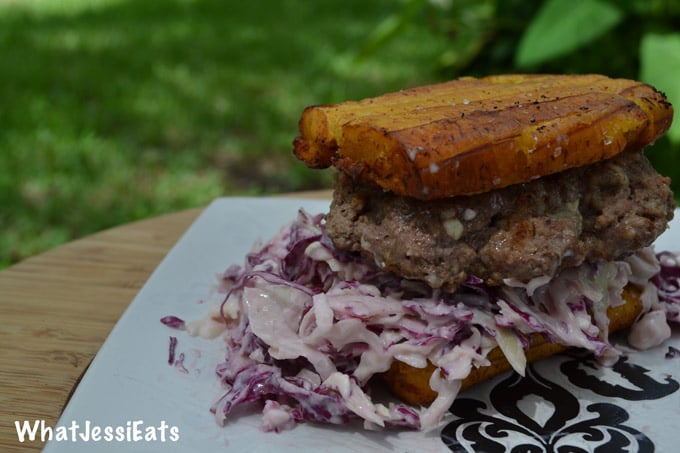 This burger leans on the side of Paleo-ish due to the plantains and blue cheese. Sometimes you just need a cheat meal, and here is a healthy option. This combination of flavors works perfectly. So next time you're wanting to try something new and exciting, grab this recipe here.
5. Cajun Burgers with Caramelized Onions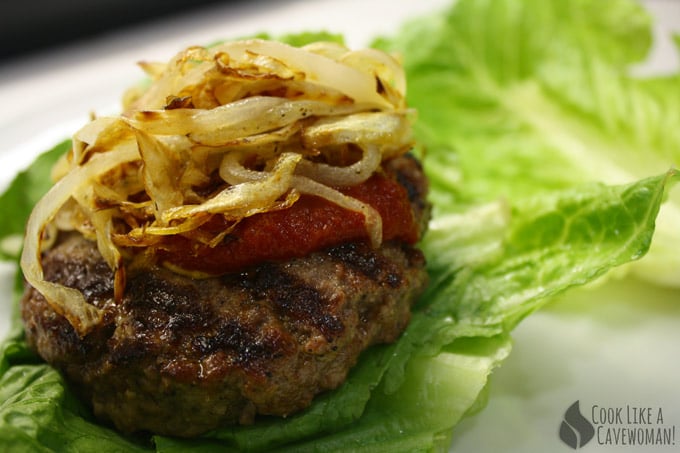 When it comes to burgers, you just can't deny that the addition of caramelized onions on top kicks it up a few notches. I love the cajun twist on this classic. By adding creole seasoning, you get that distinct bayou flavor. If you've been eager to visit New Orleans for some good old cajun cuisine, this recipe is the perfect way to satisfy that craving. Grab the full recipe here.
6. Bison Bacon Sweet Potato Sliders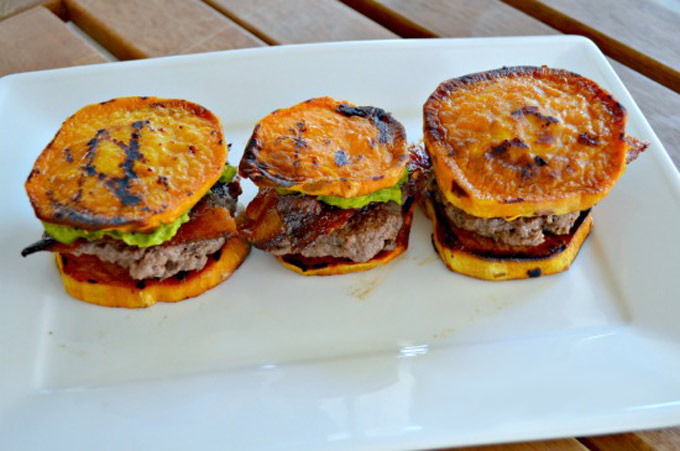 Bison is a food that is gaining massive popularity around the United States because of its healthful, lean quality and delicious flavor. This recipe adds quite the twist by using sweet potatoes in place of buns to giving it a sweeter flavor that works shockingly well. If you're wanting a slight change from typical burgers, then grab this full recipe here.
7. Bacon, Avocado & Jalapeño Stuffed Burgers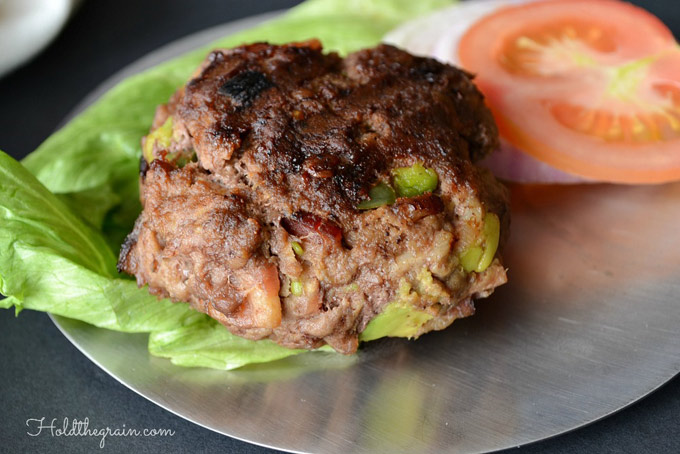 \
If a sweet, creamy and spicy burger is what you want, then this recipe fits the bill! I can't stress how much I truly love stuffed burgers. When three of my favorite ingredients hold center stage, then this burger is true perfection. It's a simple yet elegant burger that will elicit rave reviews at your gathering. Grab the full recipe here.
8. Paleo Cinco de Mayo Burgers Recipe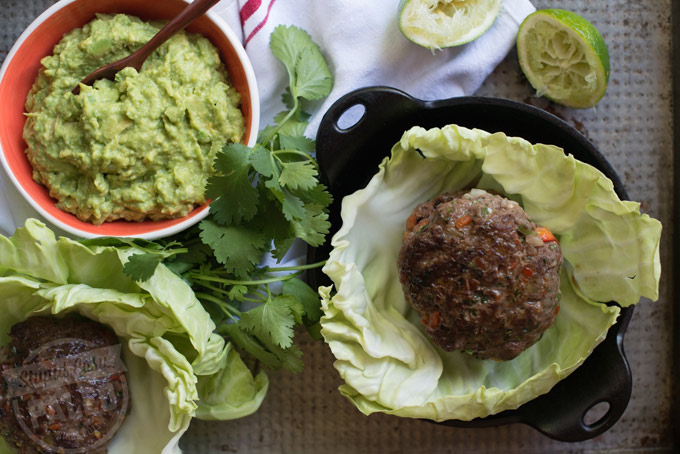 Although Cinco de Mayo rolls around once a year, that doesn't limit this burger to that one day. This recipe is truly delightful. Everything you love about this Mexican holiday is all wrapped into one recipe. Avocado, lime and a little spice never tasted so bueno! Check out the full recipe here.
9. Jamerican Paleo Burger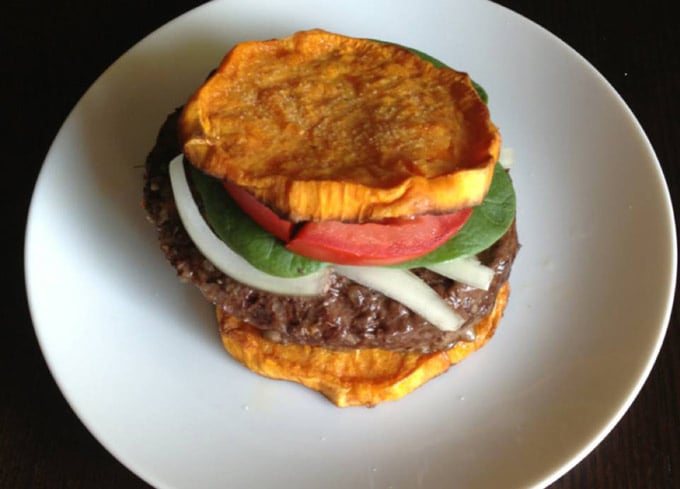 The Jamerican burger is truly a blend of America and Jamaica. This is a wild twist for a burger recipe, but all the spices make for a extraordinary recipe that your tastebuds will love. Take an appetite vacation by trying out this burger the next time your family wants to fire up that grill. For the full recipe go here.
10. Grilled Pineapple Burgers with Avocado Cream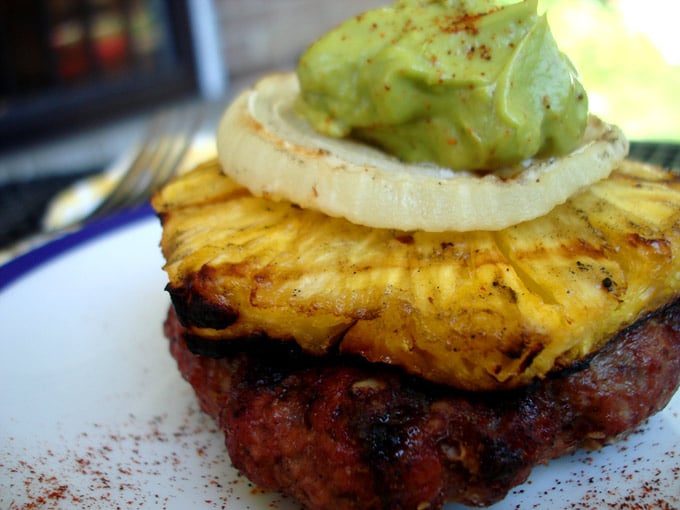 A little heat and a little sweet is something I can't get enough of. This recipe will really make your tastebuds go wild. There's something truly harmonious When you grill a pineapple to caramelize the sugars and place it atop a deliciously seasoned burger, a delighful harmony of flavors occurs. Top it with this avocado cream,and you'll be in flavor heaven. Grab the full recipe here.
11. Paleo Mushroom Chuck (PMC) Burger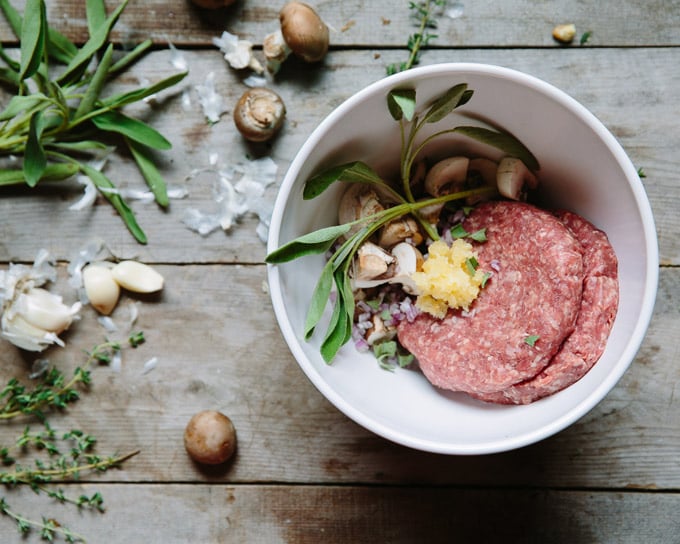 When it comes to flavor, most people stay in their safe wheelhouse. It's recipes like this that open you up to loving new flavors. Which flavor am I referring to? Sage! The soft, sweet, savory flavor of sage pairs perfectly with grass fed beef and lamb. Once you try this recipe, you'll absolutely be addicted in the best possible way. Grab the full recipe here.
12. Paleo Lamb Burgers
This lean lamb burger recipe uses all the ingredients of a classic burger with light seasonings (including shallots) mixed it. From the dollop of dijon to get that delicate kick to the freshness of flat-leaf parsley, this recipe is definitely one to add to your recipe box. Grab the full recipe here.
13. Paleo Burgers with Caramelized Balsamic Onions & Avocado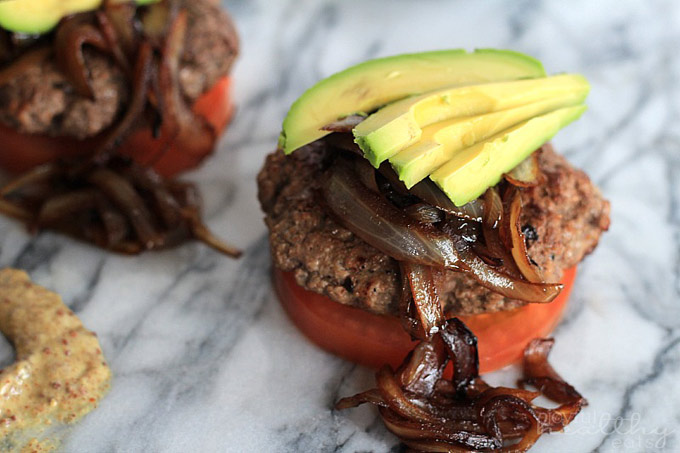 Arguably my favor burger recipe on here! I simply love the flavor. Caramelized balsamic onions are one of my favorite ingredients to top a perfectly cooked burger, because it gives such a power-packed punch of flavor. The creamy avocado make this a truly well-balanced burger with more flavor than your mouth knows what to do with. This recipe is a showstopper for your parties. Check out the full recipe here.
14. Elvis Burgers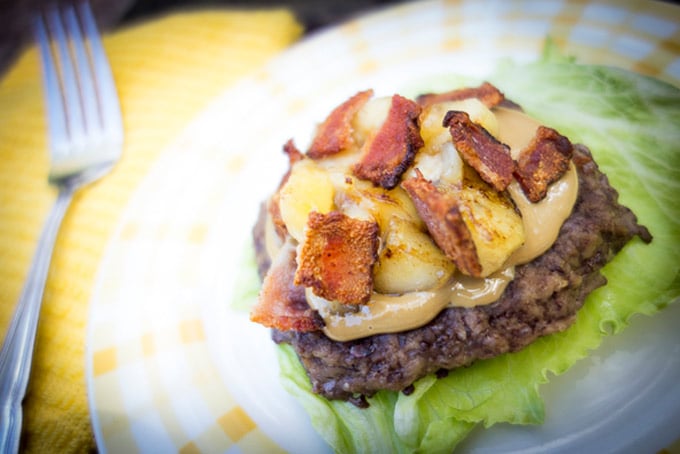 To understand this recipe variation, you need to know about this history of Elvis and his quest for the perfect sandwich. Often known as the most expensive sandwich in the world, Elvis would travel by private jet with his friends from the East Coast all the way to Denver, Colorado for a sandwich called "Fool's Gold". It was adorned with loads of peanut butter, banana and bacon. It was said that it cost him hundreds of thousands of dollars just to fly across the country for this delicious treat.
This recipe is a Paleo-ish variation on that. While bananas are technically not a Paleo friendly food, in moderation I think it's completely fine. By substituting the peanut butter for almond butter, this helps make it perfect. Sit down and enjoy "The King's" favorite sandwich recipe, but in burger form. Grab this delicious recipe here.
15. Hatch Green Chile Burgers With Fried Egg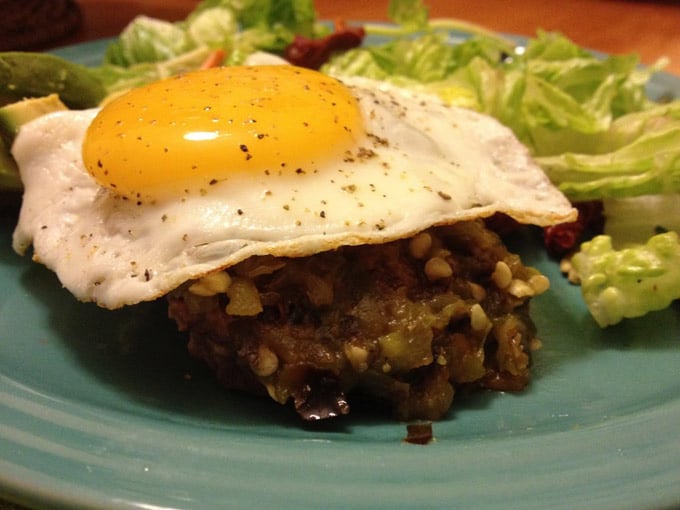 This recipe is truly "breakfast meets lunch", and it's well worth the effort. Green chilis are absolutely delicious when paired with either eggs or meat, so combining both is a really tasteful treat. Add a little spice with red-pepper flakes, and it makes this recipe a homerun. Check out the full recipe here.
When it comes to Paleo grass fed burgers, this recipe list has a little something for everyone. Don't settle for making the same old routine recipes, instead use these 15 grass fed Paleo recipes to give your tastebuds a delightful, mouth-watering change.
Feel free to share this list with anyone and everyone you know. Who knows, they may make some of these at their next party for you, too. Here's to healthy eating!
And don't forget to download your free copy of your new Paleo Grilling Recipes book: