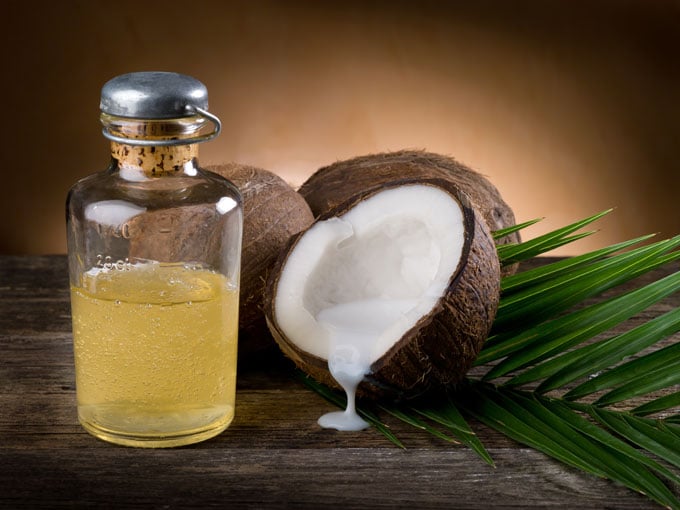 10 Creative Uses For Coconut Oil That Reduce Toxins In Your Body
As a wellness warrior, you have most likely heard the buzz about coconut oil. Its benefits are truly endless! Studies have shown that it improves cardiovascular health, reduces abdominal fat, improves cognitive performance, boosts metabolism, improves fat burning, increases nutrient absorption, and stabilizes blood sugar (among others). Due to its wide range of benefits there are very few people who shouldn't eat it. I literally eat it daily.
Despite its numerous nutritional benefits, perhaps the most exciting thing about coconut oil is its diversity. In fact, there are many other innovative ways to use coconut oil that can dramatically reduce your daily toxic load.
According to one estimate, we encounter approximately 200-300 chemicals each day due to the use of our personal care products. Over time, this toxic onslaught can burden our detoxification system impairing our ability to stay trim and vibrant. By adding coconut oil to your diet and personal care routine, you just may find benefits not only for your health, but for detox and your pocketbook at the same time.
Here are a few of my favorite ways to use coconut oil to reduce your toxic load!
The following 4 are compliments of Emily Skye. View her full article here.
1. Makeup remover

"This has to be one of the most effective make removers out there. Simply dab some coconut oil on cotton pads and wipe all over your face. For heavy eye make up, hold the cotton pad for 10 seconds over your eyes and then wipe. You will find even the most durable eye makeup will wipe right off.

2. Facial cleanser and moisturiser

"I don't use it all the time as a facial cleanser and moisturiser because it can be a little heavy for my skin, however if I do happen to run out of my other products, coconut oil is my go to.. I find best to use at night, rather than morning so it's not too heavy before applying makeup."

3. All over body moisturiser

"I actually keep a large bottle of coconut oil in my bathroom as it makes the perfect all over body moisturiser. With skin being your largest organ it's so important that you look after what you put on it. You can simply apply it all over the body directly after your shower. Your skin will love it and it will totally make you glow."

4. Shaving cream

"Chuck all your expensive, chemically laden shaving creams into the bin and switch to coconut oil. It works an absolute treat, plus it moisturisers your legs at the same time."
The final three are some of my favorites from Wellness Mama…
5. Homemade Deodorant

If you're trying to avoid toxins (and you should be) then try her wonderful aluminum-free, homemade deodorant using coconut oil, baking soda, shea butter, arrowroot powder and other natural ingredients. For the full recipe click here.

6. Oil Pulling

If you haven't heard of oil pulling yet, you have to try it! Due to coconut oil's antibacterial properties, it can be a perfect replacement for toxin-laden mouthwashes. Click here for complete instructions.

7. Natural Homemade Diaper Cream

Because our skin absorbs approximately 60% of what we put on it, we have to be especially careful with the products we use for our babies. Protect your children by replacing your chemical-filled diaper creams with a natural homemade cream using coconut oil, calendula flowers, chamomile flowers, shea butter and arrowroot. View Wellness Mama's full recipe here.
My take on this:
Hopefully at least one of these unique ideas inspires you! Every little effort counts. Cutting down on even one source of toxicity each day can make a huge difference in the long run.If you have another creative use for coconut oil you'd like to share, please leave it in the comments below!