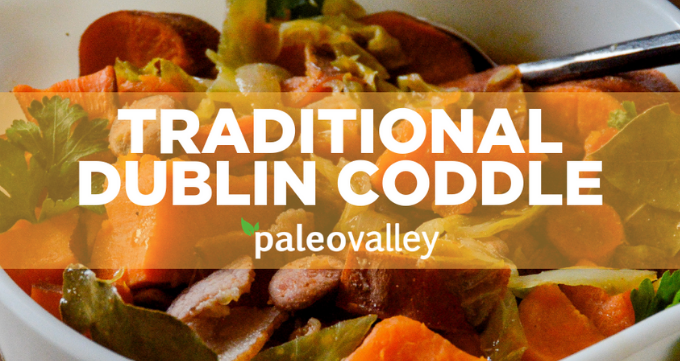 Traditional Dublin Coddle Recipe
We all love a good one-pot meal. But what we all may love even more is a traditional stew, possibly one like mom used to make.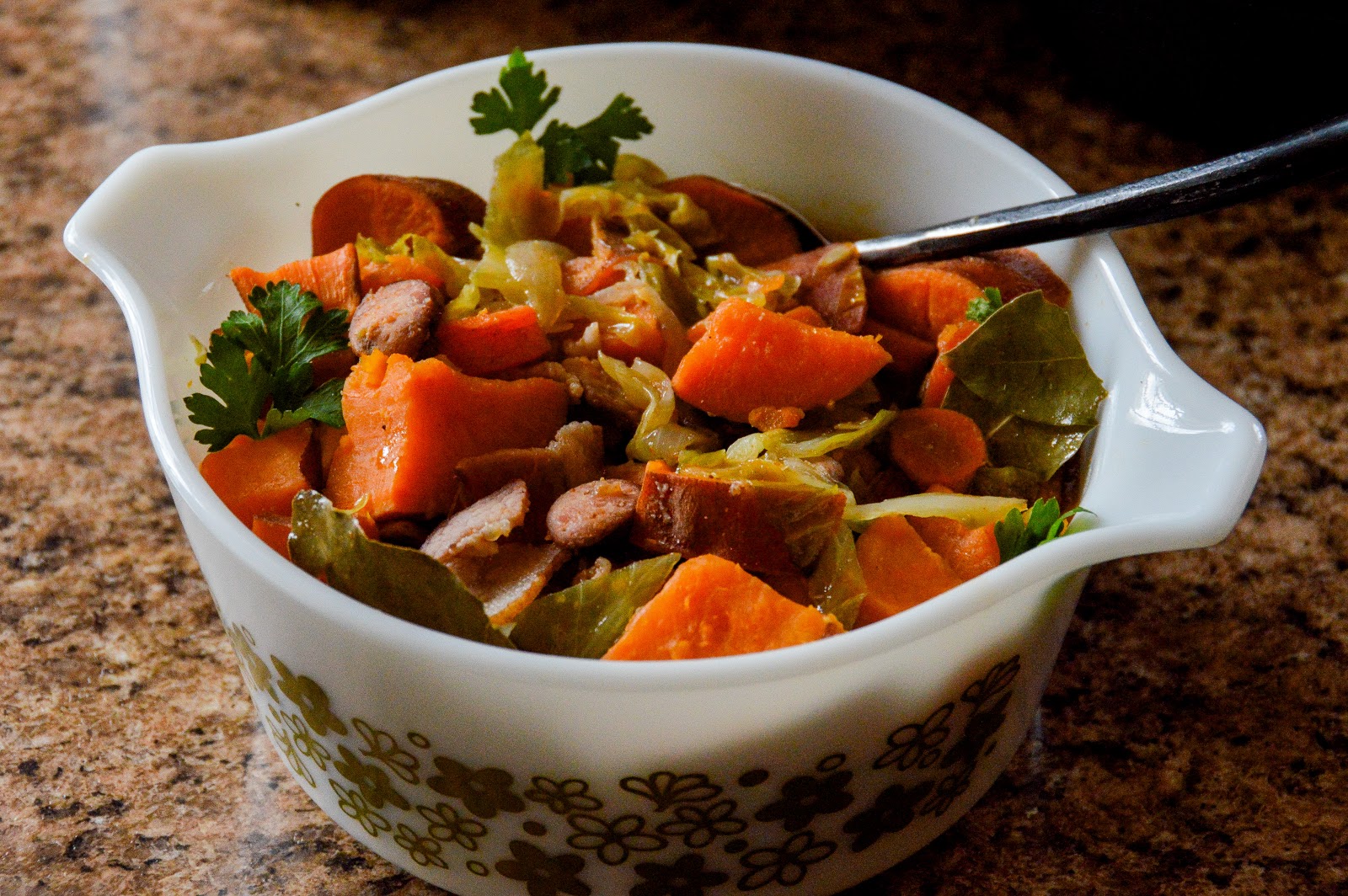 The Dublin Coddle delivers Irish tradition, heartiness, and a hefty amount of nutrition all in one pot, and just in time for St. Patrick's Day.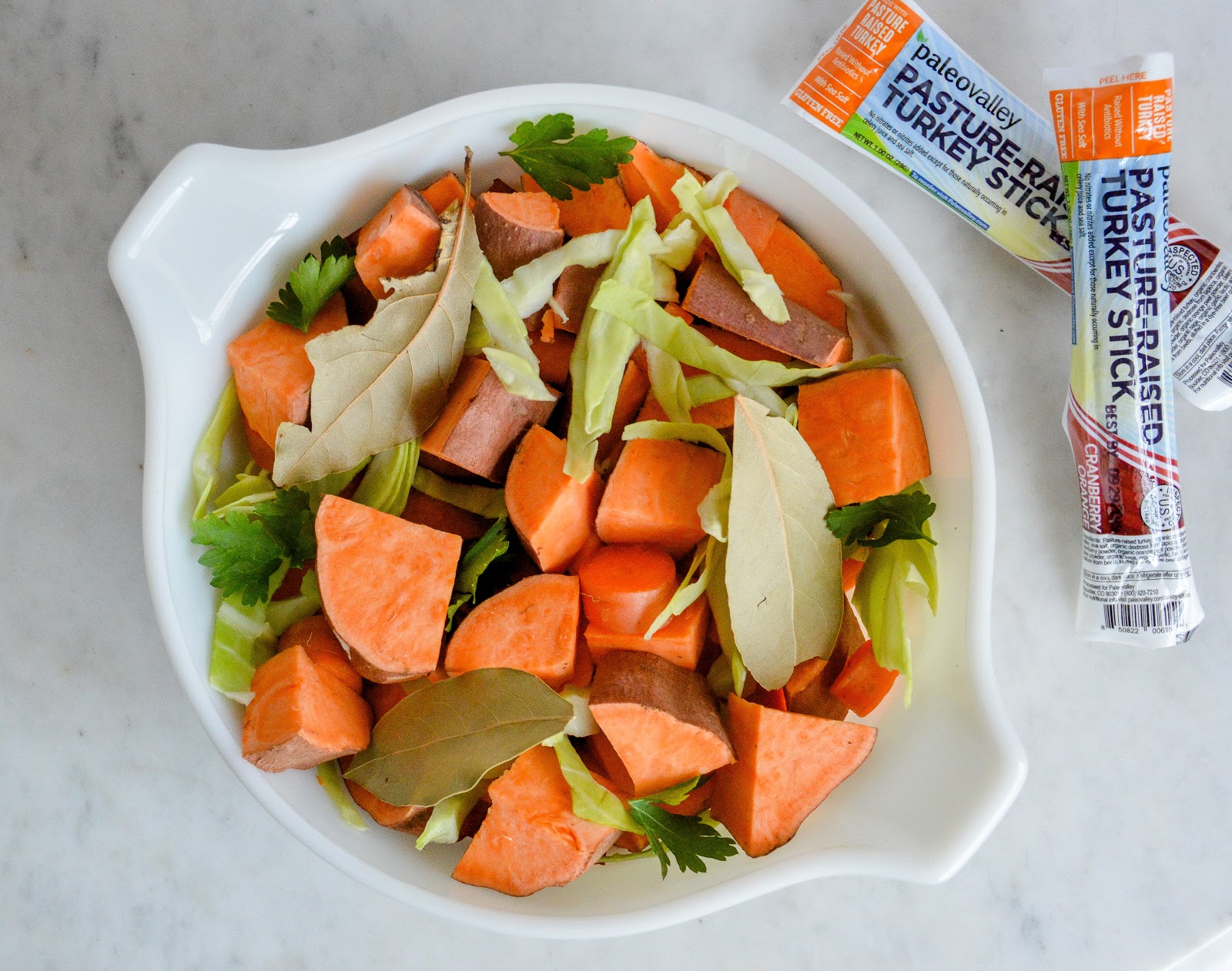 Coddle is an Irish dish which is often made to use up leftovers, and therefore usually doesn't have a specific recipe. However, its base commonly consists of layers of roughly sliced sausages and bacon with chunky potatoes, beer or broth, sliced onion, salt, pepper, and herbs.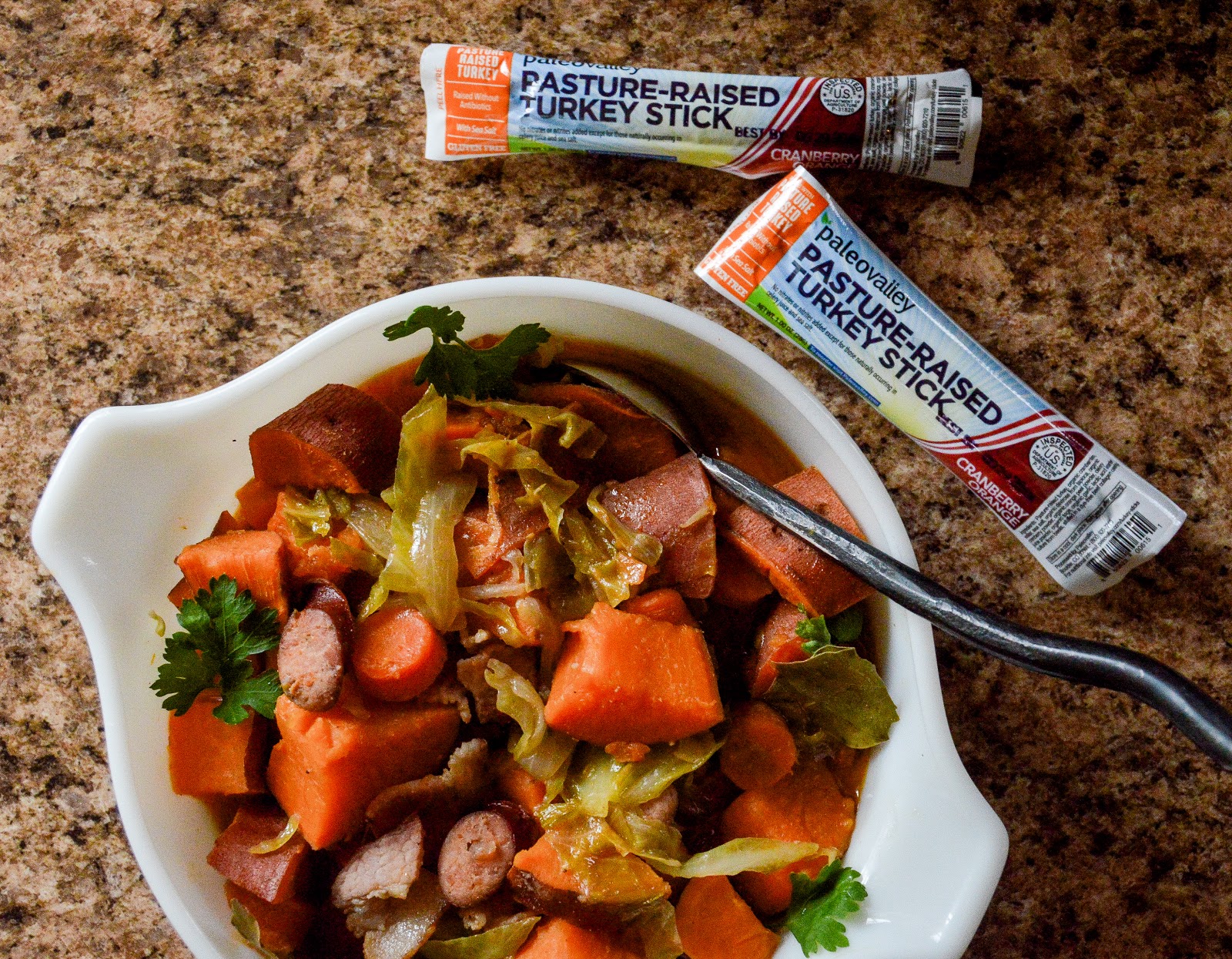 Here we've subbed sweet potatoes for regular potatoes, and Paleovalley Pasture-Raised Turkey Sticks for traditional sausage (aka: bangers). And we ditched the beer (if you want to splurge and add a gluten-free variety, sub a can of it for one of the cups of broth below). We also added cabbage for extra heartiness. Feel free to also thicken the broth with a dash of coconut flour.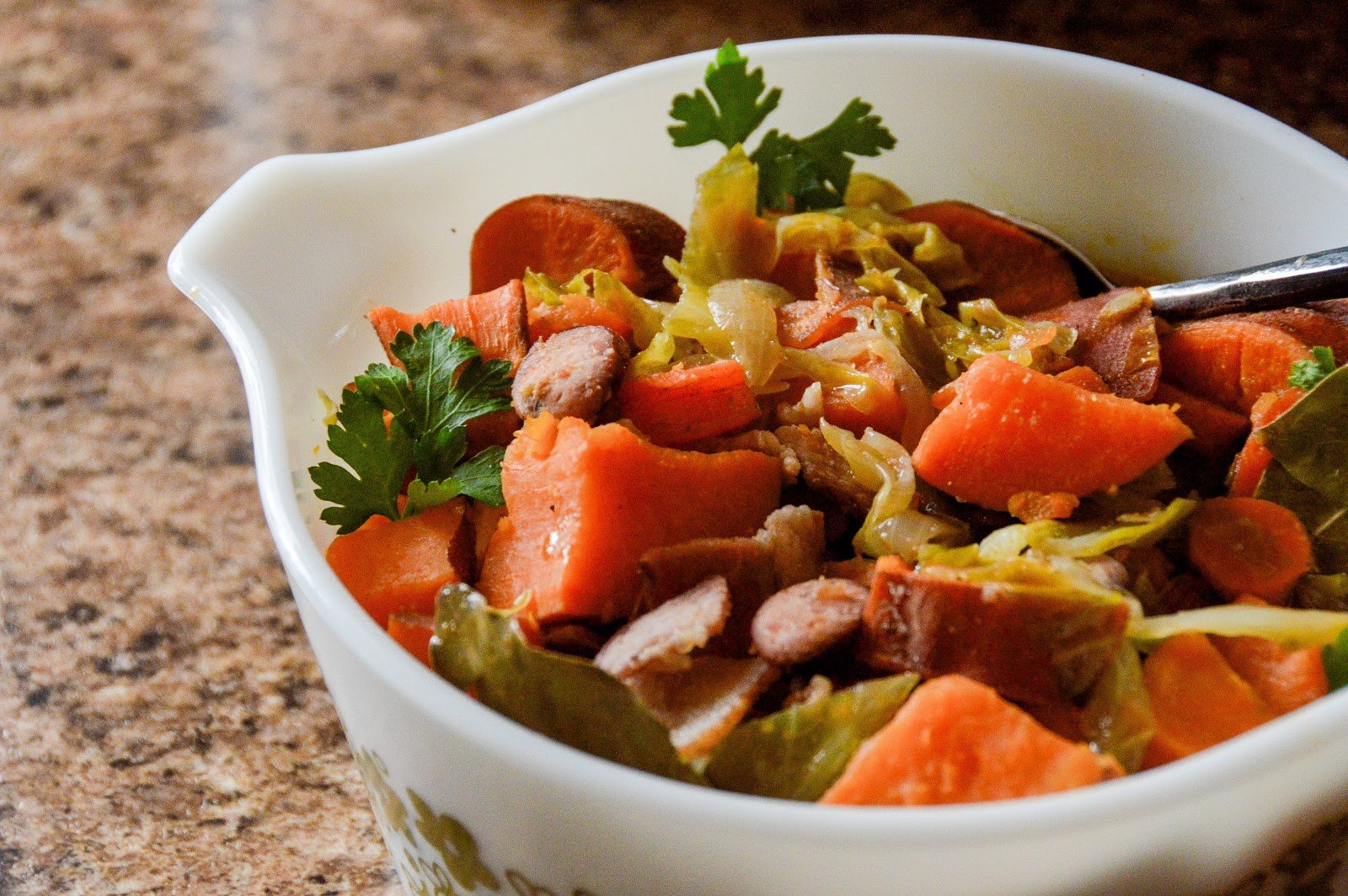 Since the coddle was traditionally a mish-mash of veggies, you can also add carrots or other root vegetables, or even some kale or other greens if you like (it is a green holiday, after all!).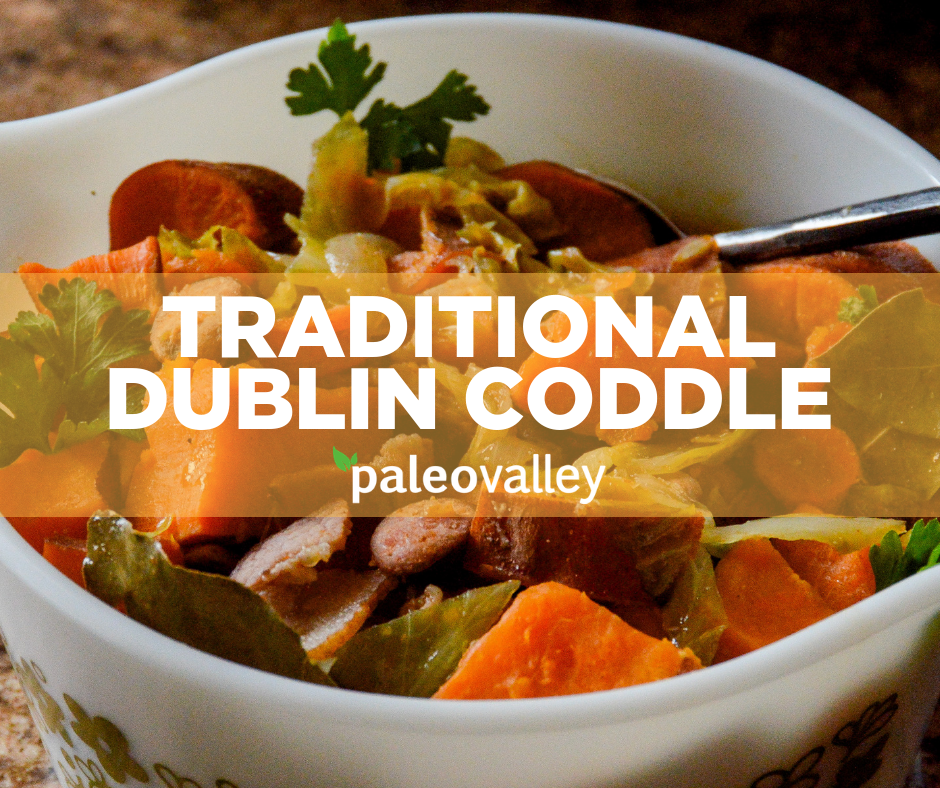 Traditional Dublin Coddle
Prep time: 10 minutes
Total time: 3 hours and 10 minutes
Serves: 6
Ingredients:
8 slices bacon, chopped into small pieces
4 Pasture-Raised Turkey Sticks, sliced into pieces
1 Tbsp coconut flour (optional for thickening)
2 pounds sweet potatoes, and cut into bite-sized pieces
2 cups cabbage
2 large onions, cut into slices
4 cloves garlic, minced
4 Tbsps fresh minced parsley
3 bay leaves
1 tsp dried thyme
Fresh cracked black pepper
3 cups beef or chicken broth
Optional: carrots or other veggies or greens
Equipment:
Skillet
Oven-safe pot
Bowl
Directions:
Preheat your oven to 300ºF.
Saute bacon and garlic pieces for roughly 5 minutes, or until fragrant. While these are cooking, whisk coconut flour in a bowl into your bone broth until dissolved.
Layer your sweet potatoes at the bottom of an oven-safe pot. Followed by your onions, bacon, turkey sticks, garlic, and herbs.
Pour your broth over everything, then cover and slide into the oven.
Cook for three hours, checking around the two-hour mark that there is still enough broth in the pot (around an inch or so at the bottom at all times). If not, add a bit more.
Remove, garnish with fresh parsley, and serve.
Our Pasture-Raised Turkey Sticks make the perfect no-prep sausage. They're pre-cooked and already have a smoky flavor that complements a wide variety of dishes.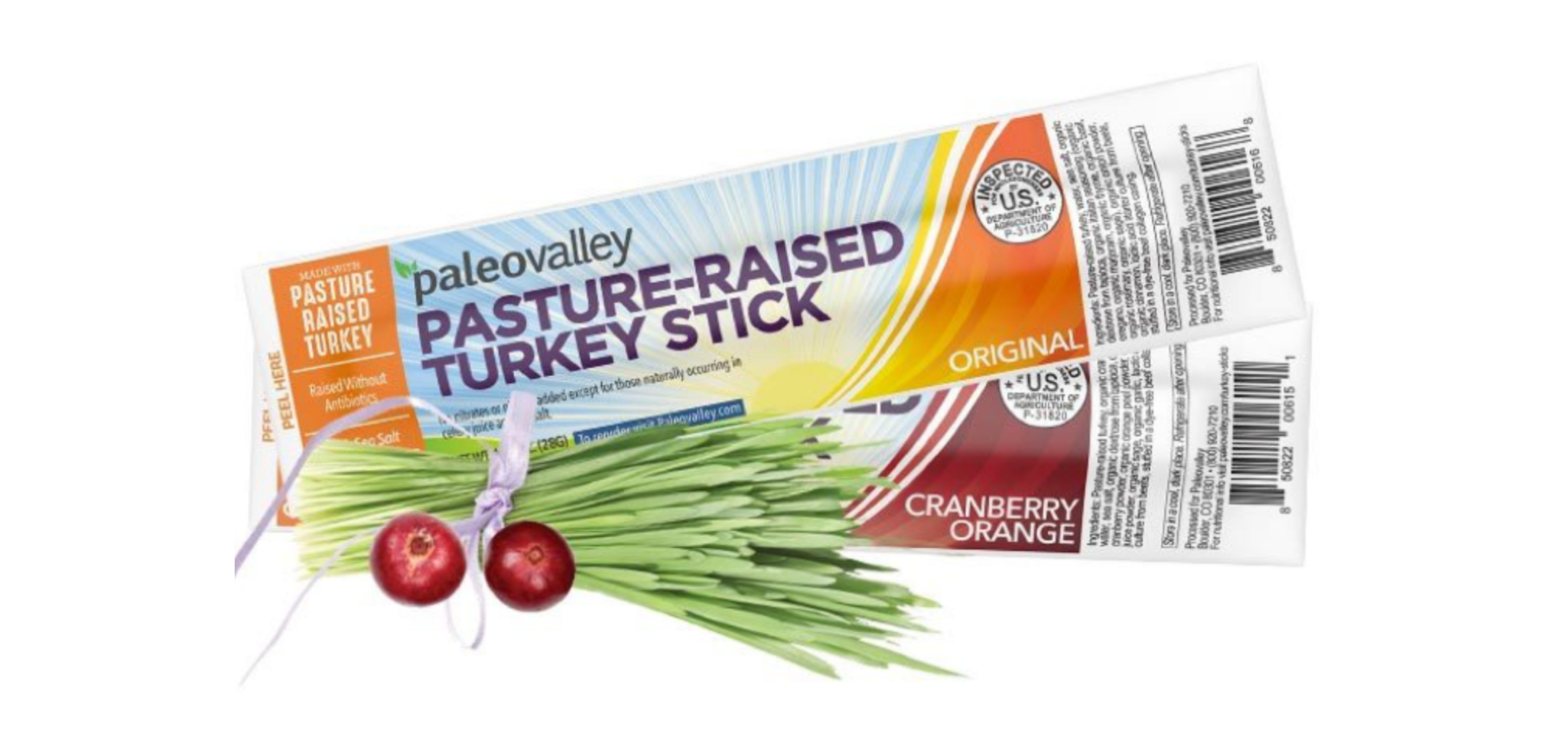 Click HERE to Try Pasture-Raised Turkey Sticks RISK-FREE + Save up to 18% TODAY!