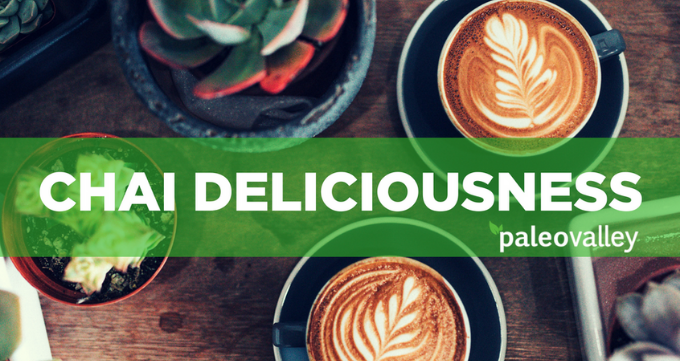 Chai Deliciousness Recipe
As you may have noticed, I'm obsessed with morning beverages because what you consume in the morning sets the biochemical tone for the rest of the day.
Literally.
If you choose doughnuts, muffins or a tall glass of OJ (carbohydrate-heavy foods) you'll spike blood sugar and set yourself up for energy crashes, mood fluctuations and voracious cravings for the rest of the day.
On the other hand, if you choose a meal full of high-quality protein and/or fat, you'll be energized, centered, and craving-free for several hours.
People I work with are consistently shocked by how effortless healthful dietary decisions are with this simple strategy.
Which is why I work hard to give you as many delicious morning options as possible.
(Or actually my husband worked hard this time because he is the creator of this tasty little sweet treat we call our Chai deliciousness:)
You're going to LOVE it!
Especially because when you drink this you'll feel like you're "cheating" but instead you'll be flooding your body with antioxidants, healthy fats, anti-aging collagen and other nutrients that will help you feel (and look) your best for the rest of the day.
If you're not familiar with the amazing benefits of grass fed collagen, let me share them with you now.
Empirically-Supported Benefits of Collagen:
Fights cellulite
Improves skin texture
Reduces joint pain
Boosts metabolism
Tapers appetite
Prevents osteoporosis of
Builds muscle mass
Repairs leaky gut
Strengthens hair and nails
Fights anxiety
Encourages restful sleep
Okay on to the good stuff! Here's how you make it...

Chai Deliciousness Recipe
Steep Organic Herbal Chai (or Organic Green Rooibos Tea) in hot water for 5 minutes (about 8 ounces)
Heat 3/4 cup of organic almond milk on the stove (low setting)
Combine tea and milk in a blender.
Add a pinch of organic cardamom and cloves.
Then 1/2 tsp. organic ginger
And 1 tsp. organic cinnamon
4 drops of organic stevia
One capful organic vanilla
1 swoop of Paleovalley's 100% Grass fed bone broth protein
Use a Blender, Vitamix or Immersion Blender, and Enjoy!
A nutrient bomb in a mug! 😊
Sip away, cravings and feel your best all day!