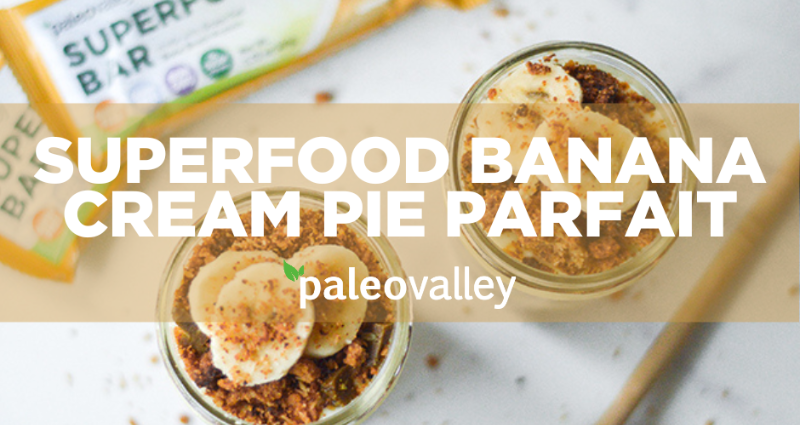 Superfood Banana Cream Pie Parfait Recipe
What happens when a dessert tastes like a dessert … but is really packed with nutrient-dense superfoods? You get a crave-worthy treat that can be enjoyed anytime, guilt-free!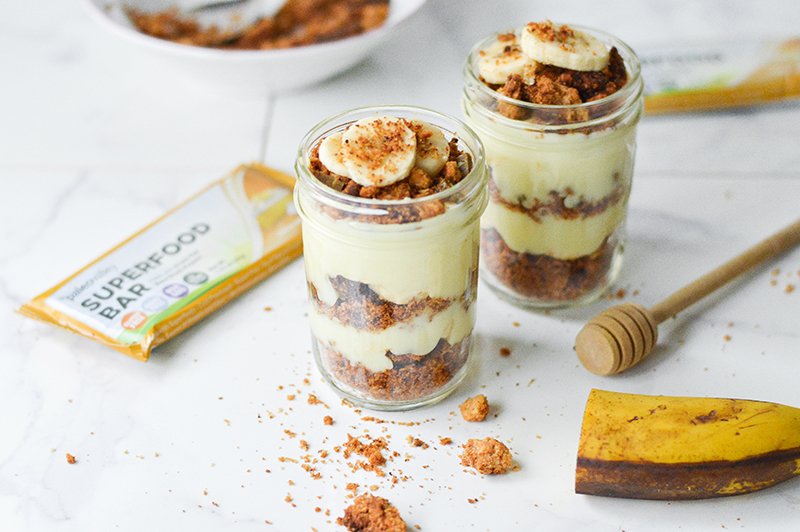 These Banana Cream Pie Parfaits contain an infusion of antioxidant-rich superfoods and Grass Fed Bone Broth Protein from Paleovalley Lemon Meringue Superfood Bars.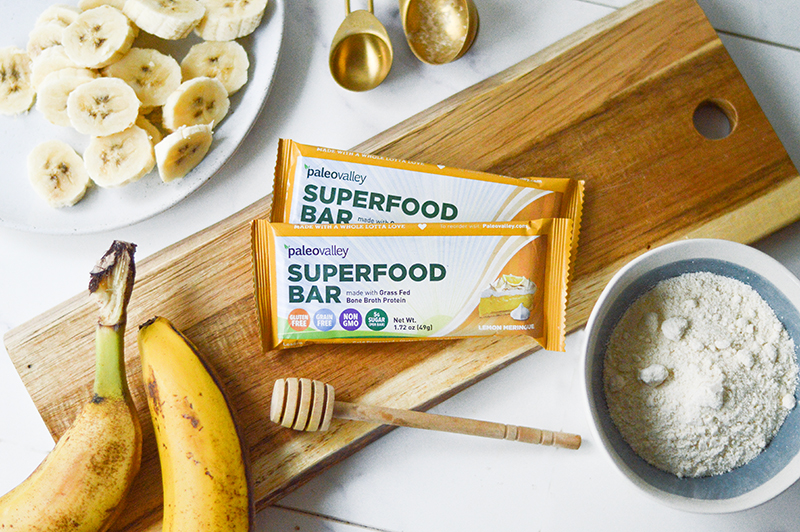 Each bar and parfait is filled with 100% grass fed bone broth protein and superfoods like organic acerola cherry, turmeric, spirulina, spinach, blueberries, and more. Not to mention, there is no added sugar, gluten, grains, OR soy.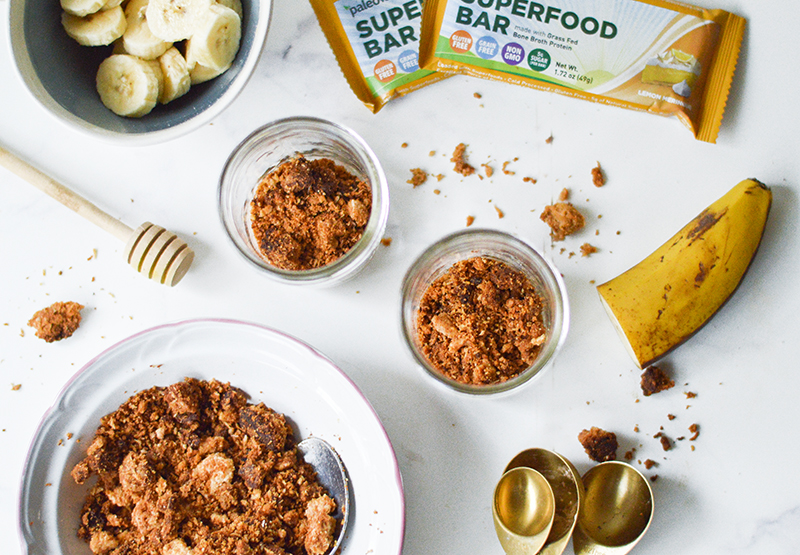 In short: whether for dessert or breakfast, these parfaits are wholesome and filled with nutrients, so don't feel guilty about indulging!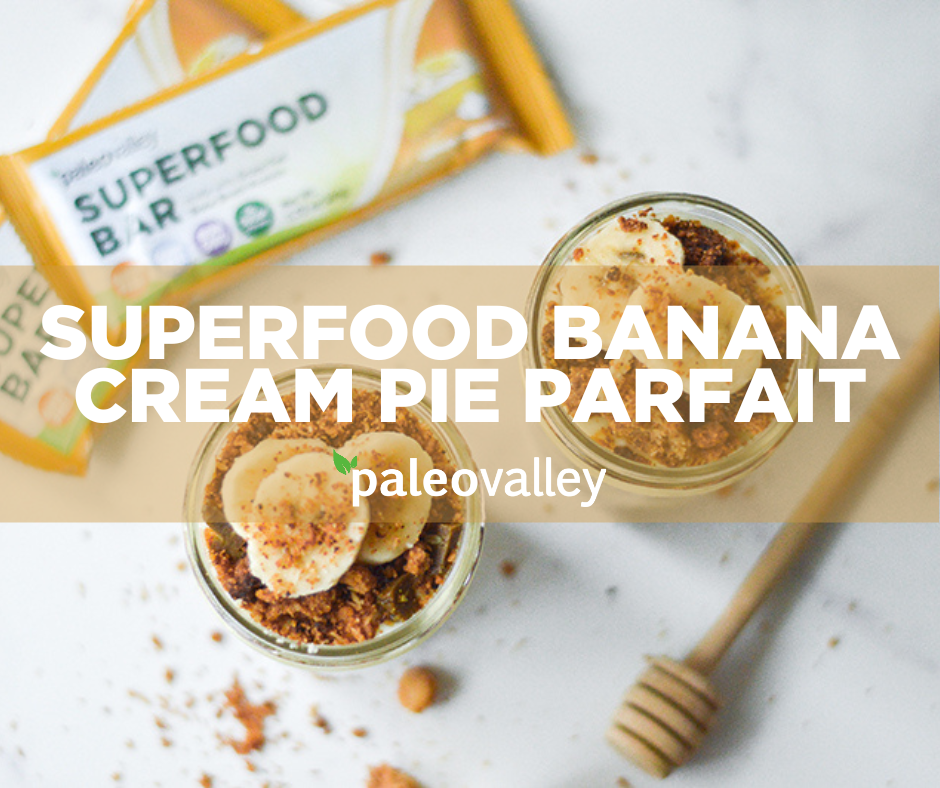 Superfood Banana Cream Pie Parfait
Prep time: 10 minutes
Total time: 1-2 hours
Serves: 9
Ingredients
Pudding
1 13.5 oz can full-fat coconut milk
3 ripe bananas, divided
1 Tbsp unflavored gelatin powder
½ tsp vanilla extract
1 tsp raw honey
Dash of turmeric for color (optional)
Dash of sea salt
Crumble
½ cup coconut flour
1 Lemon Meringue Superfood Bar, diced finely
¼ cup shredded, unsweetened coconut
4 Tbsp coconut oil
¼ tsp vanilla extract
1 Tbsp raw honey or maple syrup
Dash of cinnamon
Pinch of sea salt
Equipment
High-speed blender
Food processor
Medium mixing bowls
Baking sheet
Serving jars/cups
Directions
Whisk gelatin into coconut milk in a medium mixing bowl until well combined. Let sit for 15 minutes.
Mash 2 bananas with a fork (roughly 1 cup of mashed bananas) and add to a high-speed blender. Add in coconut milk and gelatin mixture, turmeric, vanilla, honey, and sea salt. Blend for 20 seconds or until thoroughly combined.
Set aside pudding mixture in a bowl and cover. Leave in the refrigerator for at least 1 hour to set up.
While the mixture is setting, create the crumble by adding crumble ingredients to a food processor. Then, spread out the crumble on a baking sheet and bake at 350ºF for 10-15 minutes, or until golden brown.
Remove, and let sit to come to room temperature.
Slice the remaining banana into thin slices.
Serve the parfaits by grabbing your serving jars and adding a layer of the crumble first, followed by a layer of pudding, then bananas, and repeat. Finish with banana slices and crumbles.
Not only are Paleovalley Superfood Bars the perfect on-the-go snack, they also make a great addition to any dessert recipe. Packed with 8+ organic superfoods these bars are healthy, delicious, and as convenient as it gets.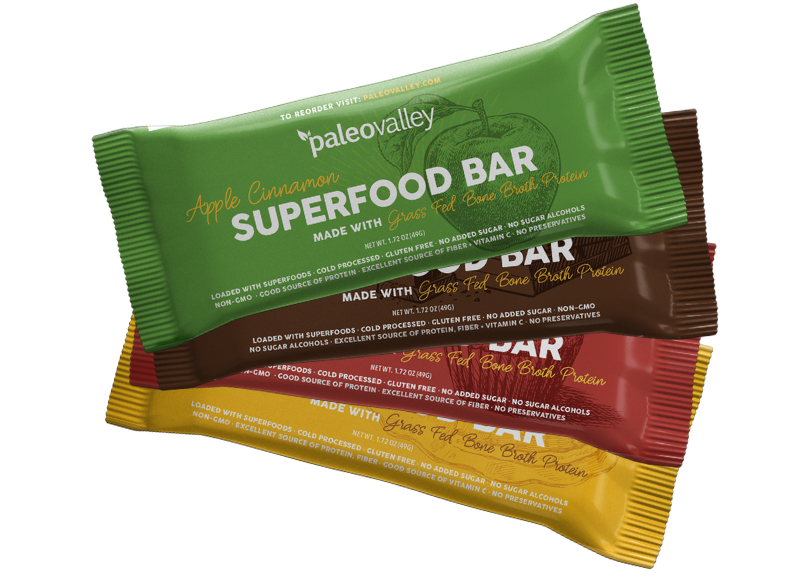 Click HERE to Try Superfood Bars RISK-FREE + SAVE up to 20% TODAY!