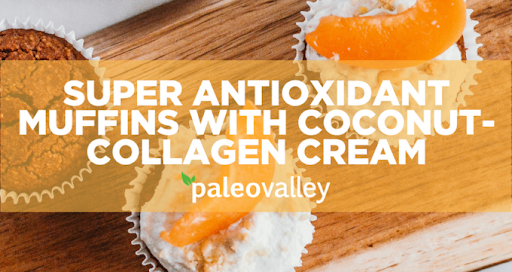 Super Antioxidant Muffins with Coconut-Collagen Cream
Muffins are practically irresistible one their own…so we were curious to see what happened when we infused them with not one, but several superfoods. The result?
Our new healthy obsession!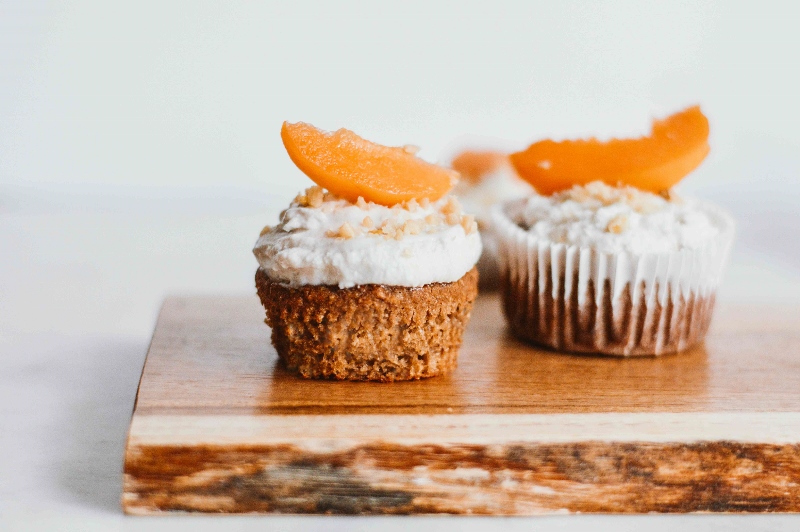 Created from a base of almond and tapioca flour and moisture-rich bananas, these muffins take the cake (pun intended) when it comes to texture and a naturally sweet flavor. To add another layer of refreshing summer flavor, as well as a burst of antioxidants from a variety of veggies, greens, and fruits, we stirred in Paleovalley Organic Supergreens to the batter before baking.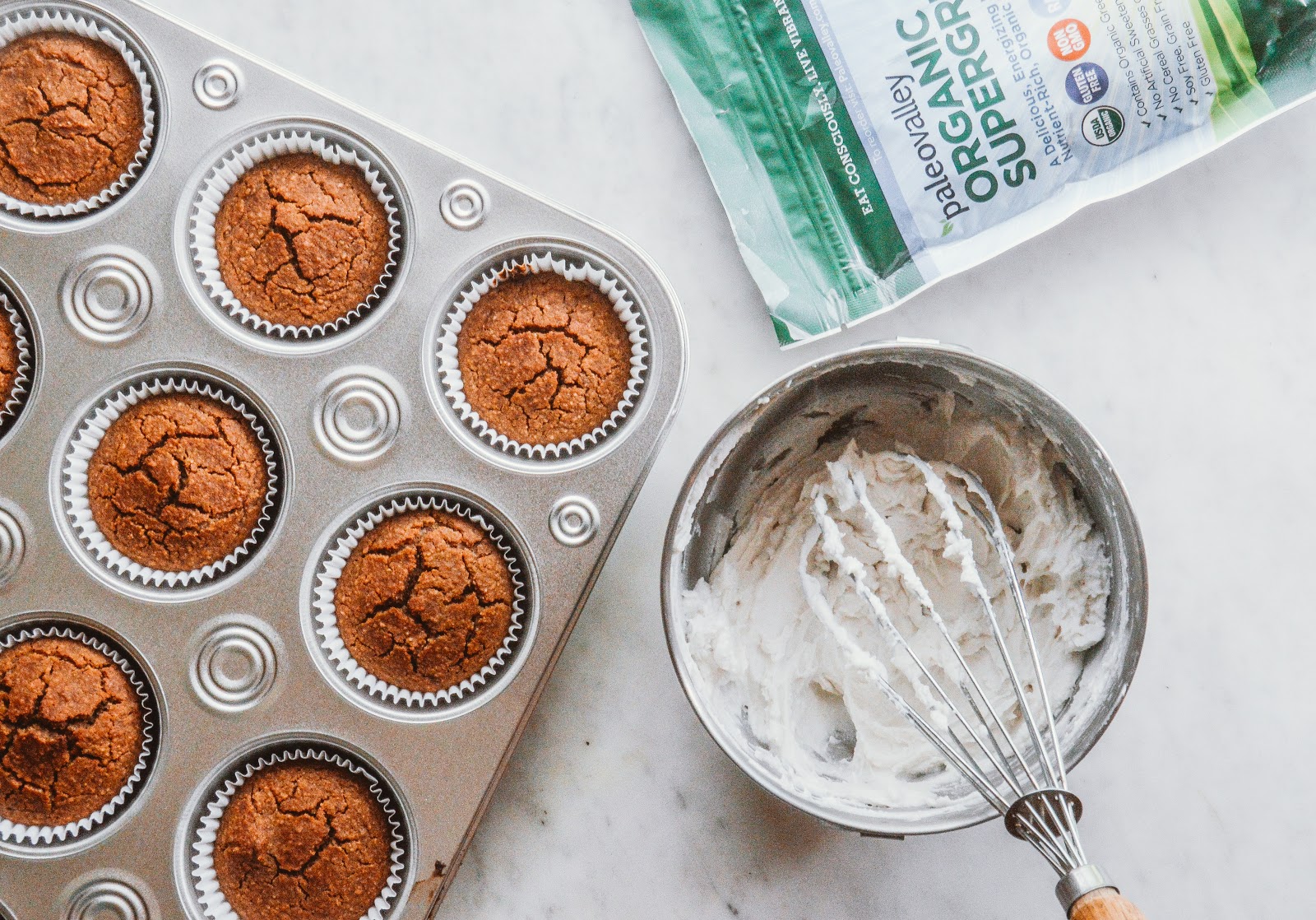 Unlike many green powders, Supergreens contain no cereal grasses, and also taste like pure fruit without the bitter-earthy flavor of the greens it contains. This makes them easier on your digestive system and a delicious addition to recipes (or even standalone).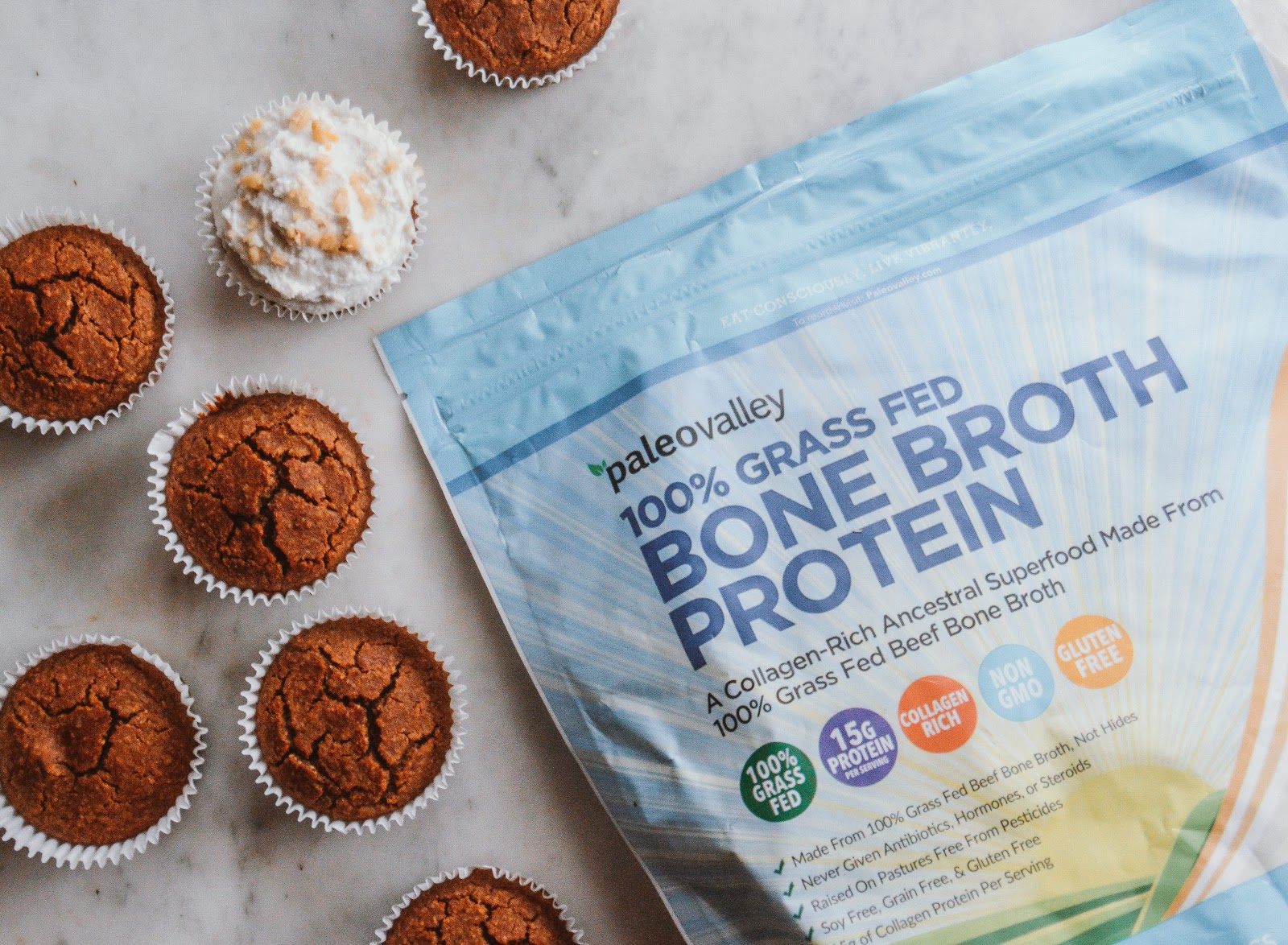 To top off the superfood-fest, we've whisked in 100% Grass Fed Bone Broth Protein powder into coconut cream to act as a thick frosting rich in anti-aging collagen and healthy fats.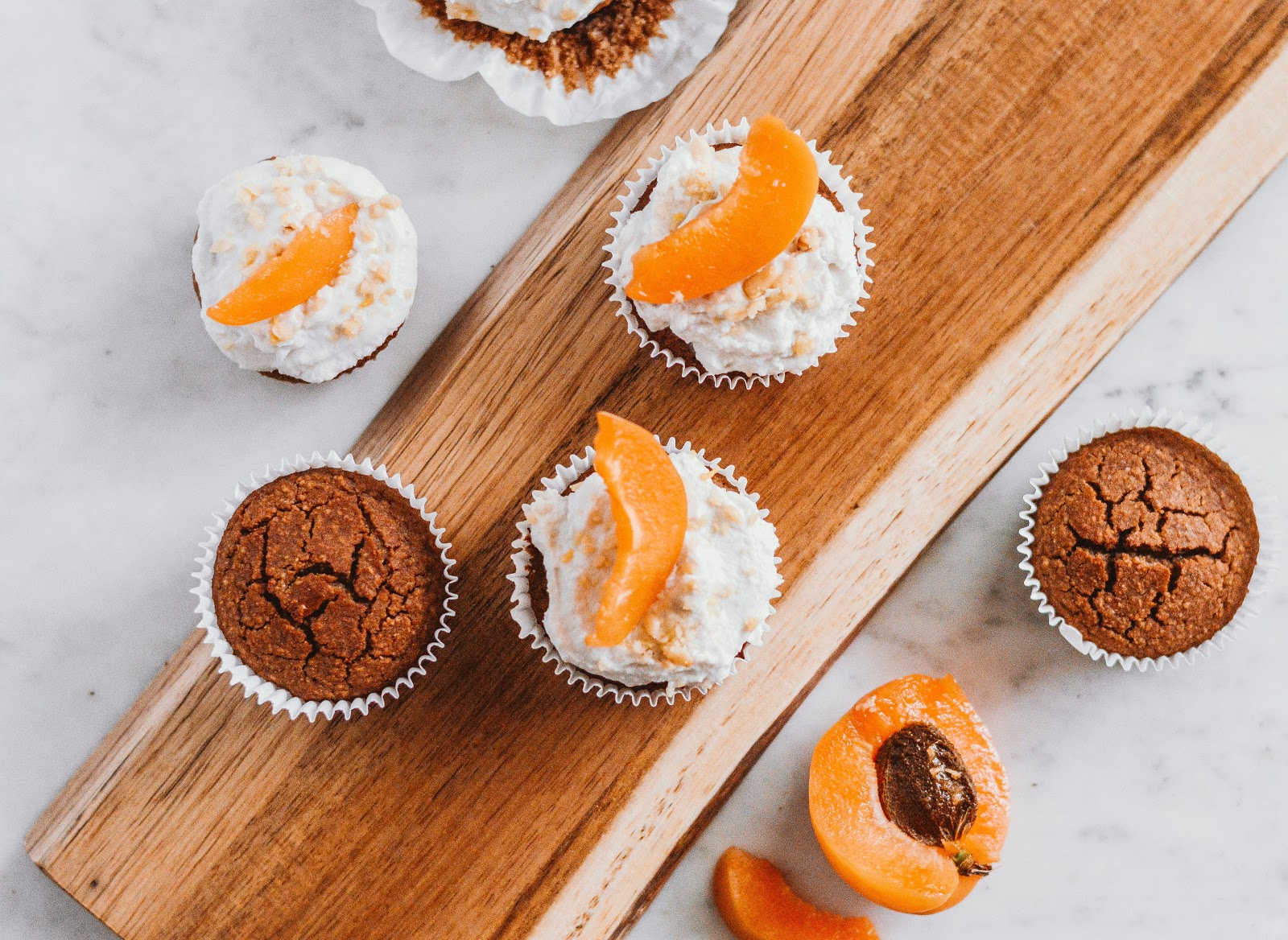 These gems can be made ahead of time and eaten daily (and even for breakfast) since they're low in sugar, high in protein, and have a wide range of nutrients.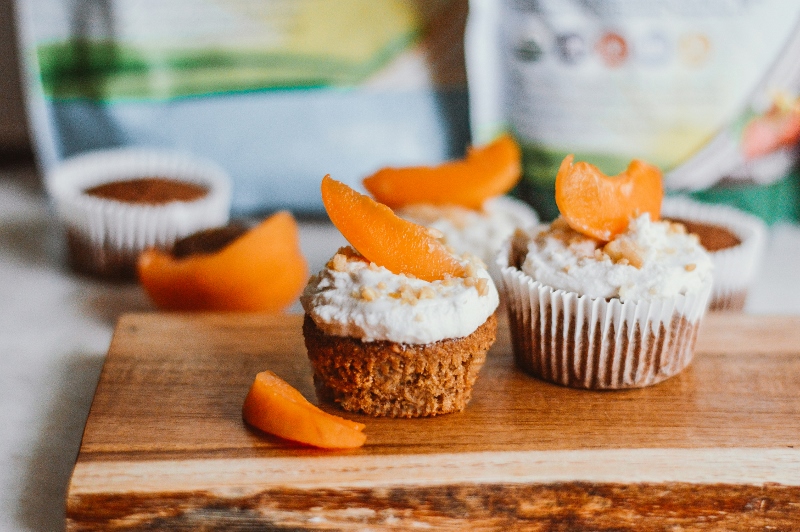 One thing to note before you get started on the recipe: Be sure to refrigerate your canned coconut milk overnight; this causes the cream to separate and solidify at the top of the can so you can scoop it out and discard the liquid (or use that in another recipe!)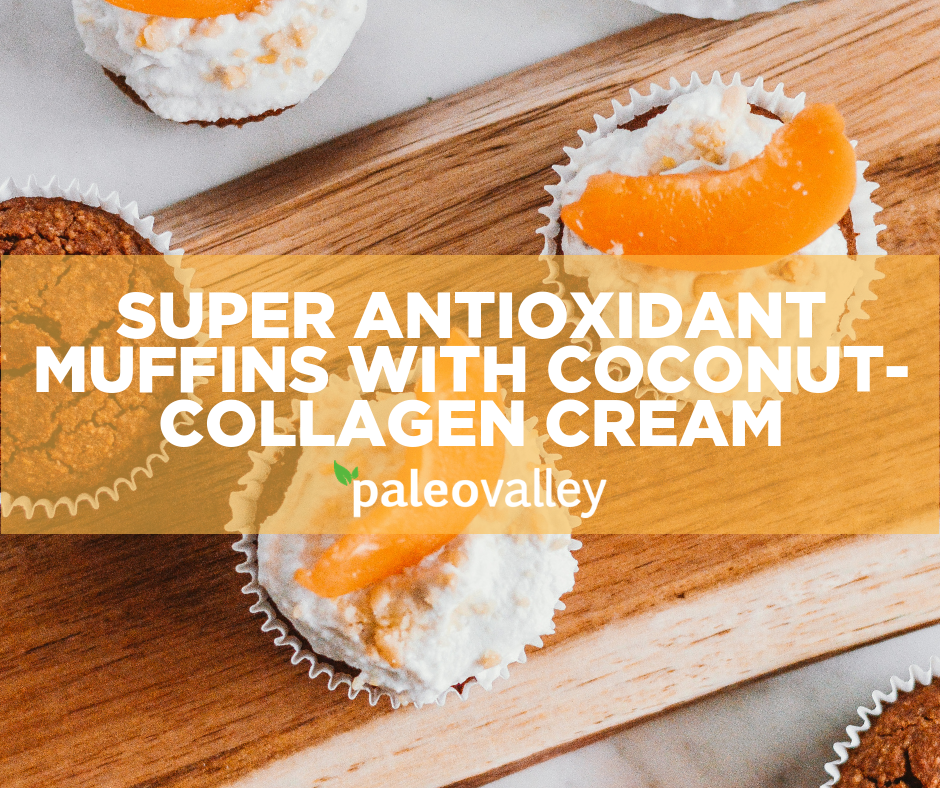 Super Antioxidant Muffins with Coconut-Collagen Cream
Prep time: 10 minutes (coconut milk refrigerated overnight)
Total time: 35 minutes
Serves: 12 muffins
Ingredients
Super Antioxidant Muffins
2-3 ripe bananas (approximately 1 ¼ cups), mashed
2 cups almond flour (this has a better texture than almond meal)
½ cup tapioca flour
2 large eggs
¼ cup melted coconut oil
¼ cup plus 1 tbsp raw honey or maple syrup
1 tsp vanilla extract (we love this 100% organic + gluten-free version!)
1 tsp baking soda
¼ cup pine nuts (or nuts of choice), crushed
2 apricots, pitted and sliced
Coconut cream topping
2 cans coconut milk, refrigerated overnight
¼ cup plus 1 Tbsp maple syrup
1 tsp vanilla extract
Equipment
Whisk or hand beater
Large mixing bowl
Muffin tin
Directions
Preheat your oven to 350ºF.
If you haven't already, mash your bananas with a fork in a large bowl.
Add the remaining muffin ingredients (except the pine nuts, sliced apricots, and coconut cream ingredients) to the bowl and mix thoroughly with a hand mixer on medium speed for 30 seconds.
Line your muffin tin with muffin cups and evenly divide the batter between the 12 cups, filling each cup about ⅔ of the way full.
Bake for 22-25 minutes, or until a toothpick comes out clean and the muffins are a rich golden brown on top.
Remove from oven and set aside to cool.
Open your cans of coconut milk, being careful not to tip the cans so that the cream stays nice and thick at the top. Scoop out the cream and place in a mixing bowl, discarding the liquid left in the cans.
Add your Bone Broth Protein, maple syrup, and vanilla to the cream. Make sure you've cleaned the muffin batter off of your beater, then beat the cream until fluffy and smooth. If you find the cream to be too thick, add 1 Tbsp of almond or coconut milk. The texture should resemble thick, custard-like cream.
Remove the muffins from the baking tin and top with the coconut cream. You can place cream in a plastic storage bag and cut off one of the small tips at the corner to squeeze the cream onto the tops of the muffins, if you find this easier.
Once the muffins are topped with cream, sprinkle with pine nuts and garnish with a slice of apricot.
Serve!
Paleovalley Organic Supergreens and 100% Grass Fed Bone Broth Protein can be added to, well, pretty much anything! The Supergreens have a slight strawberry lemonade flavor and the bone broth powder is tasteless so they work in pretty much anything! All Paleovalley products are backed with our 100% satisfaction money-back promise. Click HERE to Try something new RISK-FREE + SAVE up to 20% TODAY!