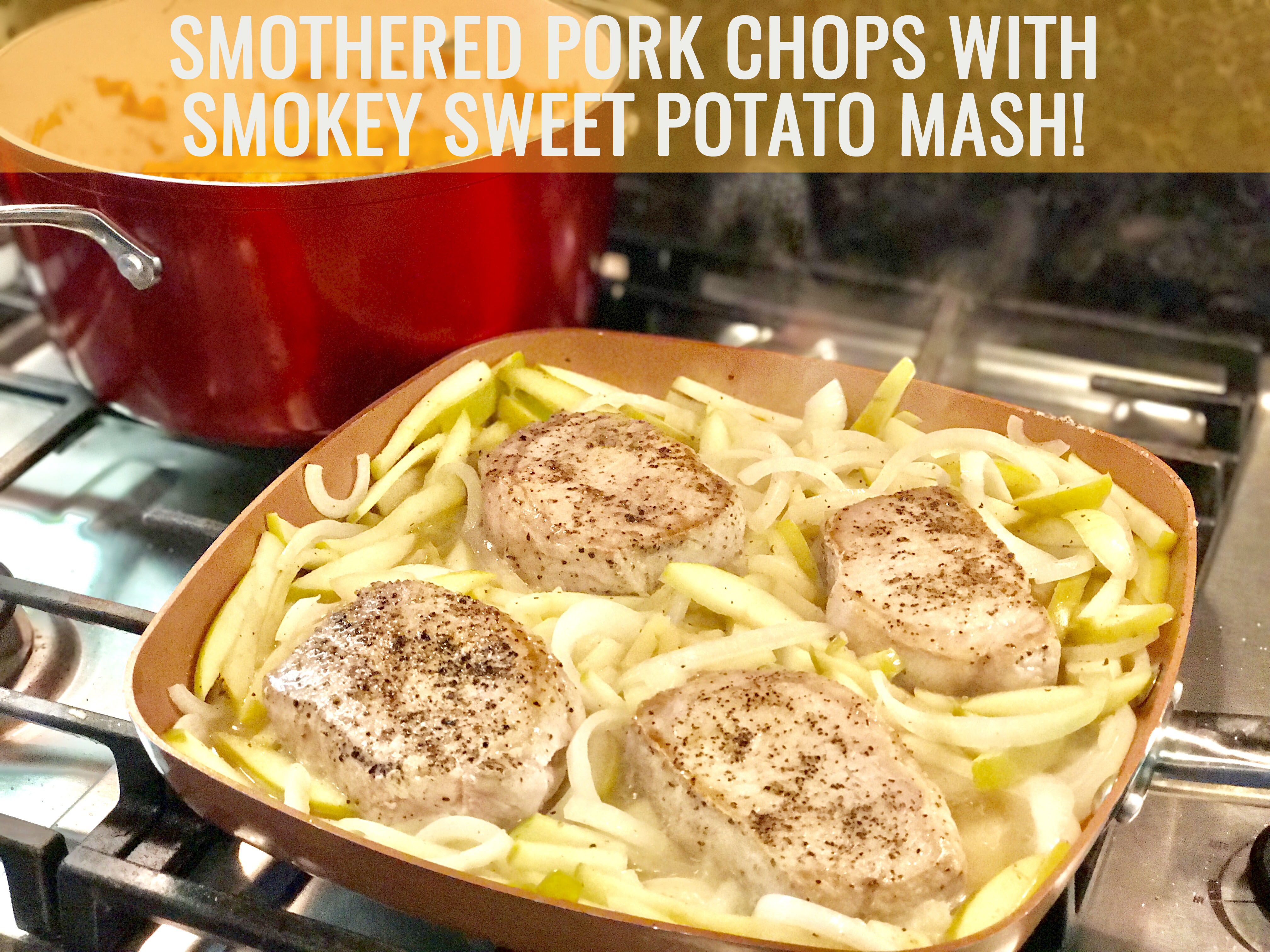 Smothered Pork Chops with Smokey Sweet Potato Mash!
The BEST Pork Chops EVER!!
Generally speaking, most people tend to make this dish virtually all the same with a little personal touch. Those aromatic holiday spices diffusing throughout the house are a staple in our home every November and December.
I love sweet potatoes and yams but oftentimes, I need variety. I don't want the same recipe all year long and that's why this recipe is PERFECT! When I took my first bite I was more than pleasantly surprised.
Instead of that sweet, cinnamon flavor, it was smokey and packed with flavor. To be honest, I think all I said over and over was, "WOW! These sweet potatoes are incredible!" So much so that we had leftovers for the next 2 meals and we were not mad about it. 😊 Now having said that, I do want to note that the main dish itself was equally as delicious. The pork chops are seasoned perfectly and full of moist flavor. It pairs so well with the tart apple/onion sauté.
So without further ado here's your Smothered Pork Chop Smokey Sweet Potato Mash!
Smothered Pork Chops with Smokey Sweet Potato Mash!
Servings: 4
Prep Time: 10 Minutes
Cooking Time: 15-20 Minutes
Ingredients:
4 - 1" thick bone-in pork chops (sidenote* - we used pork loins since the grocery store was out of bone-in pork chops)
2 medium apples, halved, cored and thinly sliced
1 large onion
½ cup apple cider vinegar
Sea salt (this is my favorite brand!) and ground pepper to taste
Smokey Sweet Potato Ingredients:
3 - 4 medium sweet potatoes
6 cups chicken broth (the brand I use)
½ tsp chipotle chili powder
1 tsp smoked paprika
Directions:
Use a paper towel to pat dry the pork chops and season each side liberally with salt and pepper. In a large skillet over medium-high heat, melt 2 Tbsp of coconut oil and sear the pork chops until they start to brown - approximately 2 minutes each side. Remove from the heat and set aside.
In the same skillet, add thinly sliced onion and apple slices along with a pinch of salt and pepper, lowering the heat to medium. Sauté for about 5 minutes, stirring occasionally, and then add the vinegar and cook another minute stirring to scrape all brown bits from the bottom of the pan.
At this time, add the chops back to the pan spooning some of the apples and onions on top of the chops. Lower the heat to simmer, cover the pan and continue cooking until chops are cooked through and tender.
To prepare the potatoes, wash, peel and chop into 1" cubes, and add to a medium-sized pot. Pour in the broth so that the potatoes are just covered with liquid. Cover with a lid and bring to a boil over high heat and cook until the potatoes are fork tender. Drain all but 1/2 cup of broth, add 1 Tbsp of coconut oil, paprika, chili powder and sea salt and mash until smooth. Serve sweet potato mash alongside the chops, apples, and onions.
***Always opt for organic for any of the ingredients whenever possible and always 100% grass fed/grass finished for the meat, wild caught for fish, and pasture raised for pork and poultry.
Well, there it is! A twist on a classic holiday dish that I think will make your taste buds leap for joy.
With the holiday season around the corner, junk food inevitably tends to find us right? More often than not we gain a bunch of weight, feel bad and the cycle continues. It's my goal that if this is a pattern for you, we break that this year! 😊
The two sure-fire ways to keep yourself healthy over the holiday season are to follow simple, Paleo recipes (like this one) that are full of nutrient-rich, whole foods and contain zero refined sugars and carbs.
The second is to understand HOW and WHICH problematic foods can really be affecting your body and how to correct that quickly.
One of the greatest resources I've found (although she's far too humble to admit it) is Autumn's Radiate in 28 Quickstart Guide. It's having a profound impact on hundreds of people lives, including myself. It's helped eradicate my digestive issues I've had for the last 15 years AND I lost 12 pounds too, which was such an added bonus!
So don't let the holidays wreck your health this year! Instead, let's be prepared and intentional. Here's a link if you want to pick up a copy of Autumn's Radiate in 28 Quickstart Guide now - it's even free, we just kindly ask you cover the small S/H cost. Here's to looking and feeling your best ever!