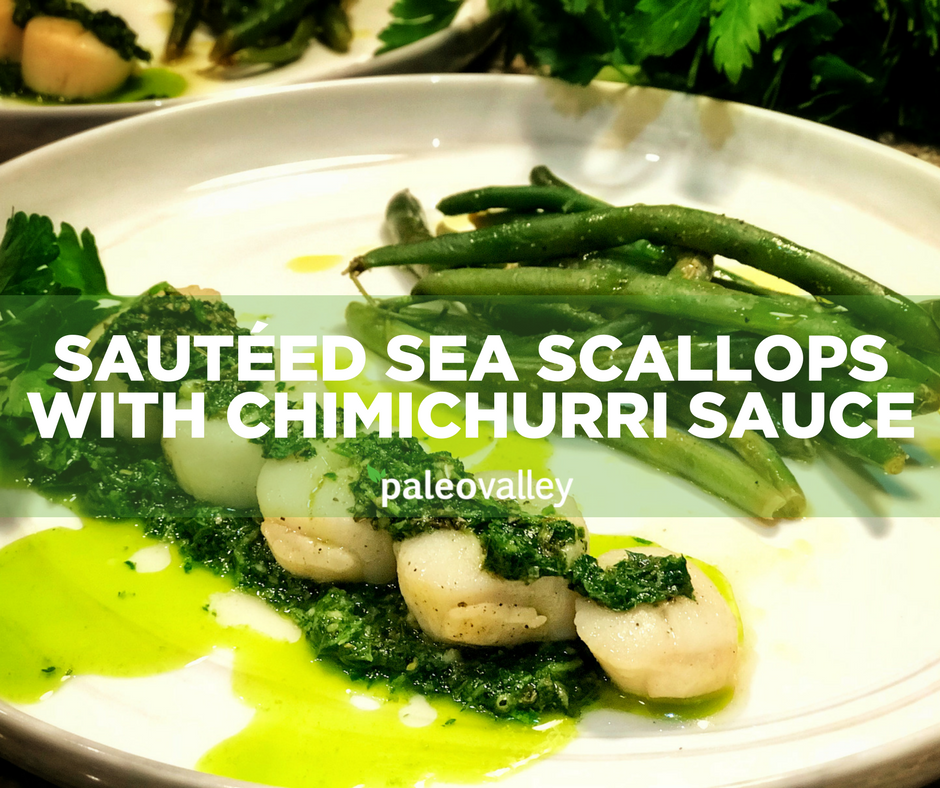 Sautéed Sea Scallops with Chimichurri Sauce
Dinner Made Simple 😉
Sautéed Sea Scallops with Chimichurri Sauce
Yields 3-4 Servings
Cooking Time: 15 minutes
Scallop Ingredients:
1 lb wild caught sea scallops
2 Tbsp coconut oil for searing
Sea salt and ground pepper to taste
Chimichurri Sauce:
1/2 bunch fresh flat-leaf parsley, trimmed of thick stems
1 small handful fresh basil leaves
2 garlic cloves
1/3 cup extra-virgin olive oil
1 Tbsp apple cider vinegar
1/2 tsp sea salt (Here's my favorite brand I use)
1/4 tsp freshly ground black pepper
Directions:
Add all the chimichurri ingredients into a food processor and mix until smooth.
Dry and season scallops with sea salt and pepper. Bring a sauté pan to medium-high heat, add coconut oil and turn the pan so the oil is covering the entire surface. Add the scallops, seasoned side down.
Season the other side with salt and pepper and let cook for 2-3 minutes, or until the bottom has browned. Turn each scallop and let cook for another 1-2 minutes. ***Scallops do not need long to cook. Most people overcook them so they get too tough.
Serve immediately with the sauce.
I ended up pairing the scallops with some haricot verts (aka green beans) that I just steamed for about 10-12 minutes. Once tender, I strained the water and added fresh lemon juice, sea salt, and fresh ground pepper and it was easy as that!
Add your own favorite veggie side to this scallop recipe and let me know how it turns out. Have a wonderful and vibrant weekend! 😊
P.S. - Don't forget to snack up! I'm sure we can agree that hunger strikes at the worst times right?
Be prepared with some of our amazing, nutrient-rich Paleovalley snacks to curb your hunger. Our AIP friendy Paleovalley Pasture-Raised Turkey Sticks are finally here and they taste phenomenal!
Be sure to check out our 2 flavors here and stock up now.