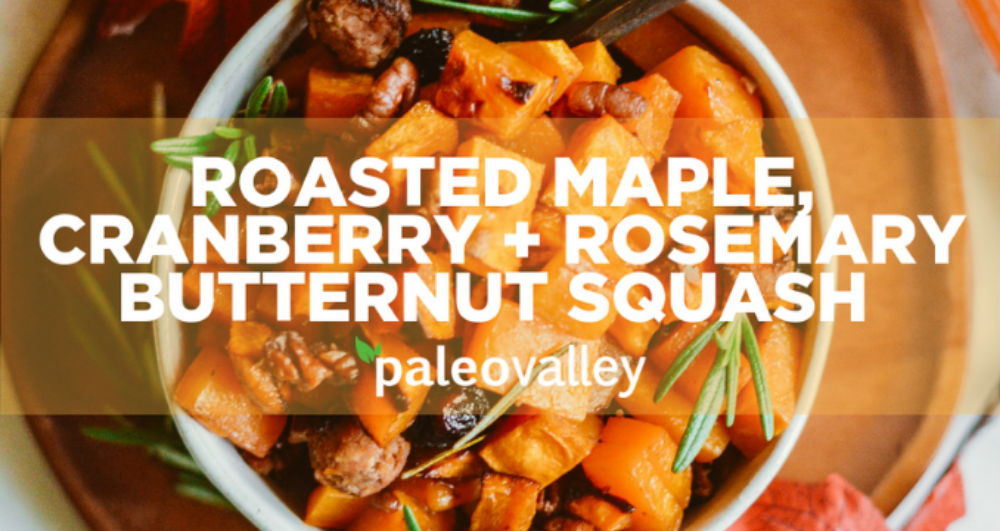 Roasted Maple Rosemary Butternut Squash with Turkey Recipe
Whipping up a Paleo Thanksgiving can be exciting (all those yummy gluten-free goodies) yet also slightly stressful. After all, you're in charge of making all-natural ingredients taste as good as traditional favorites, or at least yummy enough to satisfy multiple palates.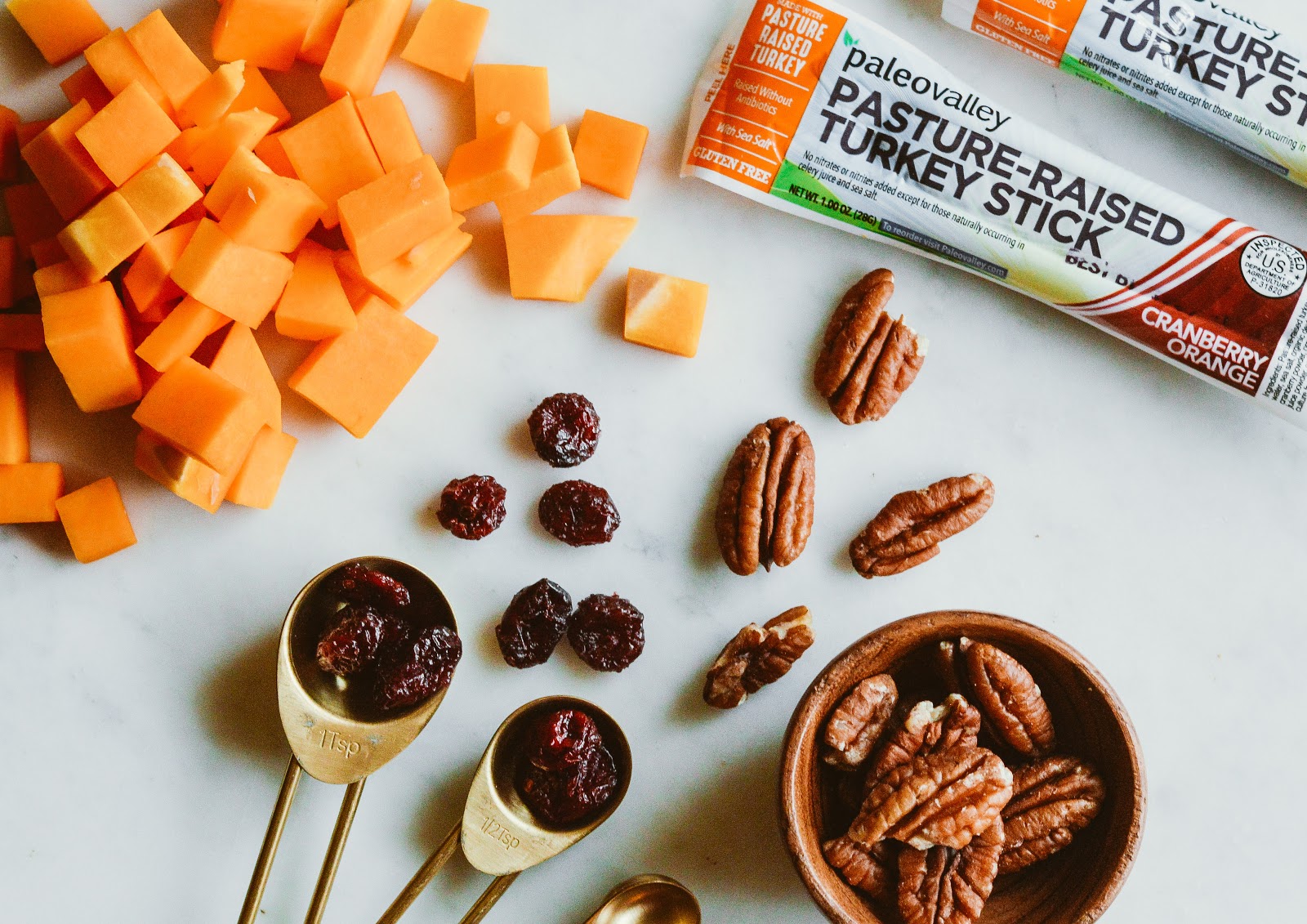 Luckily, natural ingredients can be made to taste just as decadent as their not-so-healthy alternatives, like in our Roasted Maple, Cranberry + Rosemary Butternut Squash with Turkey.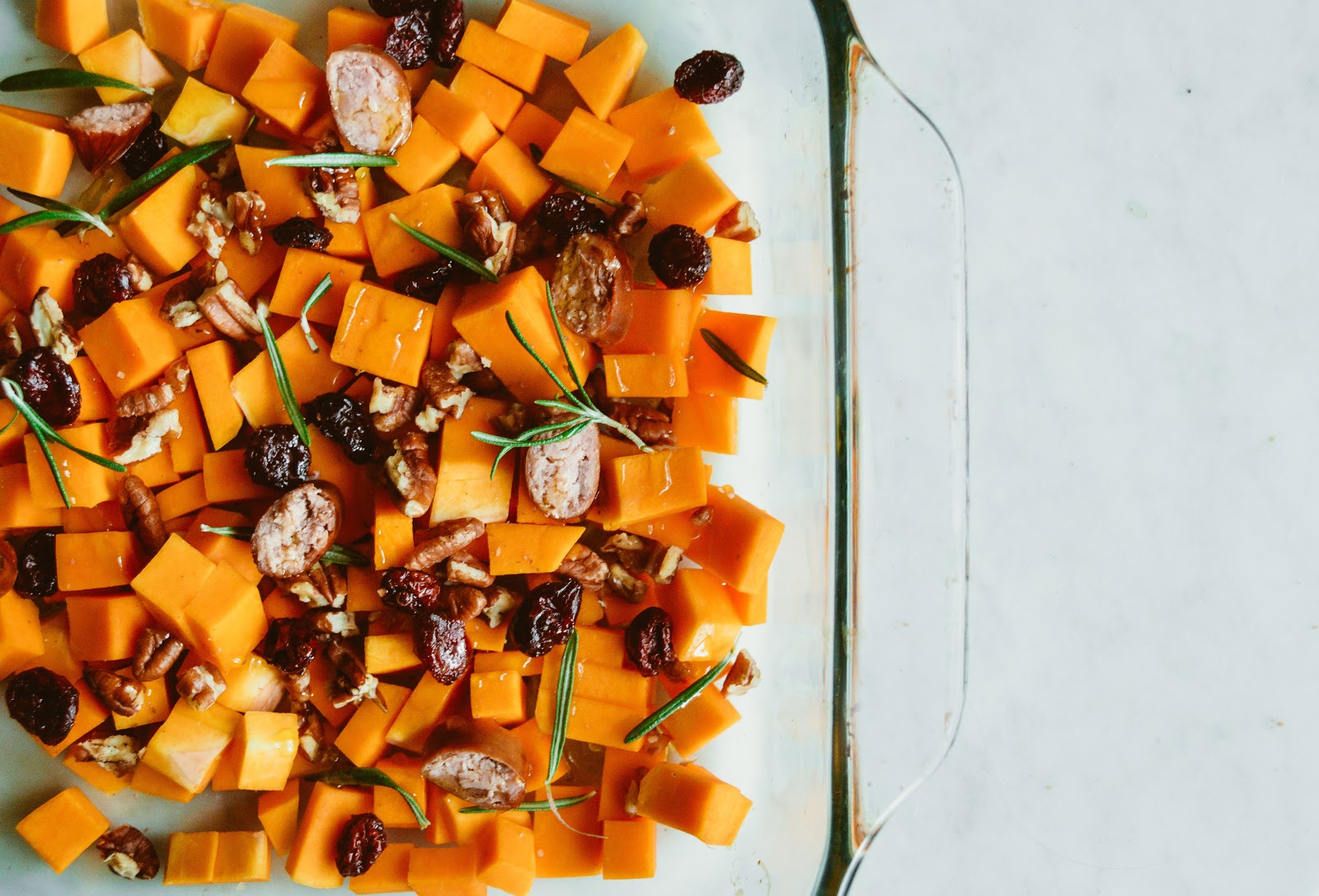 With the blend of sweet, savory, and smokey flavors of pecans, cranberries, maple, smoked Pasture-Raised Turkey Sticks, and butternut squash, it's a side dish that can't go wrong. Plus, it's healthy, and takes literally minutes to make, so you can concentrate on perfecting the main bird.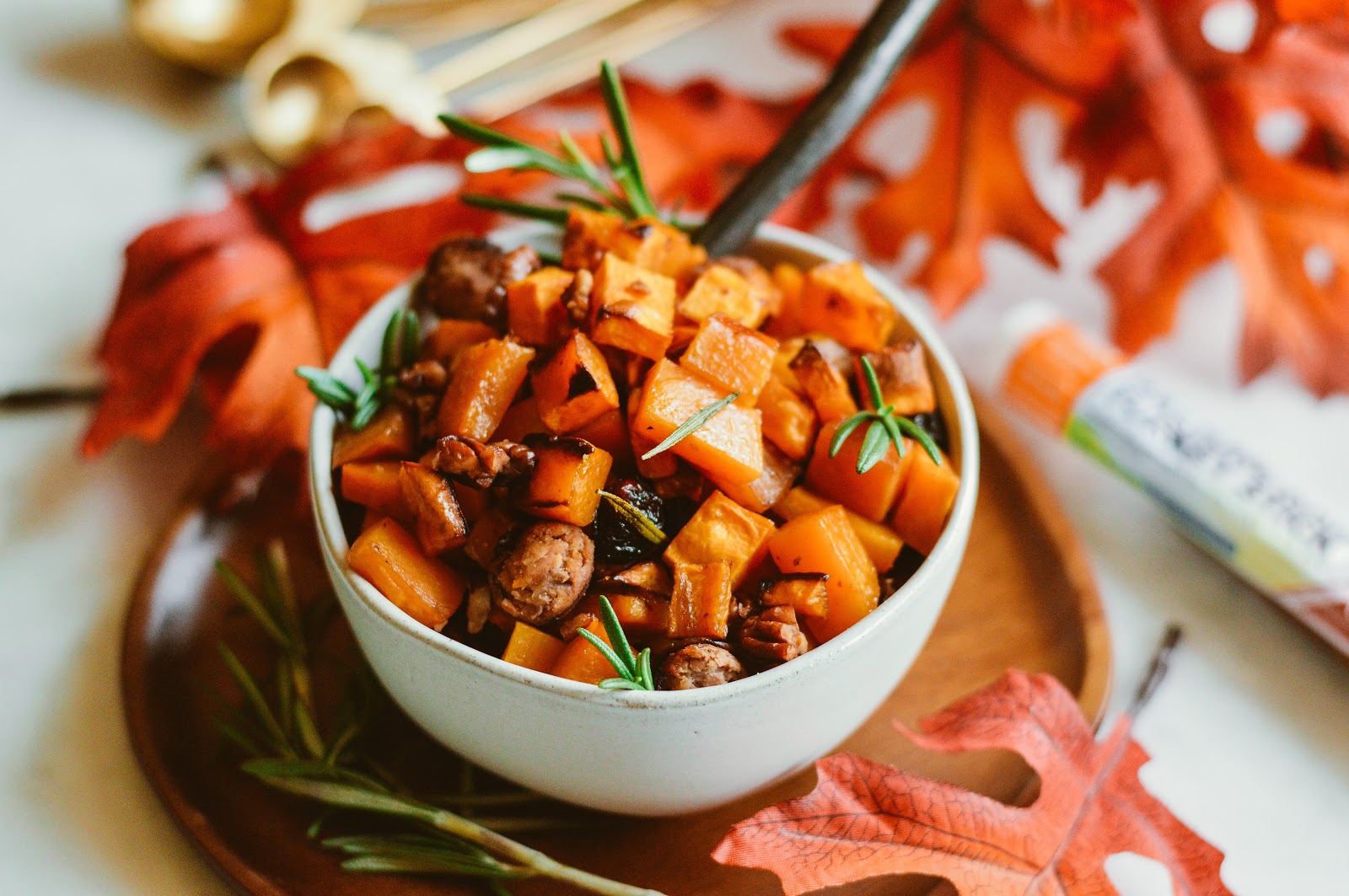 Serve this gorgeous side to please the entire family and brighten the dinner table. Cheers to a healthy and happy Thanksgiving, from the Paleovalley team!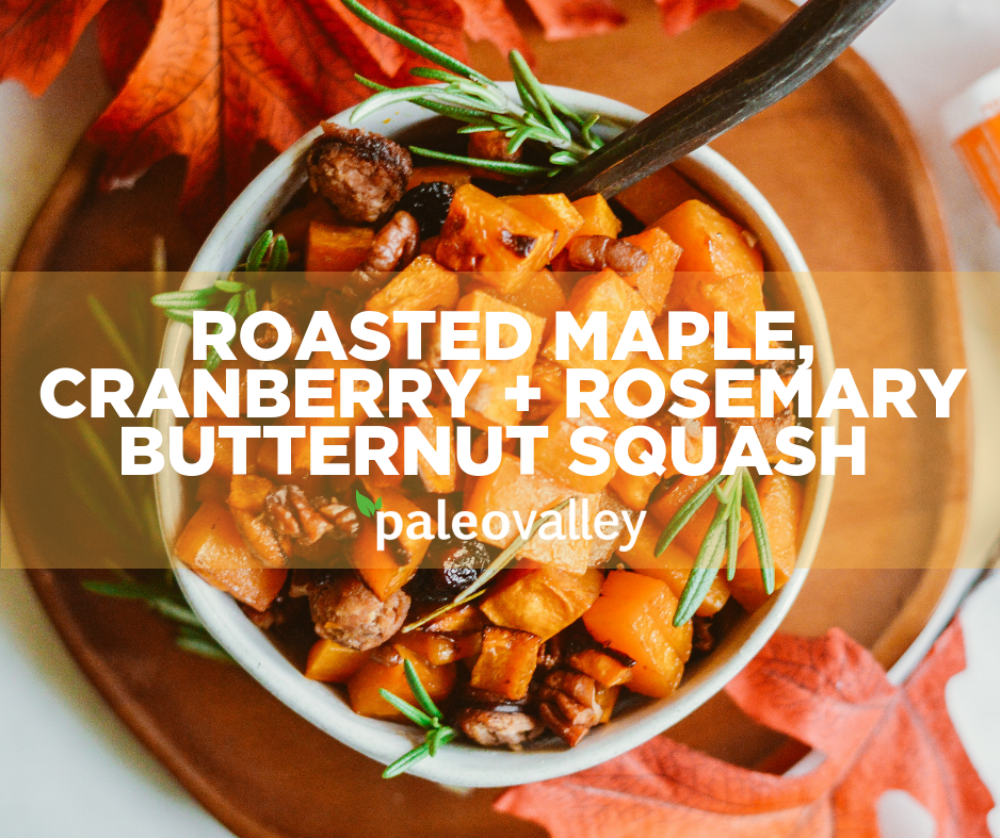 Roasted Maple, Cranberry + Rosemary Butternut Squash with Turkey
Prep time: 10 minutes
Total time: 40-50 minutes
Serves: Yields approximately 4 servings
Ingredients:
5 cups peeled and cubed butternut squash
1 cup crushed pecans
½ cup dried cranberries
¼ cup maple syrup
3 Tablespoons olive oil
½ teaspoon cinnamon
½ teaspoon sea salt
A few sprigs of fresh rosemary
Equipment:
Baking dish or sheet
Large bowl
Cutting board
Directions:
Preheat oven to 350 degrees. Peel and chop butternut squash into small squares.
Slice Pasture-Raised Turkey Sticks into thin slices and crush pecans either in a food processor or with a fork in a bowl.
Add squash, pecans, cranberries, turkey, olive oil, cinnamon, maple syrup, salt, and rosemary in a large bowl and toss until well combined.
Spread evenly onto a large roasting pan.
Roast for 30-40 minutes or until squash is soft.
Serve immediately.
Getting ready for the Holidays? Pasture-Raised Turkey Sticks are an easy way to upgrade any savory side dish. Plus, they're the perfect snack when you need a little extra energy (or want to curb a craving) during the holidays.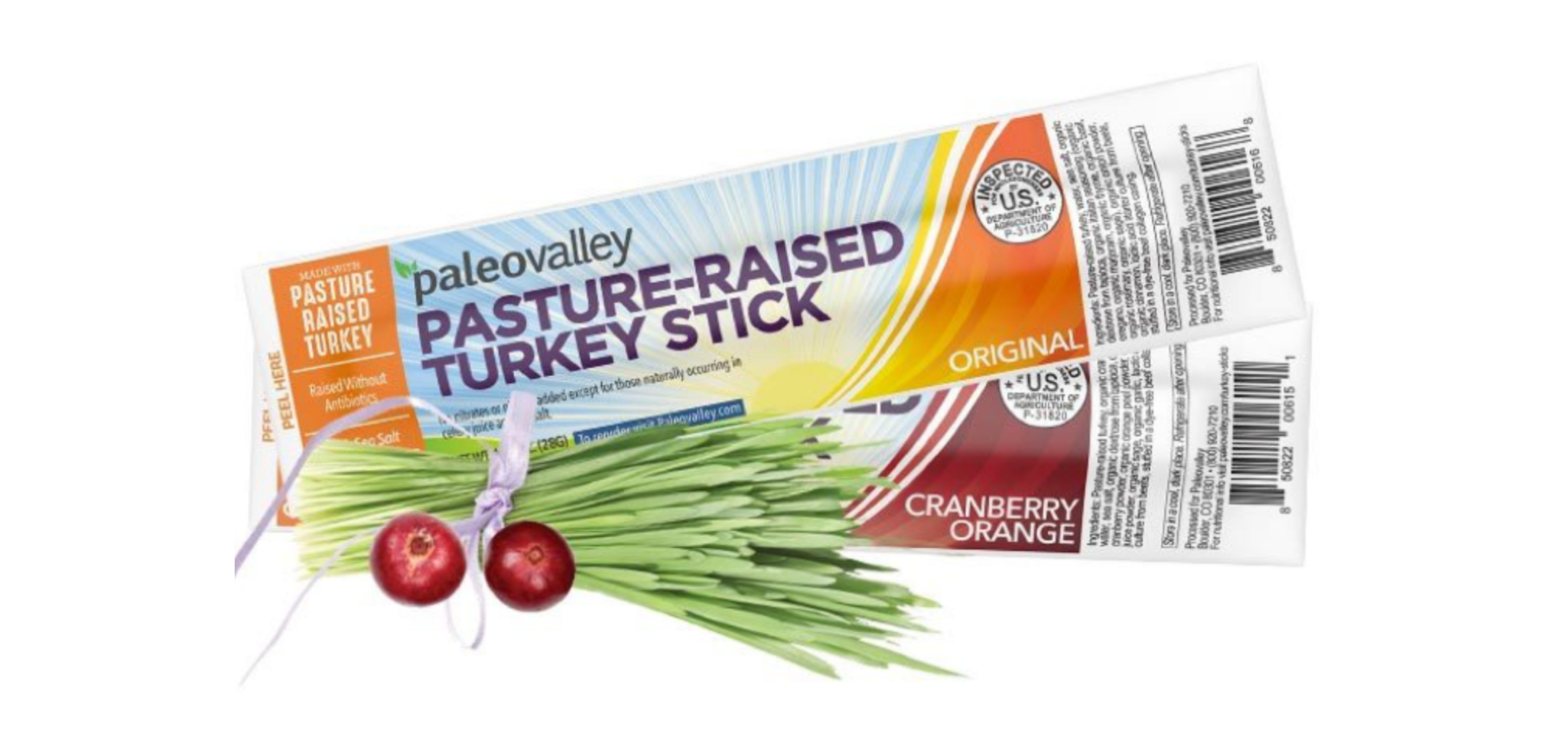 >>>Click HERE to Save up to 18% when you stock-up TODAY!