Raspberry-Chocolate Chia Protein Pudding Recipe
Sometimes you just need chocolate. Daily. With breakfast. (Bonus points if it's healthy as well.)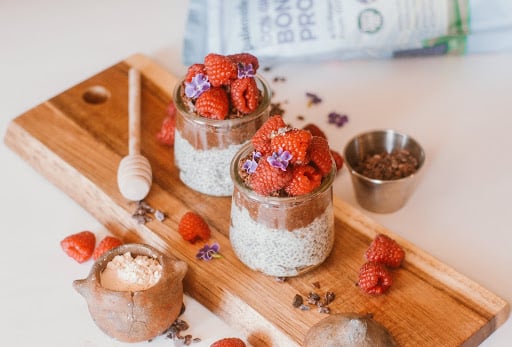 Fortunately, with this Raspberry-Chocolate Chia Protein Pudding, you aren't asking too much.
Not only is chia pudding a breeze to prepare, but it's also an amazing base for decadent additions, like the antioxidant-rich cacao powder, raspberries, vanilla, and honey in this recipe.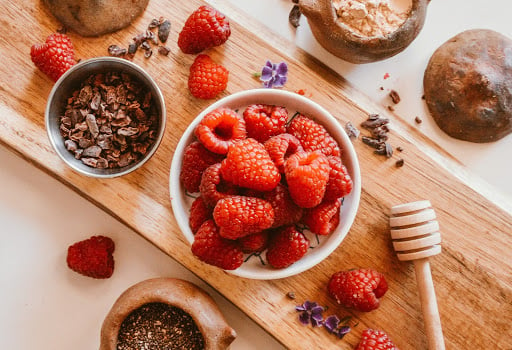 Yet we aren't stopping there. We're taking standard chia pudding up a level by adding yet another superfood: Paleovalley 100% Grass Fed Bone Broth Protein Powder.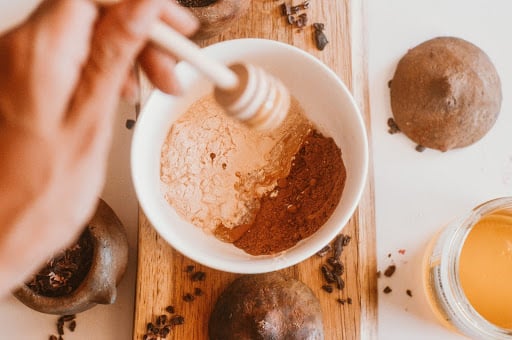 Bone broth is rich in collagen, which has been shown to help heal and improve gut health, keep skin looking youthful and supple, improve joint health, and boost metabolism, just to name a few benefits.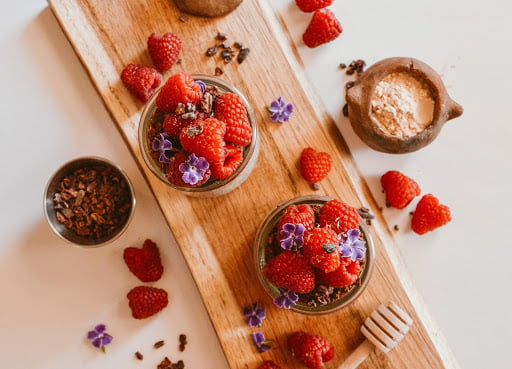 This powder form is perfect for blending into liquid recipes like chia pudding and adds a rich, creamy texture. It's also flavorless, so you get all of the collagen without the taste of broth.
Cheers to collagen and chocolate wrapped up in this simple breakfast.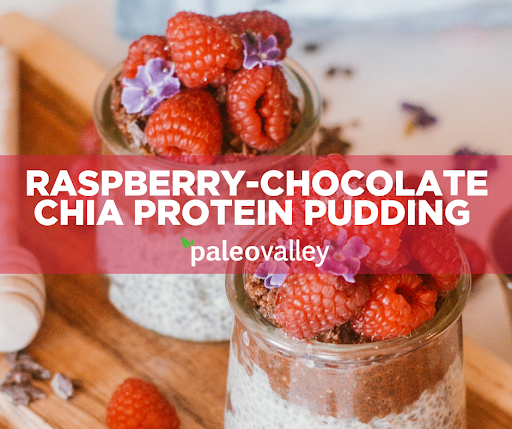 Raspberry-Chocolate Chia Protein Pudding
Prep time: 15 minutes
Total time: 3-5 hours
Serves: 1-2
Ingredients:
Equipment:
Whisk
Glass containers for serving
Directions:
Combine chia seeds, 2 cups almond milk (save the remaining 1/4 cup for later), and vanilla extract in a bowl. Let the chia seeds soak for at least 3 hours, or overnight if possible.
After the chia has soaked, divide into two bowls. In one bowl, whisk in the bone broth protein and additional almond milk until thoroughly combined. Whisk the cacao powder and raw honey into the other bowl until thoroughly combined.
Now, add the chia containing your bone broth protein to the bottom of your two glass containers. Follow with the cacao and honey chia, layering it on top.
For your toppings, sprinkle on cacao nibs, nuts and seeds (if you want), and fresh raspberries.
Sit, savor, and indulge in chocolate-y, collagen-rich goodness.
If you haven't tried our collagen-rich Bone Broth Protein Powder, grab yours now with a 60-day money-back guarantee! PLUS up to 20% off your order!