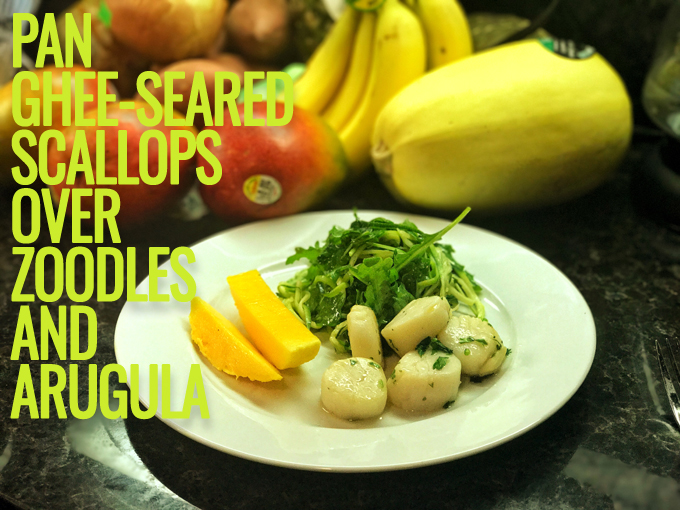 Pan Ghee-Seared Scallops over Zoodles & Arugula
An Elegant Dinner in 15 Minutes or Less!
Pan Ghee-Seared Scallops over Zoodles & Arugula
Servings: 3-4
Cooking Time: 10 mins
Prep Time: 15 mins
Ingredients
1 lb dry wild caught sea scallops, tendons removed
1-2 Tbsp. ghee
5-6 small zucchini, spiralized
Extra virgin olive oil
2 Cups arugula
Fresh parsley, chopped, for garnish
Sea salt (this is my favorite brand!) and ground pepper to taste
Equipment:
Spiralizer (this is one of my favorite kitchen tools and it's around $10 on Amazon) Grab one like mine here.
Directions:
Preheat oven to 350° F.
Lay scallops out on a flat surface & blot with a clean towel to remove extra moisture. Sprinkle with sea salt on all sides.
Lay zucchini out flat on a baking sheet. Sprinkle with salt. After 10 minutes, use a paper towel to blot away any extra moisture. Bake zoodles for 5-7 minutes.
Remove from oven and add to a medium-sized bowl. Drizzle with olive oil & cracked pepper. Use tongs to gently toss in the arugula.
Add ghee to a medium skillet over high heat. Once pan is very hot, gently add scallops. Sear about 1½ minutes per side, spooning ghee over scallops while cooking.
Serve scallops with zoodles. Top with fresh parsley.
***Always opt for organic for any of the ingredients whenever possible and always 100% grass fed/grass finished for the meat, wild caught for fish, and pasture raised for pork and poultry.