Paleo Low-Carb Cauliflower Stuffing Recipe
Trying to keep the carbs low this holiday season and afraid you'll miss out on traditional favorites like stuffing? We've been there and we've got you: you won't even miss bread-based stuff once you've tasted this low carb cauliflower stuffing.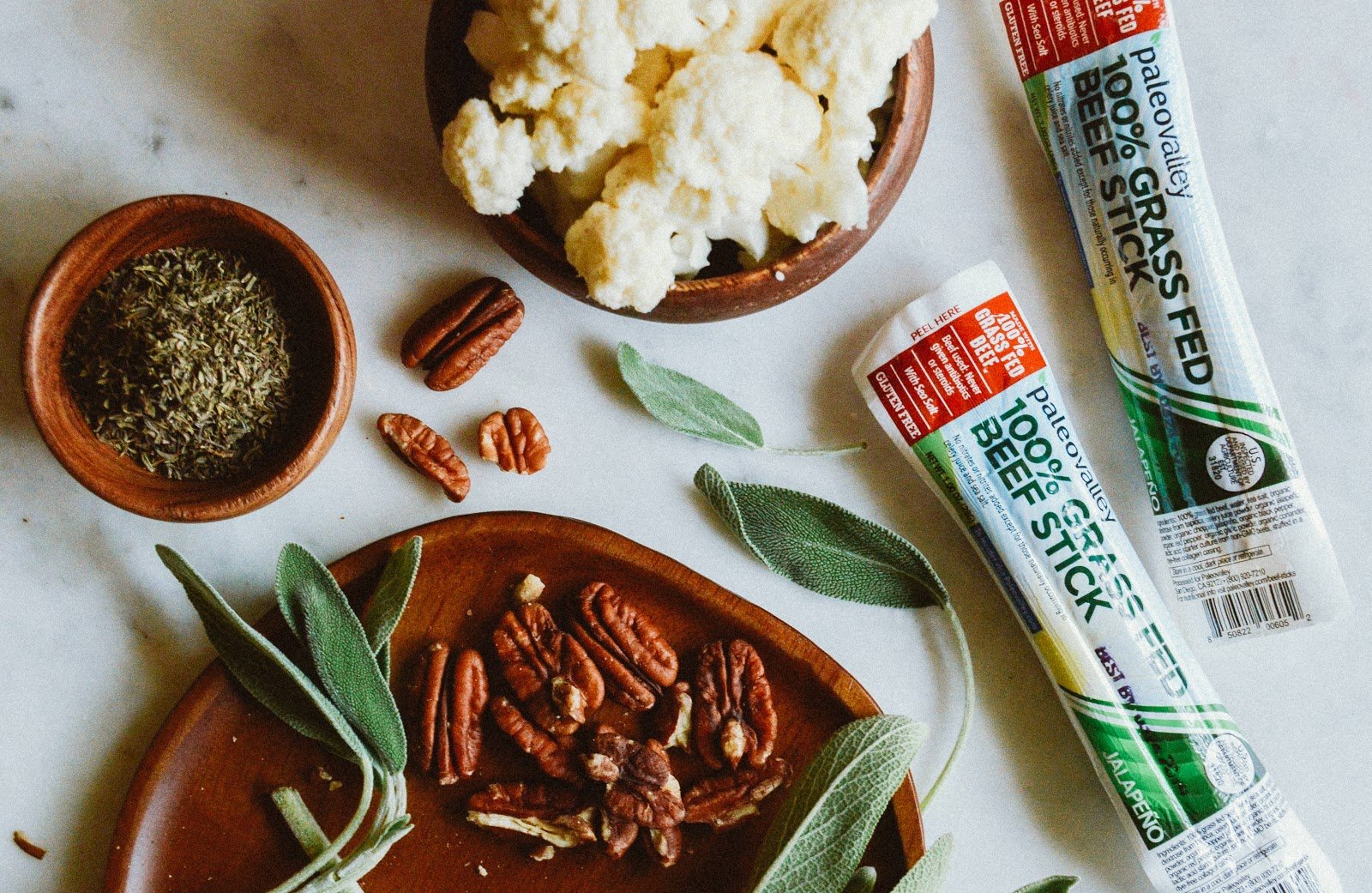 Cauliflower as a base keeps the carbs low in this stuffing, but not short on flavor.
We've added fresh herbs and pecans for the savory palate, added a dash of maple syrup for just a touch of sweetness, and rounded everything out with a meaty kick from our Jalapeno Grass Fed Beef Sticks (use our regular flavor if your prefer no spice).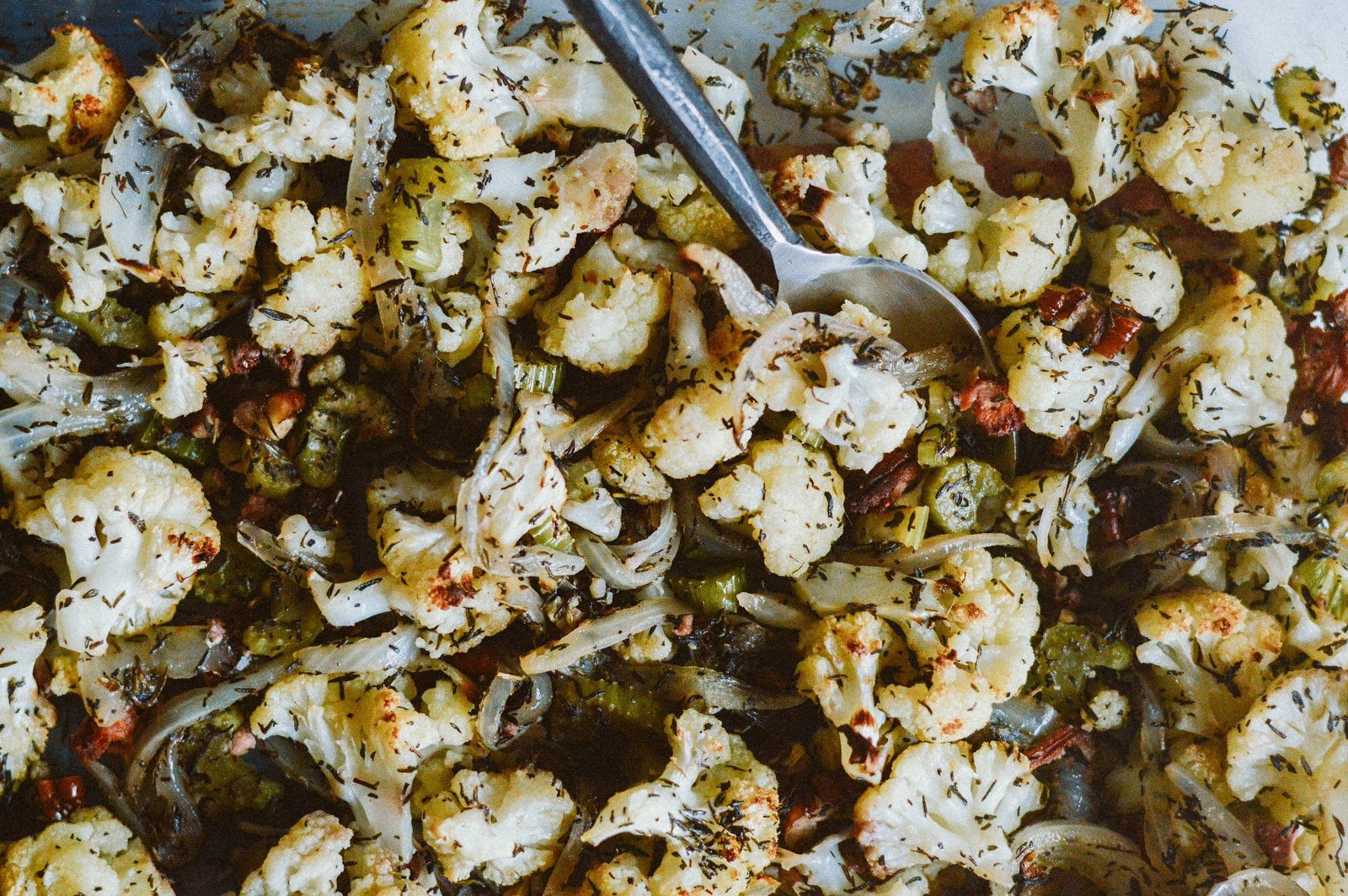 The result is a flavor sensation that is reminiscent of traditional stuffing. Feel free to have seconds (and even thirds, we won't tell) and still keep your carbs to a minimum. After all, you do need to conserve some for pie!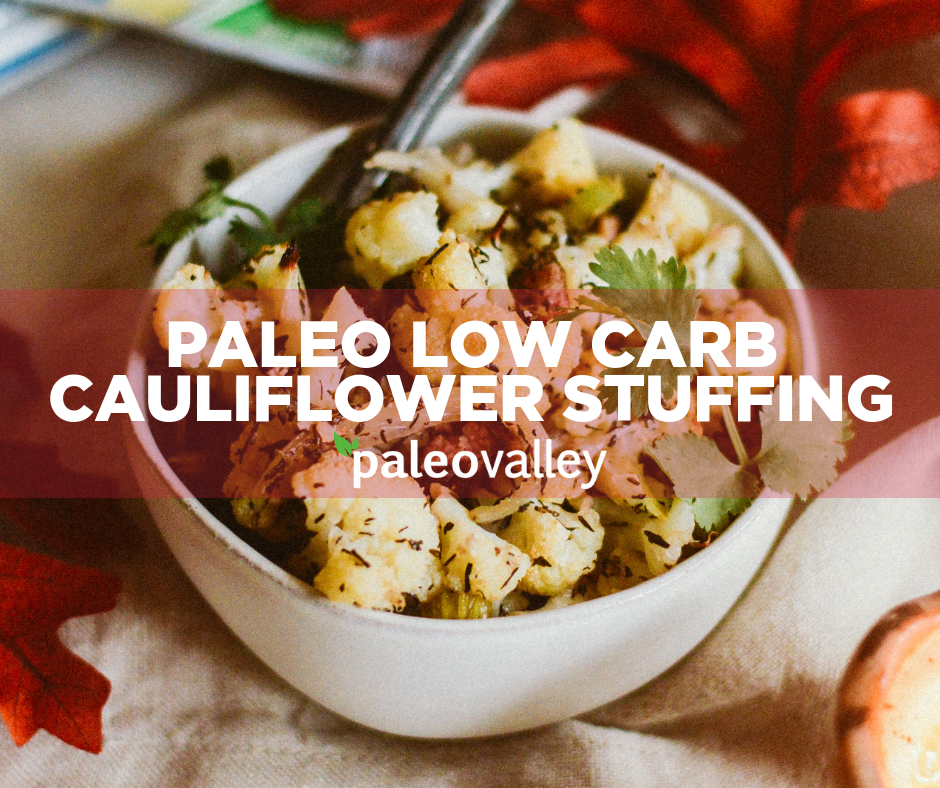 Paleo Low Carb Cauliflower Stuffing
Prep time: 10 minutes
Total time: 40 minutes
Serves: 10 ½ cup servings
Ingredients:
1 large cauliflower head, chopped into small florets
1 large yellow onion, sliced
¼ cup thinly chopped celery
2 thinly sliced Paleovalley 100% Grass Fed Beef Sticks
2 garlic cloves, chopped
¼ cup olive oil (try a bottle of our favorite for just $1)
¼ cup crushed pecans
1 Tbsp maple syrup
½ tsp dried thyme
¼ tsp ground dried rosemary
½ tsp ground sage
¼ tsp black pepper
2 Tbsp chopped fresh parsley
Equipment:
Directions:
Preheat oven to 450ºF. Line a baking sheet with parchment paper.
In a large bowl, combine all ingredients minus the fresh parsley and pecans, and toss until olive oil, maple syrup, and herbs are evenly distributed.
Spread the stuffing on the baking sheet in a single layer (you may need more than one).
Roast for roughly 15 minutes.
Remove and stir in fresh parsley and pecans, then roast for another 10-15 minutes until cauliflower edges are golden and pecans are brown.
Getting ready for the Holidays? Stock up on Grass Fed Beef Sticks TODAY! Did I mention they're backed by a 60-day, money-back guarantee?! If you don't like them, just send them back for a full refund!
Happy Paleo-ing!
Matt Smith & The Paleovalley Team