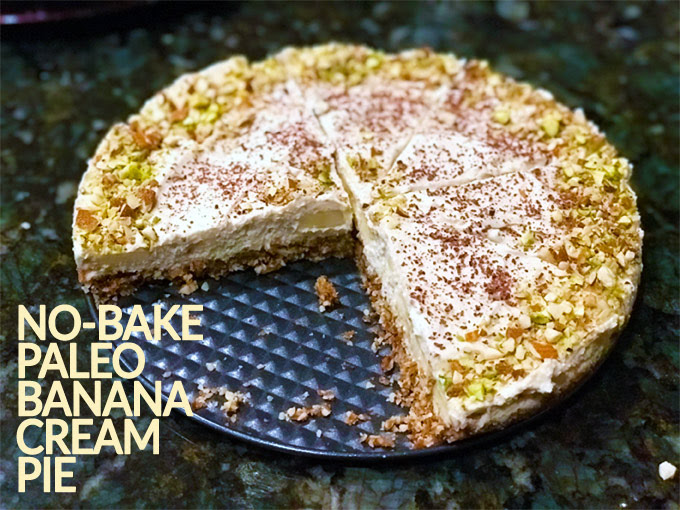 No-Bake Paleo Banana Cream Pie
A Healthy Pie Alternative with No Sugar Added!
The only issue with making a healthy version of banana cream pie is finding the right substitutions to draw out those classic flavors. Luckily for you, I have just the recipe from our friends at The Roasted Root. 😊
And what I love about this recipe is there's no baking and no dairy!
Plus, you can put it in the freezer to store for a few weeks so if you have a sweet tooth like me, you have something healthier to satiate that craving.
No-Bake Paleo Banana Cream Pie
Yields 8 Slices
Prep Time: 20 minutes
Total Time: 40 minutes
Almond Crust Ingredients:
1½ cups raw almonds
8 soft medjool dates pitted
2 Tbsp coconut oil softened or melted
¼ teaspoon ground cinnamon
½ teaspoon pure vanilla extract
¼ tsp sea salt
Banana Cream Pie Filling:
2 (14-oz) cans full-fat coconut milk* refrigerated overnight (see note)
3 large ripe bananas peeled and sliced
¼ cup honey
1½ teaspoons pure vanilla extract
Pinch sea salt
Garnishes:
Raw almonds chopped
Raw pistachios chopped (optional)
1 square dark chocolate, grated (I used 80% cacao, but just try and find at least 72% or more. The darker the chocolate the more bitter it will taste too.
Equipment:
Directions:
Add the ingredients for the crust to a food processor and process until the almonds are finely chopped (but still fairly chunky), and a sticky mixture is formed. Line an 8-inch springform pan and press the crust mixture into the bottom, creating an even layer. Refrigerate until ready to use.
Open the two cans of refrigerated coconut milk and scoop out just the thick coconut cream on the top and place into a mixing bowl (or stand mixer fitted with the whisk attachment). Leave any clear liquid behind or use them in smoothies!
Add the honey, vanilla extract, and sea salt to the mixing bowl and use a hand mixer to beat the ingredients until thick and fluffy. It's okay if the mixture doesn't have the same consistency as regular homemade whipped cream, so long as it's thick.
Pour ¼ to ½ of the coconut whipped cream onto the prepared crust and spread into an even layer. Layer the sliced bananas on top, followed by the remaining coconut whipped cream. Use a rubber spatula to evenly spread the coconut whipped cream.
Cover the pan with plastic wrap and refrigerate for 2 hours. When ready to serve, release the pie from its mold and garnish with grated dark chocolate and chopped almonds and pistachios. Use a sharp knife to cut into triangles and serve immediately.
Also, if you freeze the pie for longer than two hours, you may need to thaw it 8 to 10 minutes before cutting and serving, as the coconut milk will harden. Store any leftover banana cream pie in the freezer.
***Note: Before you begin this recipe, just make sure to put the coconut milk in the freezer to harden overnight.
This is what creates that perfectly whipped coconut cream. If you don't put it in the fridge it will be too liquidy and not enough cream will have formed. Trust me when I say if you follow the recipe you will have a hit on your hands.
You may want to even give it a try beforehand just so you can savor some for yourself because once you put it on the table, consider it gone.
Secondly, with the holiday season, we tend to binge eat a little bit more when the family is around right? Don't let that side-track everything you've been working so hard for this year in regards to your health. And if you feel off the wagon, the new year is a new start!
I can't urge you enough to pick up a copy of Autumn's life-changing Radiate in 28 book, (it's free + shipping) and start getting ready for the New Year! I went through it with my fiance, Kayla, back in January and the results were astounding! Not only did I Iose 12 pounds in those 28-days but it eradicated 15 years worth of nagging, debilitating digestive issues! Hallelujah!
The program also corrected Kayla's leaky gut issues and she melted off 10 pounds herself! I seriously can't vouch for it enough so grab your copy here.