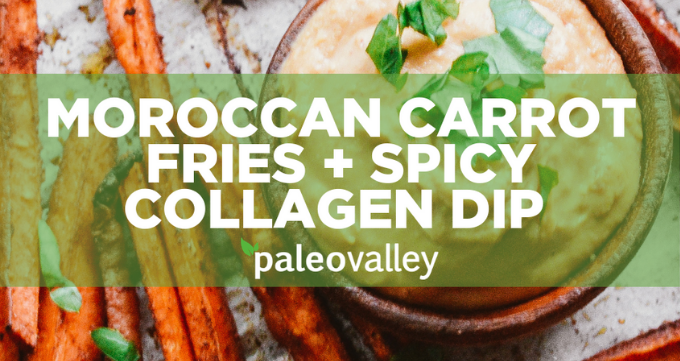 Moroccan Carrot Fries with Spicy Collagen Dip Recipe
It's inevitable: no matter how long you've been paleo, you're sure to miss the salty, crispy satisfaction of a handful of French Fries.
The good news is, you don't have to live without them. You just need to whip up a healthier, but no less flavorful version like these Moroccan Carrot Fries.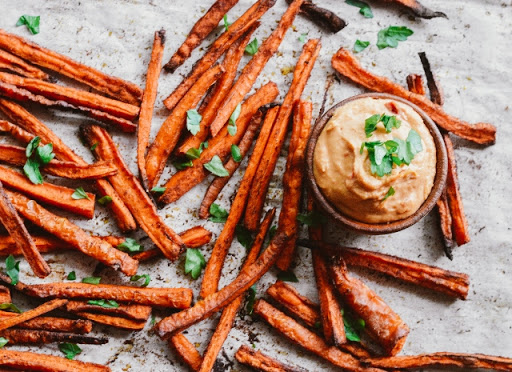 You've most likely heard of (or even made) sweet potato fries. But have you tried the carrot version? We've found that they tend to get a bit crispier than their sweet potato cousins, making them a perfect "fry" to make in your oven.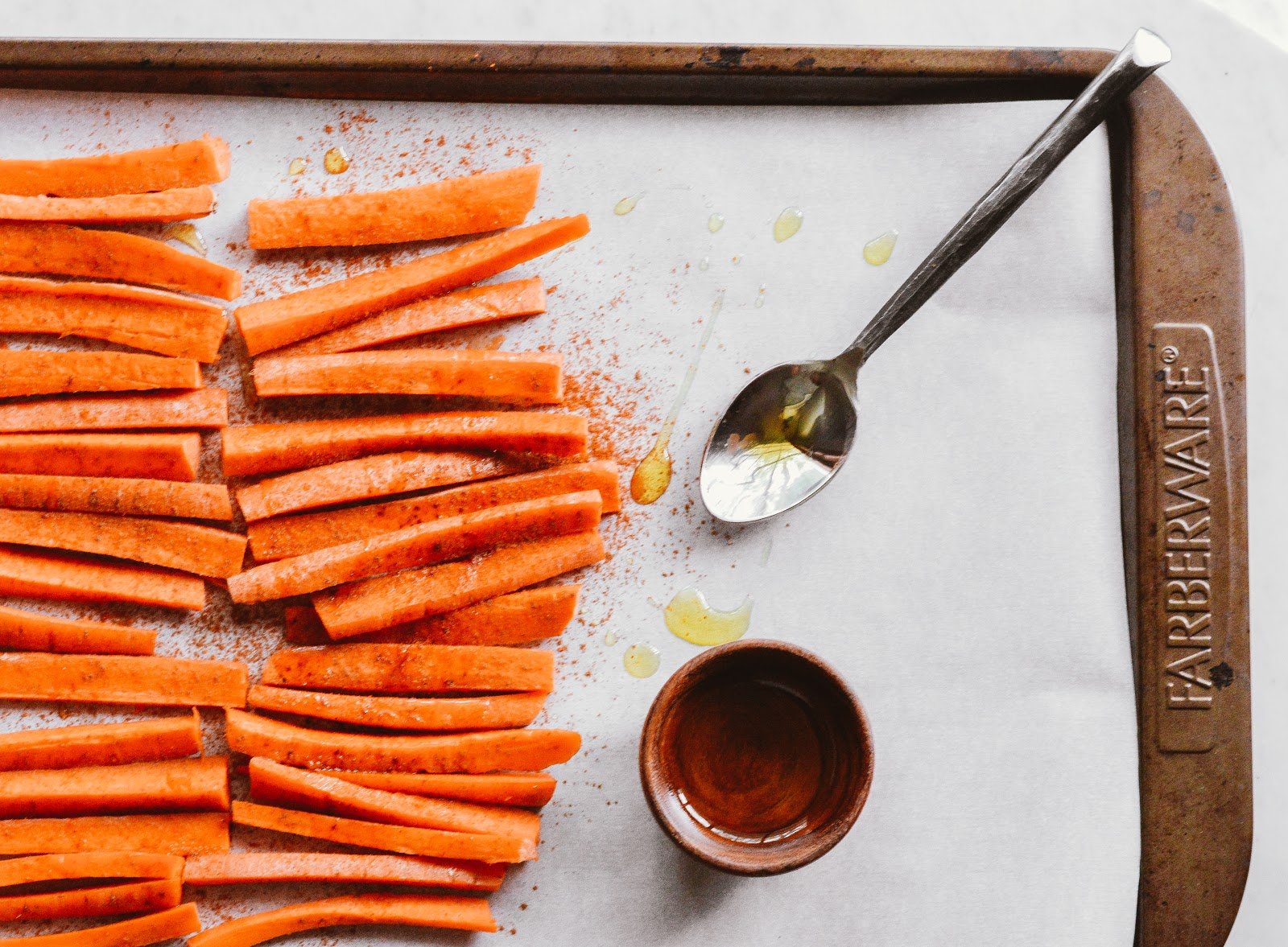 In this recipe, we've spiced them up with a Moroccan blend of spices, while serving them with a collagen-rich dip infused with Paleovalley Bone Broth Protein for extra nutrient density.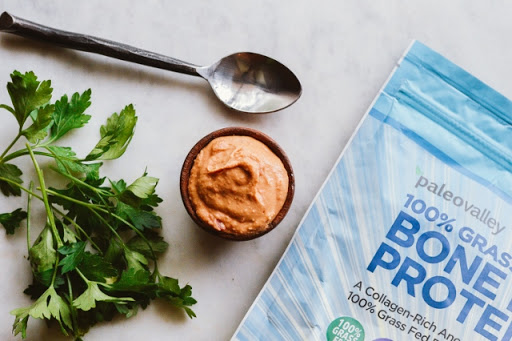 Not only will you get a hefty dose of antioxidants from the carrots and spices to help fight the signs of aging, but you'll also get collagen from the bone broth in the dip. Collagen has been shown in studies to help improve skin suppleness, as well as joint pain [*]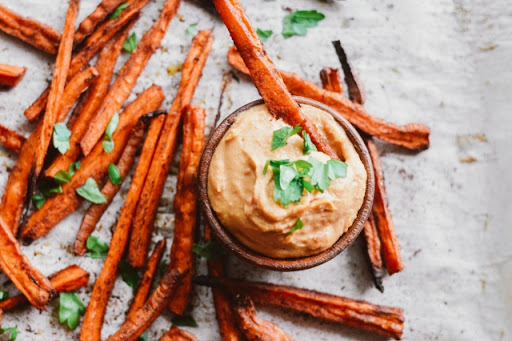 As you can see, fries don't have to be a "cheat." Just grab yourself some carrots and other simple ingredients, and you'll be quenching that craving (healthily) in no time.
Moroccan Carrot Fries with Spicy Collagen Dip
Prep time: 5-10 minutes
Total time: 30 minutes
Serves: 4
Ingredients
2 lbs carrots, cut into thin sticks, lengthwise
2 tbsp avocado or olive oil
2 tsp cumin
2 tsp garlic powder
1 tsp paprika
1 tsp cayenne pepper
1 tsp sea salt
½ tsp ginger
Fresh herbs for garnish
Spicy Collagen Dip Ingredients
Paleo Mayo Ingredients
Equipment
Glass jar
Immersion blender
Large mixing bowl
Baking sheet
Whisk
Directions
Preheat oven to 425ºF.
Wash and slice each carrot in half down the center, then slice each half into thin sticks, like fries.
Toss the carrot sticks with oil, cumin, garlic powder, paprika, ginger, cayenne, and salt.
Place evenly on a baking sheet and let bake for 20-25 minutes, or until they've reached the crispiness you desire.
While the carrots are cooking, prep the mayo.
Crack an egg into a large glass jar that is wide enough for an immersion blender to fit.
Add the mustard, vinegar, and salt into the jar. Do not stir yet.
Add the oil on top, then carefully submerge your immersion blender to the bottom layer of the jar where the egg is (this ensures the mixture blends without the herbs flying onto the walls of the glass).
Blend for 20 seconds without moving the blender, until the contents have turned white.
Now, slowly move the blender up and down to incorporate the oil, until a thick mayo forms.
Set aside.
Prep the dipping sauce for your carrots by adding all ingredients to a large bowl: bone broth powder, mayo, ketchup, horseradish, mustard, paprika, oregano, cayenne pepper, and sea salt, and whisk until thoroughly combined.
Place the dip in a serving bowl and remove the carrot fries when finished.
Garnish with fresh herbs and serve!
Completely flavorless Bone Broth Protein is an easy way to turn any recipe into an anti-aging powerhouse. Use it in everything from smoothies, soups, and dips, to desserts and baked goods. Loaded with gut-healing collagen, it's a great way to give your immune system the extra support it needs right now.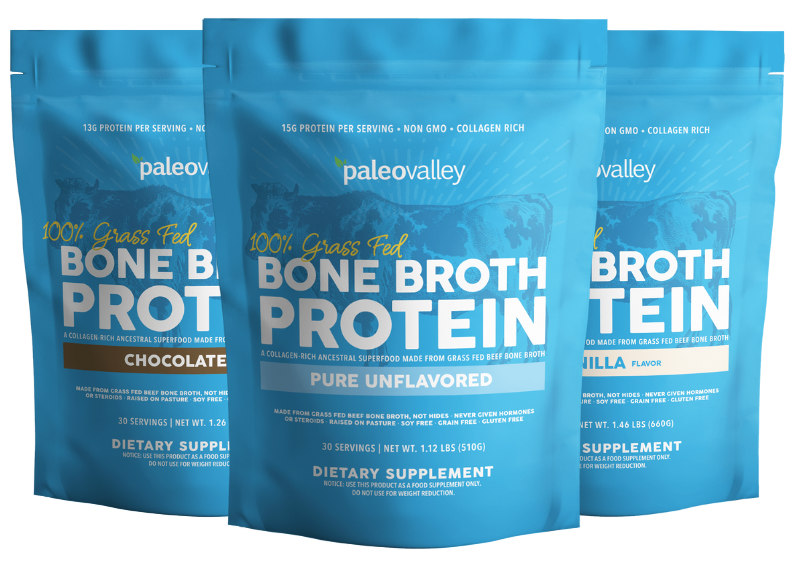 >>> Try Bone Broth Protein Risk-Free + Get up to 20% Off TODAY!