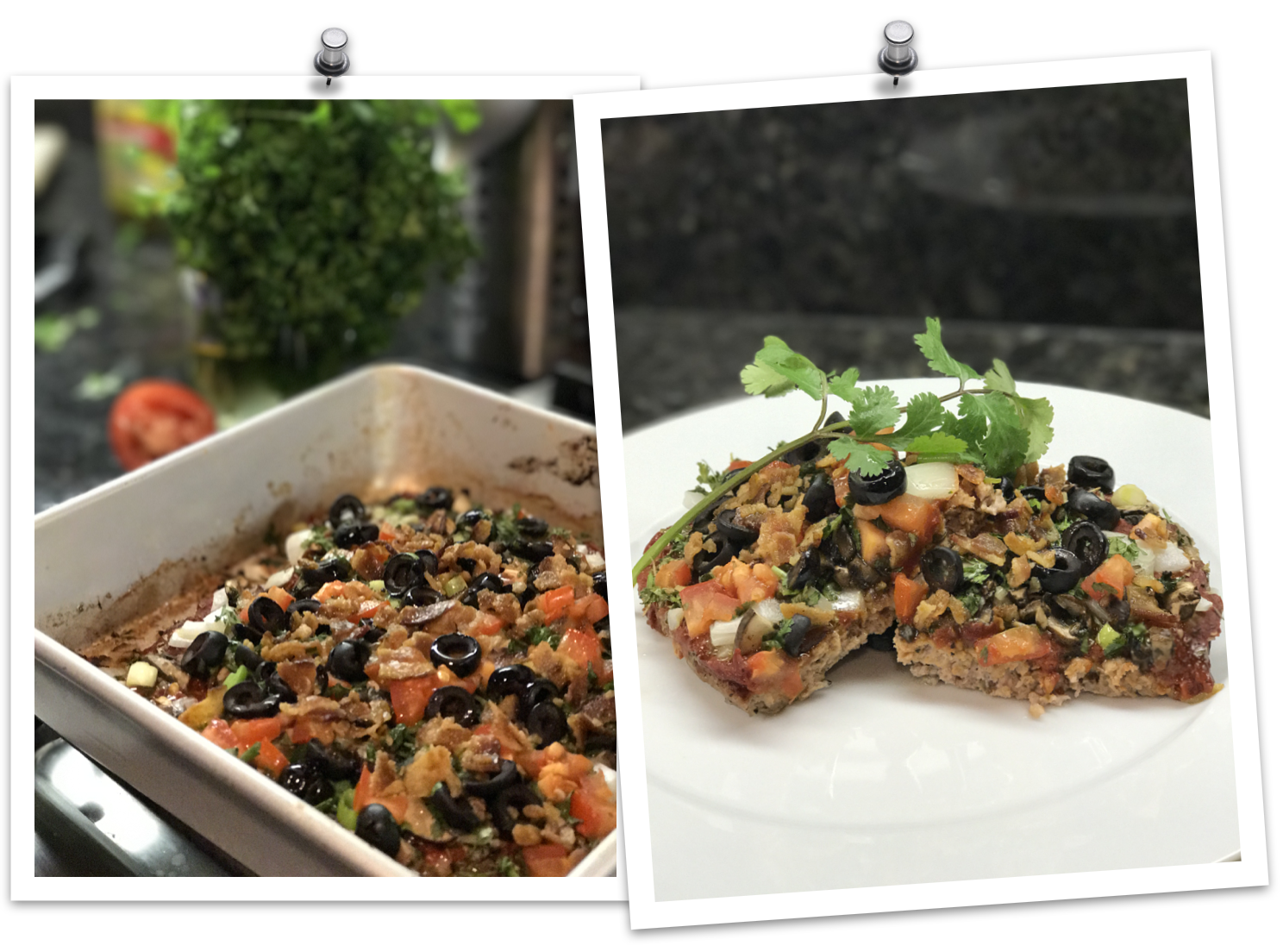 Meatza
All the Goodness of Pizza Minus the Crust!
Meatza!
Servings: 3-4
Cooking Time: 25 mins
Prep Time: 10 mins
Ingredients:
Equipment:
A large casserole baking dish or a baking sheet lined with foil or a non-stick Silpat - I love this brand. If you bake at all get this right away! It's a lifesaver for cleaning and baking. :)
Directions:
Preheat oven to 400 F°.
Remove sausages from casings and combine in a bowl. Add sea salt, dried thyme, and rosemary. Mix well. On a foil lined sheet or baking dish, press the meat into a uniform layer, about 1⁄2 inch thick. Ask your kids, or family if they'd like a square or round pizza too. 😊
Next, par-bake the Meatza crust for about 10 minutes. Remove and drain off excess fat. This helps make the sausage crispy like a crust. In the meantime, with a spatula spread the tomato paste evenly over the Meatza crust.
Chop onions, bell peppers, and beef sticks into thin slices. Next drain the olives. Layer the toppings over the tomato paste and bake for about 10-15 minutes until bell peppers and onions are cooked. Use a knife or pizza cutter to cut into squares or slices.
***Always opt for organic for any of the ingredients above when possible and always 100% grass fed/grass finished for the meat.
Again the thing I love about pizza is you can customize it. This is where kids can have a lot of fun.
Does everyone in your family prefer different toppings? Then make personal pan sized pizzas by splitting up the meat crust and have everyone make their own...just the way they want.
The variety in this dish is endless and that's why I wanted you to try it.
Plus it's just about the most delicious dish ever. More importantly, it's 100% healthy!
So get out there this weekend and do some shopping together. Cook together. Eat together. I really want you to have fun with this dish because I know you'll absolutely fall in love with this meal plan recipe.
Lastly, grab your free RADIATE IN 28 book before we run out. We already have 100's of people going through the program and we're building a community together so hop on board!
Things like gut health, digestive problems, skin irritations, uncomfortable bloating after every meal, fat loss, fatigue and a lot more.
Look all we want and hope is that you take the first step in the right direction towards optimal health. If that means giving you a complimentary book, we're all for it. Just cover the small cost of shipping and we'll get that out to you right away.
>> Go here to grab your RADIATE IN 28 book now and get started!