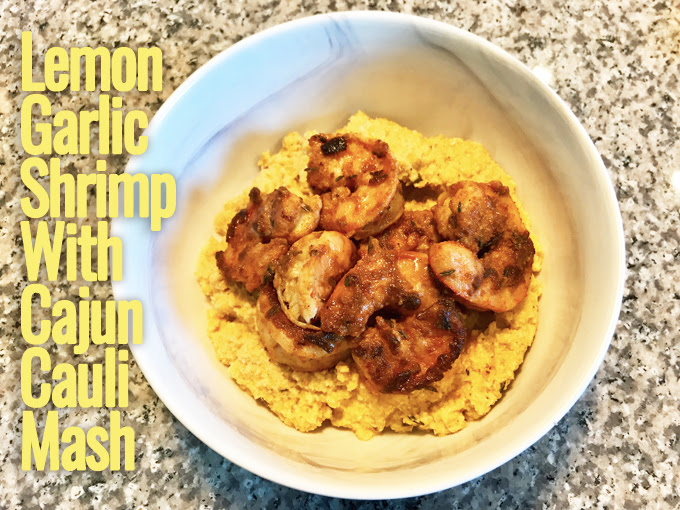 Lemon Garlic Shrimp with Cajun Cauli Mash
The Perfect Recipe for Any Occasion
If you're like me and you can't stand spicier foods, you can make this milder by using less Cajun spices; in particular the cayenne pepper, but without further ado here is your recipe!
Lemon Garlic Shrimp with Cajun Cauli Mash
Yields: 3-4 servings
Cooking Time: 25 minutes
Shrimp Ingredients:
1 lb raw wild caught shrimp
2 garlic cloves
1 - 2 Tbsp Lemon juice
1½ Tbsp Cajun seasoning (Recipe below makes around 3 Tbsp. - save half for cauli mash)
Cauli Mash Ingredients:
2 Tbsp. avocado oil
2 garlic cloves, diced finely
1 large orange bell pepper, diced
2 small heads or 1 large cauliflower head, riced
2 - 3 Tbsp cashew milk (a little goes a long ways)
¼ tsp. crushed red pepper flakes
1 tsp. sea salt (my favorite brand)
1 ½ Tbsp Cajun seasoning
(Optional) If you need to make your own Cajun Seasoning:
1 Tbsp smoked paprika
1 tsp onion powder
1 tsp garlic powder
1 tsp ground white powder
1 tsp ground black pepper
1/4 tsp dried thyme
1/8 tsp cayenne
Pinch of sea salt
Directions:
In a small bowl, toss the shrimp with half of the cajun seasoning, set aside the other half for the cauliflower mash.
Heat avocado oil up in a skillet using medium/high heat. Add garlic, sauté until fragrant.
Next, add shrimp and sear on one side until pink, then flip to sear the other side. This takes about 2-3 minutes per side.
Remove shrimp from skillet, cover and set aside.
If cauliflower isn't riced already, use a food processor to get it nice and fine. Once cauliflower is riced, add 1 bell pepper sliced to the food processor. Once this is a good consistency, add cashew milk. Start by adding 1 Tbsp, adding up to 3 Tbsp cashew milk, until you feel the consistency resembles a mash.
Next, add avocado oil to the same skillet you used to cook the shrimp in. Cook on medium to medium-high heat.
Add garlic, saute and stirring frequently for 1 - 2 minutes.
Next, add the cauliflower mash to the skillet and season. Add the rest of the Cajun seasoning about 1½ Tbsp, 1 tsp salt, ¼ tsp crushed red pepper flakes and pepper.
Let cook, stirring frequently. You'll notice the mash will fluff up a little bit when it's close to done. Cooking for about 7 - 10 minutes.
Top Cajun Cauliflower Mash with Lemon Garlic Shrimp and Enjoy! 😊
Give this recipe a shot this weekend and let me know what you think!
It seems like a lot but it's actually pretty easy and quick to make so don't feel overwhelmed. Also, I just recently got this best selling food processor off Amazon for around $24 and it works perfectly!
So if you need one and don't want to fork over hundreds of dollars like they used to cost, try this one instead. I'll absolutely vouch for it. Plus, it will save you hours of time chopping food. 😊
Need healthy snacks? Try our Paleovalley 100% Grass Fed Beef Sticks (in 4 different flavors) or are delicious Paleovalley Superfood Bars (both Apple-Cinnamon and Dark Chocolate are back in stock and better than ever!)