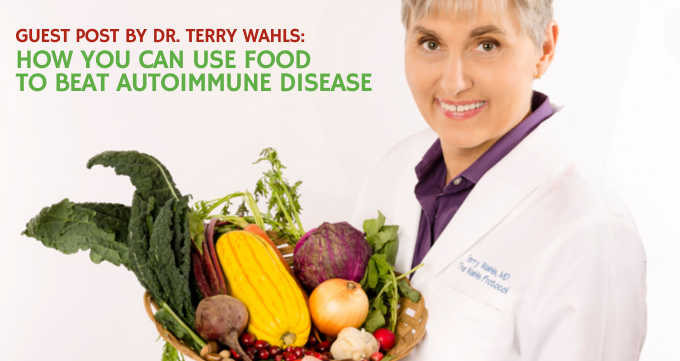 How You Can Use Food To Beat Autoimmune Disease
Today I'm excited to invite a dear friend and someone who I find incredibly inspiring to guest post on the Paleovalley blog… Dr. Terry Wahls!
Dr. Wahls is an expert in using food to treat autoimmune and other health conditions.
She was diagnosed with multiple sclerosis and even spent years confined to a wheelchair before transforming her life and taking back her health.
All with the power of food!
Whether you have MS, autoimmune disease, or other health conditions, I encourage you to read her story. I know you'll be as inspired as I am!
Introducing Dr. Terry Wahls...
If you have multiple sclerosis or other autoimmune issues, adding organ meats to your diet is an important next step in your healing journey. Those with autoimmune disorders, including multiple sclerosis, suffer from immune dysfunction, particularly an overly aggressive production of inflammatory molecules in the bloodstream and brain. There are several important vitamins and minerals in organ meat that can soothe immune dysfunction and promote repair in the body.
Why You Need The Essential Nutrients In Organ Meats
Retinol, or vitamin A, is essential to the development of immune cells, including T helper cells (Th cells), T regulatory cells (Tregs), and antibody-producing cells (B cells). Inadequate vitamin A levels may lead to abnormal immune function, decreasing tolerance and increasing the risk of autoimmunity. Carotenoids in plants, such as beta-carotene, can be converted by gut enzymes into retinol, which is the active form of vitamin A.
However, there is considerable variability in the efficiency of our enzymes that do this conversion. Depending on your enzymes, you may have a 70% reduction in your ability to convert plant-based carotenoids into retinol. Those with an autoimmune diagnosis are more likely to have a less efficient conversion of beta carotene into retinol and would benefit from consuming liver, which is an excellent source of retinol.
In addition to retinol, organ meat is an excellent source of B vitamins, including vitamin B12 and folate. Many individuals with multiple sclerosis have an elevated homocysteine, which is a measure of the efficiency and effectiveness of our brains' use of B vitamins. If homocysteine is elevated, we likely have inadequate levels of B vitamins (especially vitamins B6, B9, and B12), which leads to a higher rate of neurodegeneration, cognitive decline, and heart disease. Liver is an especially good source of easily digested and absorbed B vitamins, which are critical for those with multiple sclerosis.
Why Studies Don't Show The Real Potential Of Nutrients To Heal Autoimmunity
Most studies of using supplements to treat multiple sclerosis or autoimmune disorders have disappointing results. We have multiple large epidemiologic studies of dietary intake and clinical outcomes that demonstrate that dietary patterns rich in vegetables and meat and low in added sugars (such as Wahls™ dietary plans) are strongly associated with better clinical outcomes for a specific disease. But a large, supplement-based clinical trial often fails to show much benefit using targeted nutritional supplement(s).
I am not surprised that supplement-based studies are often disappointing--food is complex, with synergy between the elements of each foodstuff and the overall dietary pattern, meaning what else you eat. Organ meats are more than vitamin A, B6, B9, and B12. They are a rich mixture of vitamins in multiple forms that interact with other vitamins, minerals, fatty acids, and compounds.
This complex interaction determines how we do the chemistry of life. We get these compounds in the biologic ratios that our cells expect, which is why dietary pattern studies that stress consumption of vegetables, berries, and meat, decreased sugars, and increased intake of these key nutrients have outcomes that are consistently more favorable than those that rely on supplements only.
You Can Transform Your Health With Real Food
I tell my patients to eat liver once a week, heart once a week, and mussels and oysters regularly. These foods offer powerful, healing nutrition for anyone with multiple sclerosis or a serious autoimmune problem.
Food is what nature intended. Food is what our cells expect. Food is what I teach my patients and the public to use to restore their health.
I have multiple sclerosis and declined relentlessly for 7 years, despite adopting a Paleo diet and using many supplements to support my mitochondria. It was when I re-imagined my Paleo diet, designing it specifically to deliver nutrients through food rather than supplements alone, that I restored my health.
Food is how I got out of the wheelchair and began walking, hiking, and biking again. Food is what I stress in my clinics and in my clinical trials.
The Wahls Protocol® Is For More Than Just MS
I teach the concepts of the Wahls Protocol® to patients in primary care and traumatic brain injury clinics. Adopting the protocol leads to stabilizing and regression of symptoms. Patients with high blood pressure, severe morbid obesity, rheumatoid arthritis, systemic lupus, fibromyalgia, traumatic brain injury, anxiety, and depression all improve when they follow the Wahls Protocol®.
I also use these concepts in my clinical trials, testing the Wahls Protocol® in the setting of multiple sclerosis to improve quality of life and reduce fatigue. I have written a book, The Revised and Expanded Wahls Protocol: A Radical New Way to Treat All Chronic Autoimmune Conditions Using Paleo Principles, that details the protocol.
The revised edition includes updated science and recommendations based on all that we've learned in the last five years. I explain how diet changes gene expression and can turn off disease-promoting genes and turn on health-promoting ones. I review the latest information on how gut bacteria increase or decrease inflammation in the brain and body. I explore how daily diet choices determine what bacteria grow in our bowels.
I have greatly expanded guidance on how to personalize the dietary recommendations based on your current symptoms and health issues. Even if you have the original edition of The Wahls Protocol, you will want to pick up the revised and expanded edition to get all the new information on diet personalization, microbiome, gene expression, health behavior change, metabolic resilience, emotional resilience, and neurorehabilitation.
If you want to see something extraordinary, check out the videos on my website that demonstrate the remarkable improvement in walking that our patients were able to achieve, and read our research papers.
Get Your Life Back, One Meal At A Time
If you use supplements, use whole food–based supplements, such as organ meat capsules, to ensure you are getting the benefits of food with all the wonderful synergy that whole foods supply.
Immune dysfunction, leaky gut, and altered microbiome are all present in the setting of multiple sclerosis and autoimmune processes. Adding organ meats to your diet, particularly from grass-fed and grass-finished animals, can help address these issues.
If you are ready to start feeling better, pick up my book today. If you want the support of a community of people on their own healing journey, attend the in-person seminar I host each summer.
At the Wahls Protocol® Seminar, I walk people through a group functional medicine consult to assess their health and identify the most important interventions that will be beneficial for restoring their health and vitality. We provide hands-on sessions to practice the skills to enhance success in adopting a therapeutic diet and lifestyle to restore health. People come back year after year to reconnect with friends and deepen their commitment to their well-being.
Dr. Terry Wahls Bio
Dr. Terry Wahls is an Institute for Functional Medicine Certified Practitioner and conducts clinical research using functional medicine principles in the setting of multiple sclerosis. In 2018 she was awarded the Institute for Functional Medicine's Linus Pauling Award for her contributions in research, clinical care, and patient advocacy. Dr. Wahls has secondary progressive multiple sclerosis, which confined her to a tilt-recline wheelchair for four years. Dr. Wahls restored her health using a diet and lifestyle program she designed specifically for her brain and now pedals her bike to work each day. She is the author of The Wahls Protocol: How I Beat Progressive MS Using Paleo Principles and Functional Medicine, The Wahls Protocol: A Radical New Way to Treat All Chronic Autoimmune Conditions Using Paleo Principles (paperback), and the cookbook The Wahls Protocol Cooking for Life: The Revolutionary Modern Paleo Plan to Treat All Chronic Autoimmune Conditions. Learn more about the current study Efficacy of Diet on Quality of Life in Multiple Sclerosis at terrywahls.com/msstudy. Pick up a one-page handout for the Wahls™ Diet. Follow her on Instagram @drterrywahls, and on Facebook/Twitter at @TerryWahls. Sign up to receive her weekly research updates.