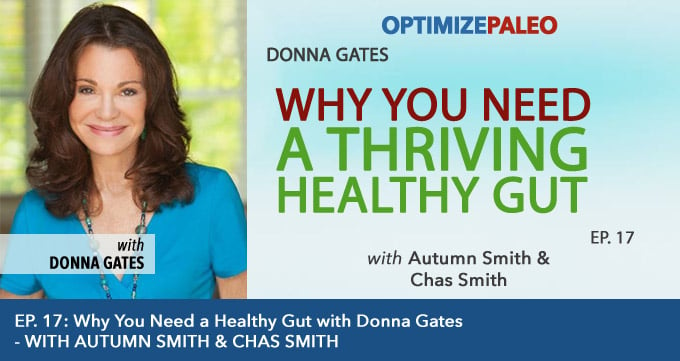 EP. 17: Why You Need a Healthy Gut with Donna Gates
80% of your immune system is located in your gut...
IN THIS EPISODE:
Donna Gates is the international best-selling author of The Body Ecology Diet: Recovering Your Health and Rebuilding Your Immunity, The Body Ecology Guide to Growing Young: and the Anti Aging Wisdom for Every Generation. She has been on a mission to change the way that the worlds eats for over 20 years and is a respected authority on digestive health and nutrition. No one is more passionate about the gut than Donna Gates and we are incredibly privileged to speak with her during our 17th podcast episode.
This episode is brimming juicy tidbits so if you have a gut, don't miss it!
Here's what you'll learn:
What inspired Donna to go on a mission to change the way the world eats
Why she brought the sweetener stevia to America
Why she was considered a crazy person in the beginning of her career
What are the biggest threats to the health of our guts today
How the way you were born affects your gut health
Why most babies are born with yeast infections
Why it pays to be a conscious parent
What to feed your baby to ignite a preference for healthy foods
Who should be eating fermented foods
How to make your own fermented veggies
Any easy way to cure constipation
Why some mothers feel better than ever after giving birth
And much more!
SHOW NOTES:
Check out Dr. Stephanie Seneff's website here:
https://bodyecology.com/
Thanks for listening!
Thanks so much for joining us this week. Have some feedback you'd like to share or a question you'd like to ask? Leave a note in the comment section below!
If you enjoyed this episode, please share it using the social media buttons you see in this post.
Also, we'd love it if you would leave an honest review for The Optimize Paleo Podcast on iTunes! Ratings and reviews are super helpful and greatly appreciated as it helps us expose this show to a wider audience and spread this information to more people who need to hear it. We read every review so we look forward to hearing from you!
And finally, don't forget to subscribe to the show on iTunes to get automatic updates…see you next time!
Click the button below to subscribe on iTunes: