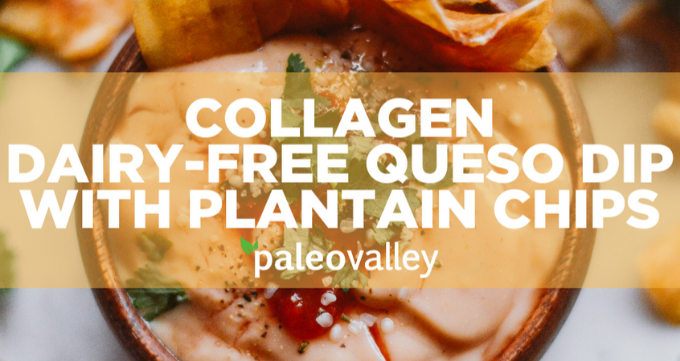 Collagen Dairy-Free Queso Dip with Plantain Chips Recipe
Ah, the familiar flavor of queso. From birthday parties to Superbowl gatherings, it's a common snack staple (and favorite). However, after going paleo it's easy to assume queso is out for good, considering its base is almost entirely made of different cheeses.
Not so fast.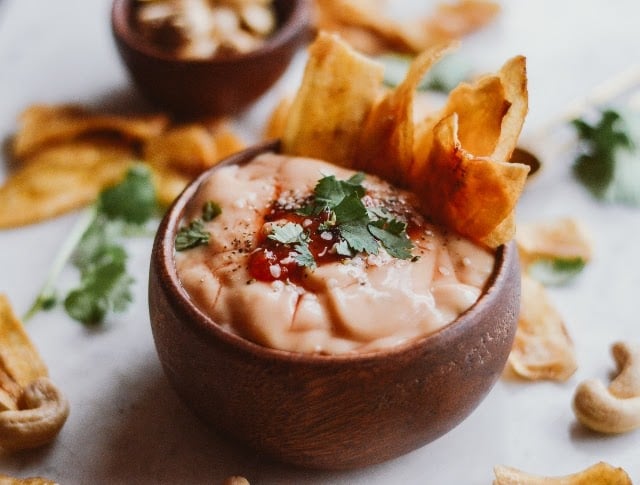 Thanks to cashews and a little creativity, queso is back and creamier and richer than ever.
Aside from flavor, it's also infused with our 100% Grass Fed Bone Broth Protein: the flavorless powder that gives you all the benefits of bone broth minus the hours on the stove.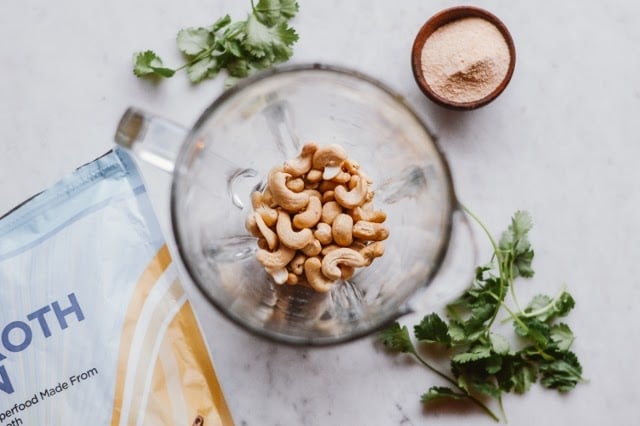 Bone broth is rich in collagen and amino acids, making this queso not only a "safe" paleo snack option, but also a potent anti-aging and anti-inflammatory superfood.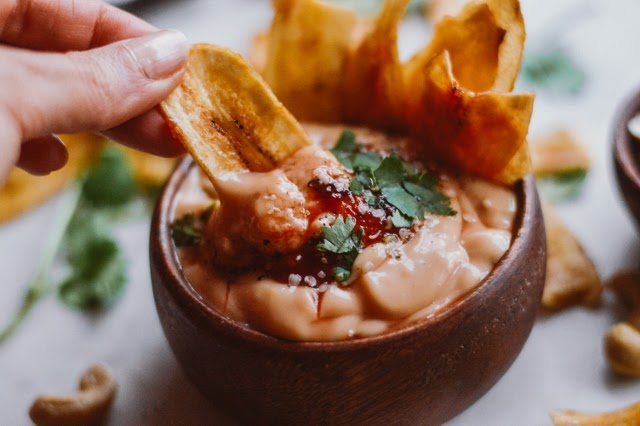 Whip up a quick batch for your next gathering and serve with a side of lightly sweet plantain chips for a flavor combo that satisfies everyone.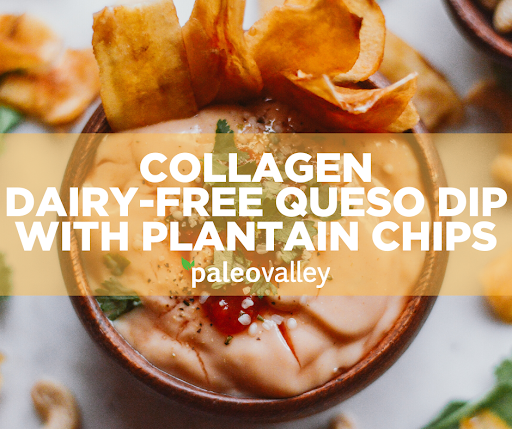 Collagen Queso Dip with Plantain Chips
Prep time: 5-7 minutes
Total time: 5-7 minutes
Serves: 2-4 people

Ingredients:
1 cup raw, unsalted cashews
¼ cup water
¼ cup veggie or chicken stock
1 scoop Paleovalley Bone Broth Protein
1 tsp taco seasoning, store-bought or using the homemade recipe below
4-ounce can organic diced green chiles (the chiles AND the juice in the can)
Plantain chips to serve
Parsley or cilantro for garnish
Taco Seasoning:
1 Tbsp chili powder
¼ tsp garlic powder
¼ tsp onion powder
¼ tsp crushed red pepper flakes
¼ tsp dried oregano
½ tsp paprika
1 ½ tsp ground cumin
1 tsp sea salt
1 tsp black pepper
Equipment:
Directions:
Combine all ingredients in a high-speed blender, then blend on high for 90 seconds, or until smooth and creamy (you may have to scoop the mixture down the sides at some point. If you find it too thick, add 1 tbsp of water until a dip consistency is reached).
Serve hot (warm on stove) or at room temperature with plantain chips and garnish with fresh herbs.
Paleovalley Bone Broth Protein can be added to a variety of dishes - even your smoothies! It has no flavor and a smooth texture, giving you the benefits of a cup of bone broth without hours of simmering on the stove.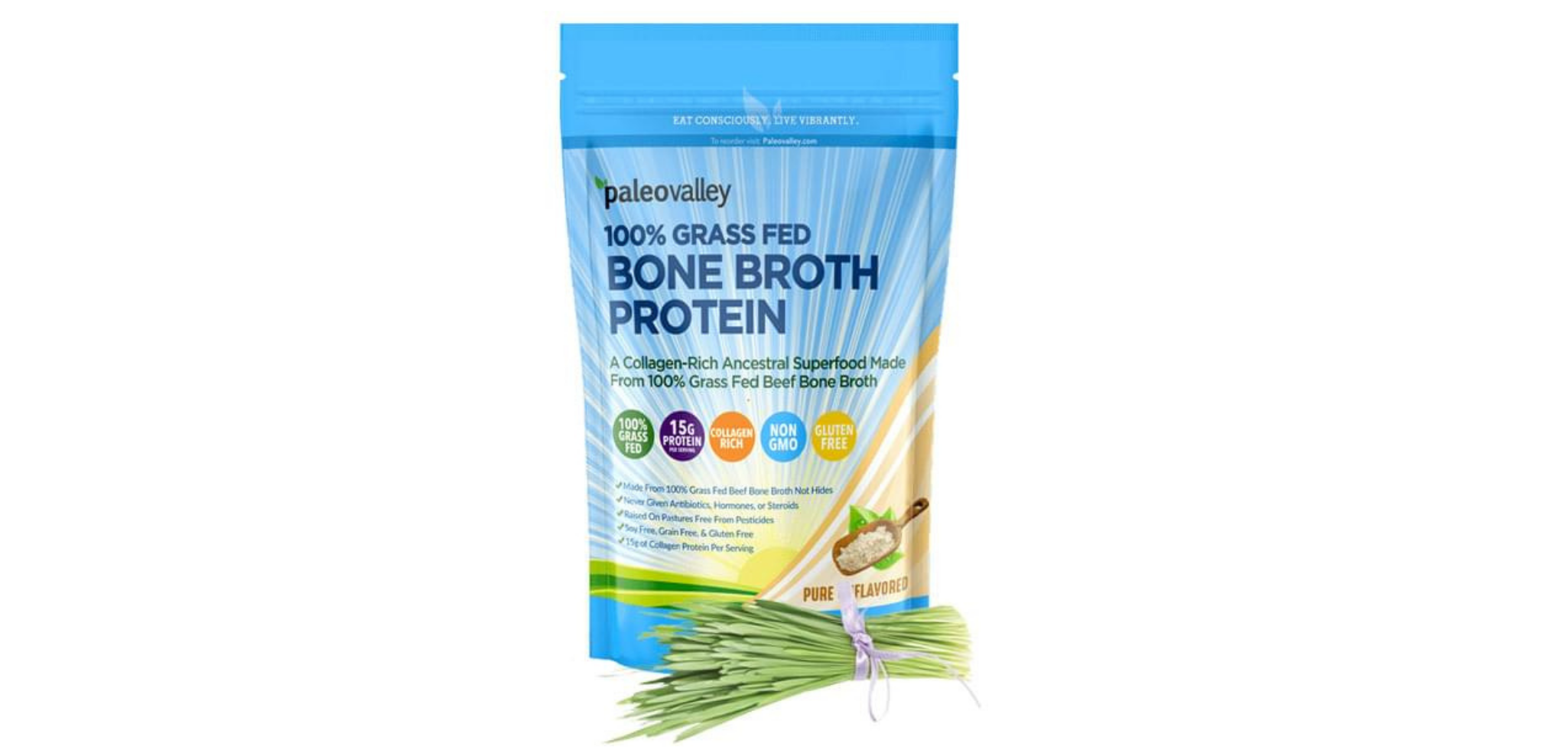 Try Grass Fed Bone Broth Protein Powder 100% Risk-Free + Get up to 20% OFF Today!