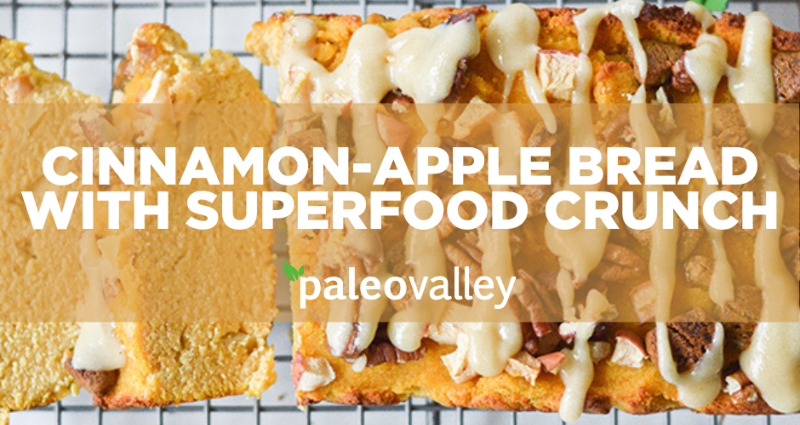 Cinnamon-Apple Bread with Superfood Crunch Recipe
So much has been said about good bread, that most of us don't need convincing to whip up a Paleo-fied loaf. However, what if good bread could be… better? This recipe takes a stab at answering that very question. Here, I've combined a moist Paleo Cinnamon-Apple Bread with some of the world's most powerful superfoods!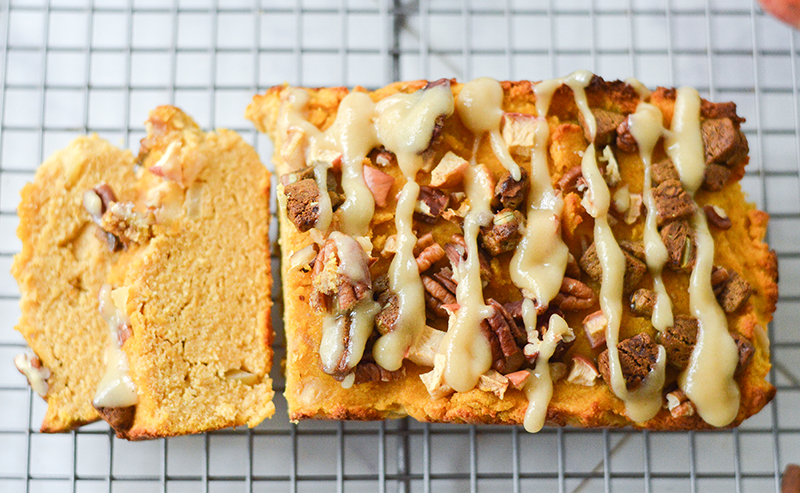 This Cinnamon-Apple Bread with Superfood Crunch contains an infusion of antioxidant-rich superfoods and Grass Fed Bone Broth Protein from Paleovalley's Apple Cinnamon Superfood Bars. Eaten as a dessert or instead of a breakfast muffin, it satisfies a sweet tooth and provides essential nutrients.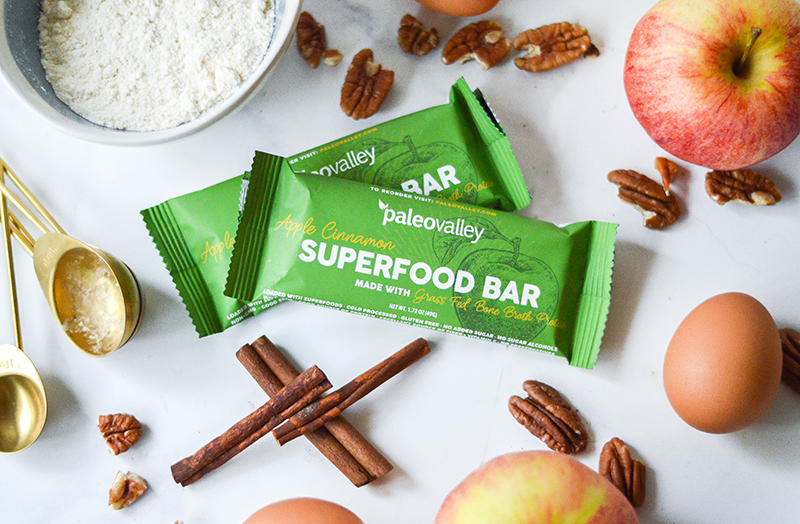 The Superfood Bars used in the topping for this bread is filled with 100% Grass Fed Bone Broth Protein, alongside organic superfoods like organic acerola cherry, turmeric, spirulina, spinach, blueberries and more. Not to mention, there is no added sugar, gluten, grains, OR soy.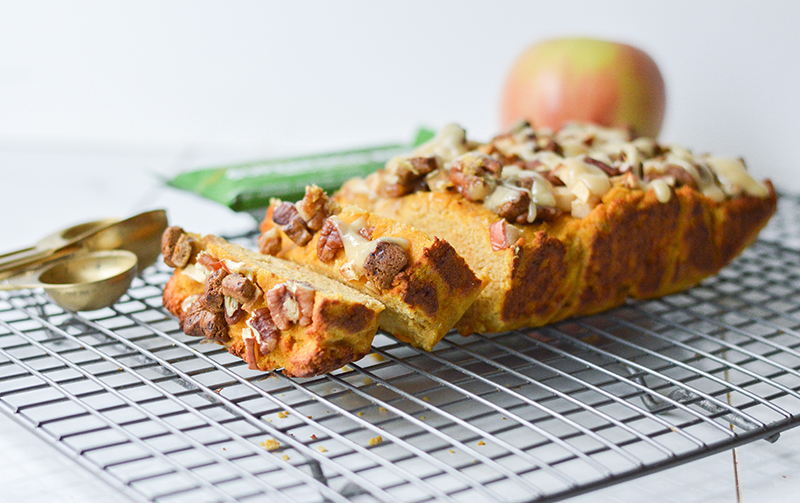 This bread can be likened to dessert bread, rather than sandwich bread. The interior is moist and dense, while the topping provides a satisfying crunch + creamy chewiness. Cheers to indulging in a bread that contains essential minerals and vitamins alongside healthy fats and protein.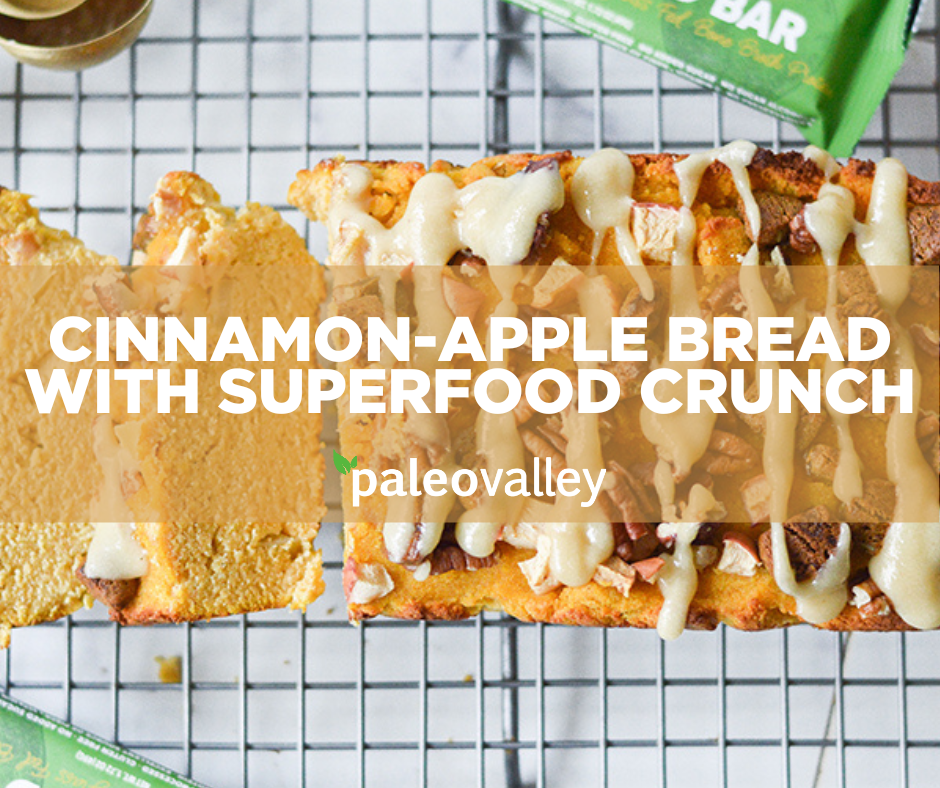 Cinnamon-Apple Bread with Superfood Crunch
Prep time: 15 - 20 minutes
Total time: 1 ½ - 2 hours
Serves: 10
Ingredients
4 eggs
1 Paleovalley Apple Cinnamon Superfood Bar, finely chopped
⅓ cup full-fat coconut milk
⅓ cup + 1 Tbsp maple syrup
3 Tbsp melted coconut oil
1 ½ tsp vanilla extract
½ cup applesauce, unsweetened
⅔ cup coconut flour
3 Tbsp tapioca flour
1 Tbsp cinnamon
¼ tsp nutmeg
¼ tsp allspice
¼ tsp sea salt
1 tsp baking soda
2 Tbsp pecans
1 cup apple, peeled and diced
Optional Icing
6 Tbsp monk fruit powdered sugar
½ tsp cinnamon
1 tsp maple syrup
1 ½ tsp full-fat coconut milk
¼ tsp vanilla extract
Equipment
8x4 loaf pan
Parchment paper
Large bowls
Wire cooling rack
Directions
Preheat oven to 350ºF and line your loaf pan with parchment paper.
In a medium bowl, combine dry ingredients (minus the pecans and Paleovalley Apple Cinnamon Superfood Bar) and set aside.
Whisk together eggs, coconut milk, vanilla, maple syrup, applesauce, and coconut oil in a large bowl until well combined.
Stir dry ingredients into wet until there are no clumps. Keep in mind that the batter will be very thick due to the absorptive qualities of the coconut flour.
Fold in 3/4 cup of the chopped apples, keeping some aside to sprinkle over the top of the loaf.
Transfer the batter to the prepared loaf pan, then sprinkle the top with remaining apples and the diced Paleovalley Apple Cinnamon Superfood Bar.
Make sure the bread batter is spread evenly by tapping it on the counter a few times.
Bake in a preheated oven for 50-60 minutes, or until the top is golden brown and a toothpick inserted at the center of the loaf comes out clean.
Remove from oven and cool for roughly 20 minutes. Then, transfer to a wire rack to cool completely.
Prepare the icing while the bread cools. Mix together the coconut milk, maple syrup, cinnamon, and vanilla until smooth, then whisk in powdered sugar until you get an icing consistency.
Drizzle the icing over the completely cooled bread before serving. Store in the refrigerator, covered, for up to 4 days.
Paleovalley Superfood Bars come in a variety of flavors, including Lemon Meringue, Red Velvet, and Double Chocolate Chip. Use them in recipes, or as one of the yummiest, most nutrient-dense snack bars around.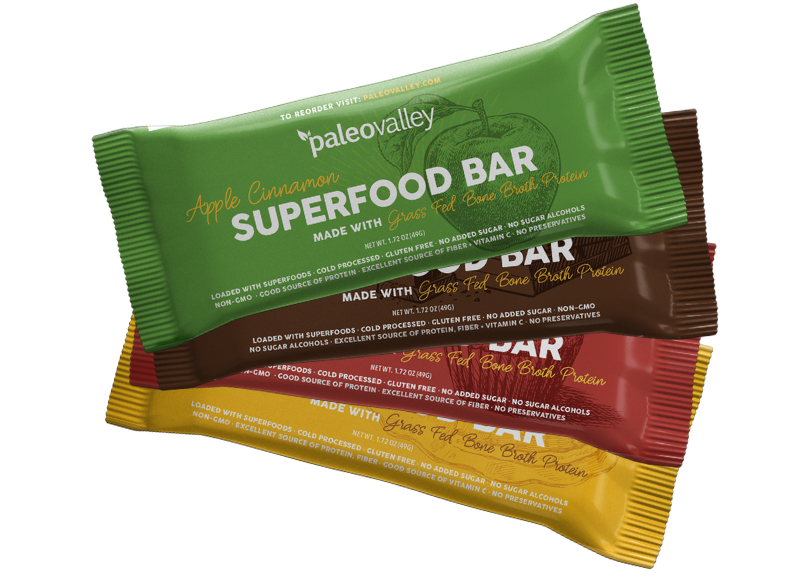 >>> Click HERE to Try Paleovalley Superfood Bars RISK-FREE + SAVE up to 20% TODAY!