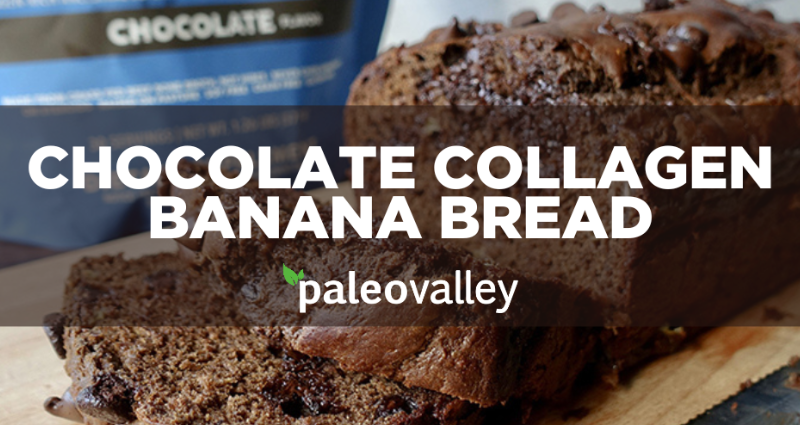 Chocolate Collagen Banana Bread Recipe
Whether you just love to bake or are looking for a creative way to get some extra nutrients in… This crave-worthy recipe is for you!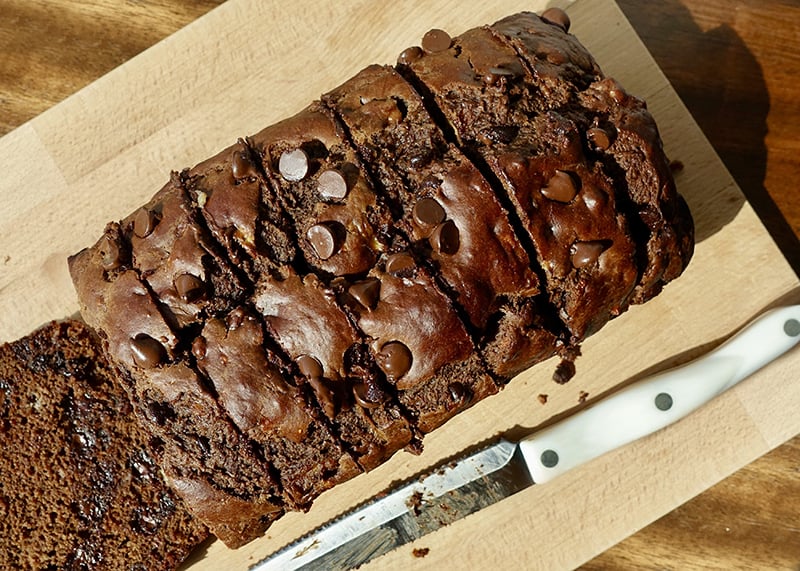 Requiring minimal equipment and simple ingredients, this chocolate banana bread is gluten-free, dairy-free, hassle-free, and bursting with rich-chocolatey flavor!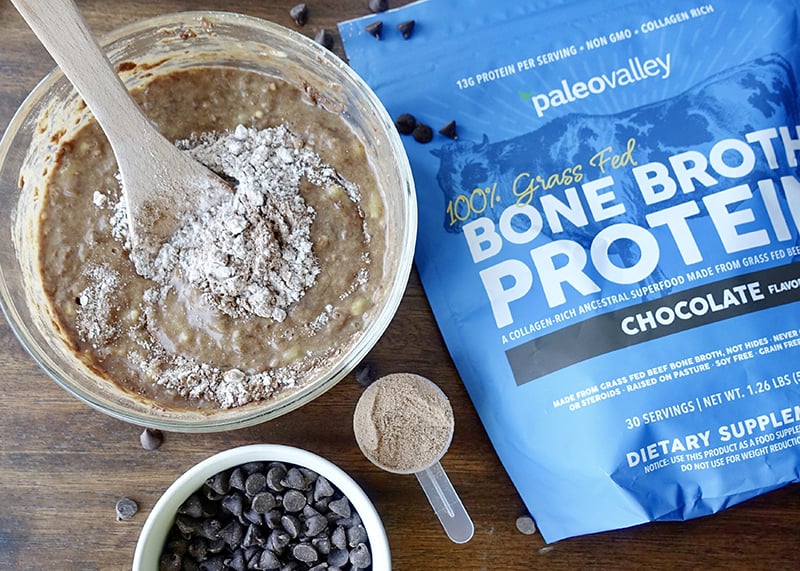 Reminiscent of a chocolate cake, you'd never guess it's packed with whole-food nutrients and anti-aging properties. All thanks to the high-quality, bioavailable collagen in its secret ingredient: Paleovalley's Grass Fed Chocolate Bone Broth Protein Powder.
Collagen has been shown to strengthen hair and nails, keep skin looking youthful, support strong, healthy joints, and even support optimal gut health…
Making this banana bread a decadent treat that will satisfy your sweet tooth and support vibrant health all year long!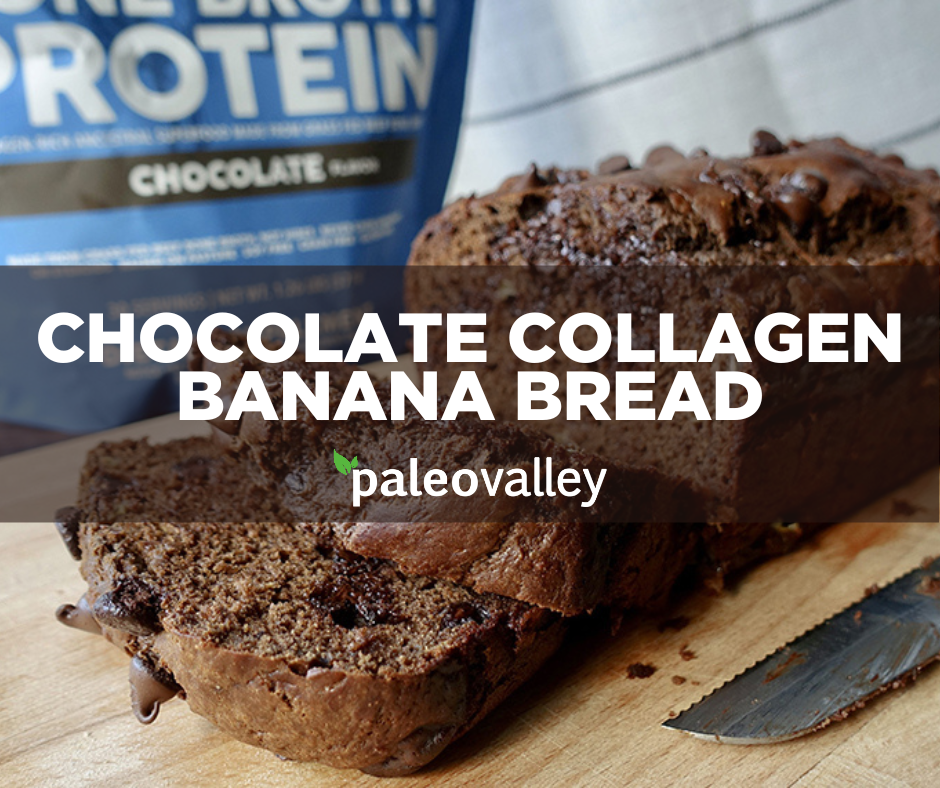 Chocolate Collagen Banana Bread
Prep time: 10 minutes
Total time: 65 minutes
Serves: 8 slices
Ingredients
3 overripe bananas, mashed well
4 eggs
¼ cup butter, melted and cooled
½ cup date syrup (honey or maple syrup can be used as a substitute)
1 ½ cup almond flour
½ cup tapioca powder
¼ cup cocoa powder
1 tsp baking soda
1 tsp cinnamon
¼ tsp salt
1 cup chocolate chips (reserve ¼ cup for topping)
Equipment
Large mixing bowl
Loaf pan
Directions
Preheat the oven to 350ºF. Grease the sides of a loaf pan and set aside.
In a large bowl, mix together mashed banana, eggs, butter, and date syrup until thoroughly combined.
Slowly fold in almond flour, tapioca powder, cocoa powder, Grass Fed Chocolate Bone Broth Protein Powder, baking soda, cinnamon, and salt. Mix until well combined.
Fold in ¾ cups of chocolate chips.
Pour batter into prepared loaf pan and top with remaining ¼ cup of chocolate chips.
Bake for 50-60 minutes, or until a toothpick comes out clean.
Let cool for at least 30 minutes before removing from loaf pan and cutting into 8 even slices.
There's nothing Paleovalley Bone Broth Protein powder can't do. From turning baked goods into superfoods, to adding a dose of anti-aging collagen protein to your daily smoothie, it's my go-to way to get all the benefits of bone broth without hours in the kitchen.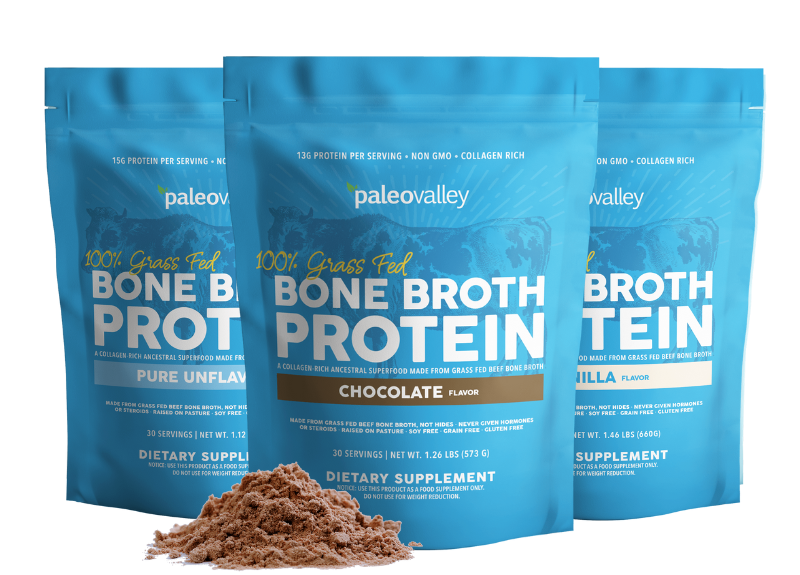 >>> Click HERE to Try Bone Broth Protein RISK-FREE + Get up to 20% Off TODAY!