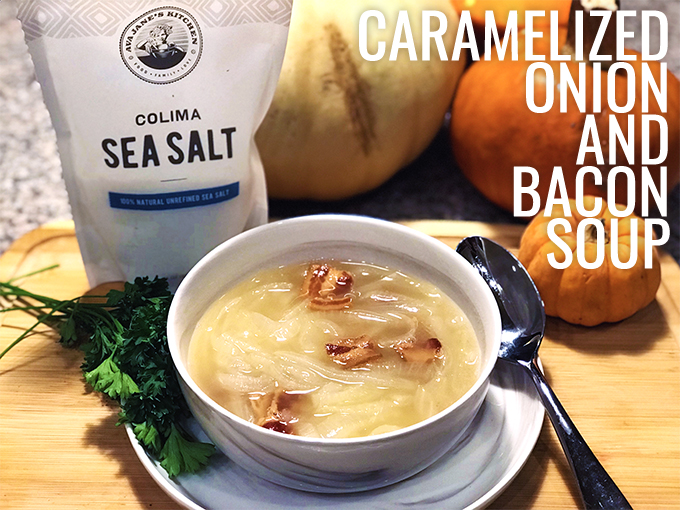 Caramelized Onion and Bacon Soup
Impress Your friend with This FABULOUS Comfort Soup! Perfect for any cool weather day.
Now, there IS a correct way and incorrect way to caramelize onions too, which I'll explain further in just a second, so please stay tuned. 😊
Caramelized Onion and Bacon Soup
Makes 3-4 servings
Cooking Time: 1 hour
Ingredients:
6 slices of nitrate-free bacon, cut into 1-inch pieces
3 large yellow onions, halved and thinly sliced lengthwise
4 cups low-sodium beef broth
Directions:
In a medium Dutch oven or stockpot over medium-high heat, cook bacon, stirring occasionally, until browned. Remove and set aside.
Pour off all but 1 Tbsp. of bacon fat from pot and add the onions, and reduce heat to medium-low. Cook, stirring occasionally and scraping up browned bits from the pot with a wooden spoon until onions are very soft and deep golden brown. This process takes about 45-60 minutes. Once the onions are very soft and caramelized, add the bacon and the beef broth then bring to a boil.
Remove from heat and serve immediately.
Now I know the recipe says 1 hour but don't let that deter you. Almost all of your time will be spent slowly cooking onions until the moisture evaporates. You'll be left with perfectly caramelized onions that taste like candy.
As mentioned above there is an incorrect way to cook this and that is in regards to using salt. Salt draws out the moisture too much and makes it difficult to properly carmelized and brown the onions. So, avoid using salt when sweating the onions. We can always add extra sea salt like Colima at the very end to re-season the soup.
Just remember, onions take time to slowly brown and caramelize, so be patient. Most likely when you think they're done, they're not. They really do take 45-60 minutes. Continue cooking them until they're golden brown and extremely soft. Then enjoy the truly outstanding flavor!
Right after the holiday season, it seems like, junk food inevitably tends to find us right? More often than not we gain a bunch of weight, feel bad and the cycle continues. It's my goal that if this is a pattern for you, we break that this year! 😊
The two sure-fire ways to keep yourself healthy long after the holiday season are to follow simple, Paleo recipes (like this one) that are full of nutrient-rich, whole foods and contain zero refined sugars and carbs.
The second is to understand HOW and WHICH problematic foods can really be affecting your body and how to correct that quickly.
One of the greatest resources I've found (although she's far too humble to admit it) is Autumn's Radiate in 28 Quickstart Guide. It's having a profound impact on hundreds of people lives, including myself. It's helped eradicate my digestive issues I've had for the last 15 years AND I lost 12 pounds too, which was such an added bonus!
So don't let the holidays wreck your health this year! Instead, let's be prepared and intentional. Here's a link if you want to pick up a copy of Autumn's Radiate in 28 Quickstart Guide now - it's even free, we just kindly ask you cover the small S/H cost. Here's to looking and feeling your best ever!