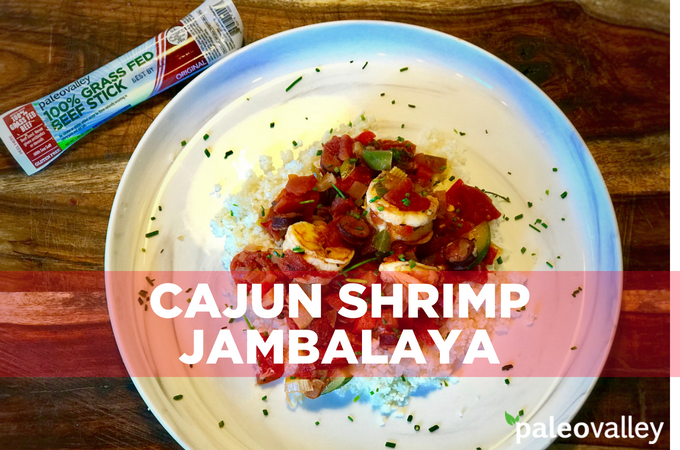 Cajun Shrimp Jambalaya Recipe
Serves 4
Prep Time: 20 mins
Cook Time: 25 mins
Ingredients:
10 oz. shrimp, peeled and deveined
4 - Paleovalley 100% Grass Fed Beef Sticks (I used 2 original and 2 jalapeño flavors), sliced
1 red bell peppers, finely chopped
1 green bell peppers, finely chopped
1 sweet onion, finely chopped
2 celery stalks, finely chopped
1 large zucchini, sliced
3 garlic cloves, crushed
1/2 jalapeno, finely chopped
2 - 14 oz. cans chopped tomatoes
1 tsp. smoked paprika
1 tsp. chili powder
1 tsp. dried thyme
1 tsp. dried oregano
Sea salt & ground pepper to taste
1 Tbsp coconut oil
Garnish with chopped chives
(optional) 1/2 tsp. cayenne pepper
(optional) Cauliflower rice, to serve
Equipment:
Directions:
Melt the coconut oil in the pan on medium heat. Add in the beef sticks and continue cooking until browned. Remove the beef sticks, set them aside and leave the oil in the pan.
Add the onion, bell peppers and celery to the pan and cook for 5-7 minutes, or until they soften.
Next add in the zucchini, garlic cloves, and jalapeño to the pan. Cook for another 5 minutes.
Add the beef sticks back in along with the spices, tomatoes, and shrimp to the pan. Cook another 7-10 minutes, until the sauce, reduces and the shrimp is fully cooked.
Top with chives and serve atop cauliflower rice (if using).
I hope you try this flavorful recipe for one of your next meals. It's super simple yet still delicious.
And if you're worried about too much spice just use less cayenne pepper and jalapeño and you'll love it. Remember, start with less spice because can always add more as you go.