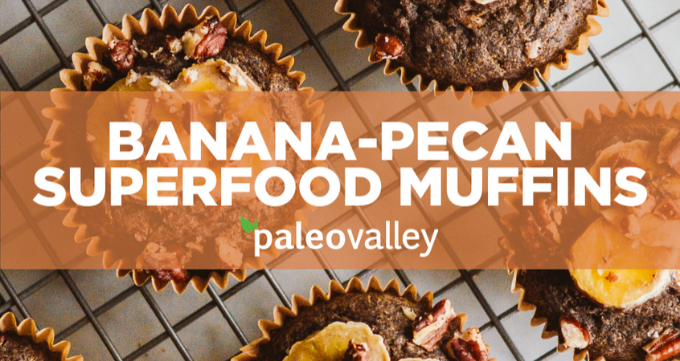 Banana-Pecan Superfood Muffins Recipe
Banana-nut muffins often trigger feelings of nostalgia: buttery, banana, and cinnamon-filled fragrances wafting through the house when we were kids, concerned only with how delicious each fluffy bite would be when they popped out of the oven.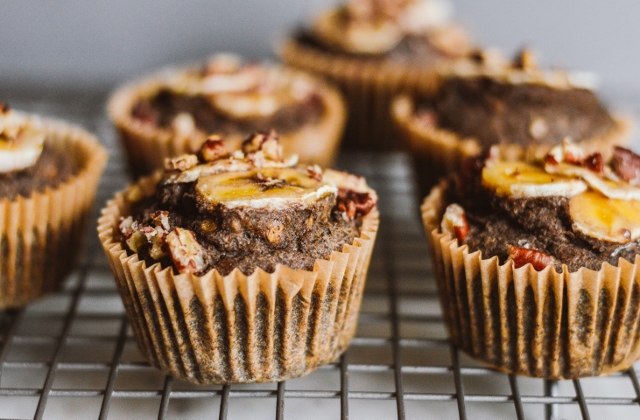 Here, we're bringing back the nostalgia of banana-nut bread, with a twist. These 100% paleo banana-pecan muffins are filled with only natural sugars and are infused with more than 23 superfoods.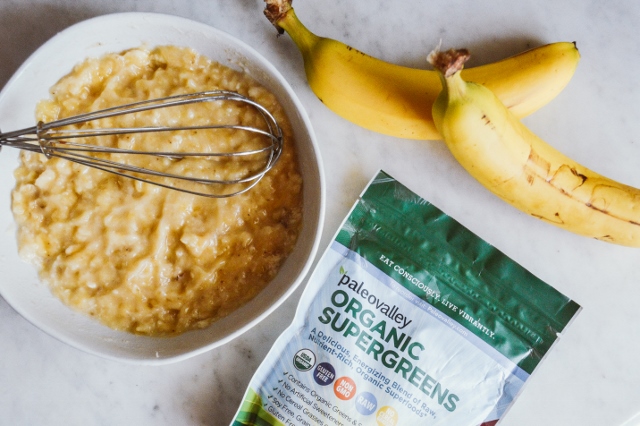 Each scoop of Paleovalley Organic Supergreens powder contains an abundance of veggies, fruits, and super berries, adding a high dose of antioxidants and vitamins to smoothies and baked goods.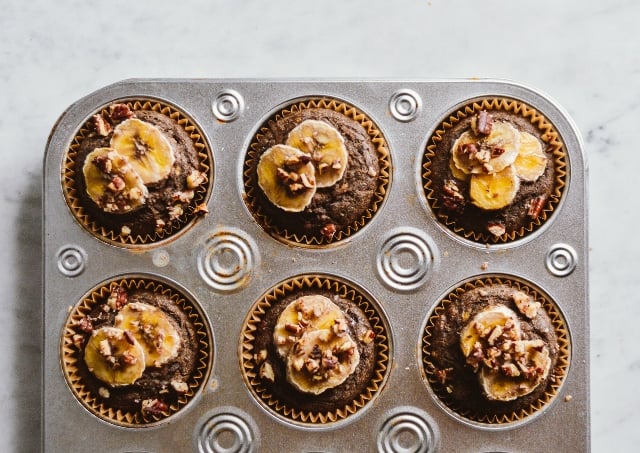 One of the best parts is the flavor: even though these are packed with veggies, you don't taste them. The flavor is 100% that of smooth fruits, which also adds another rich layer of flavor to these muffins.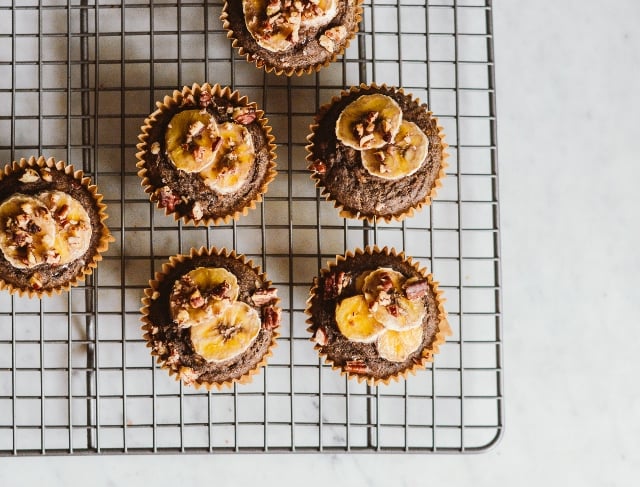 Bake up a batch of these for weekday breakfasts, or for an indulgent weekend brunch. Feel free to add in additional toppings and mix-ins, like chocolate chips or shredded coconut.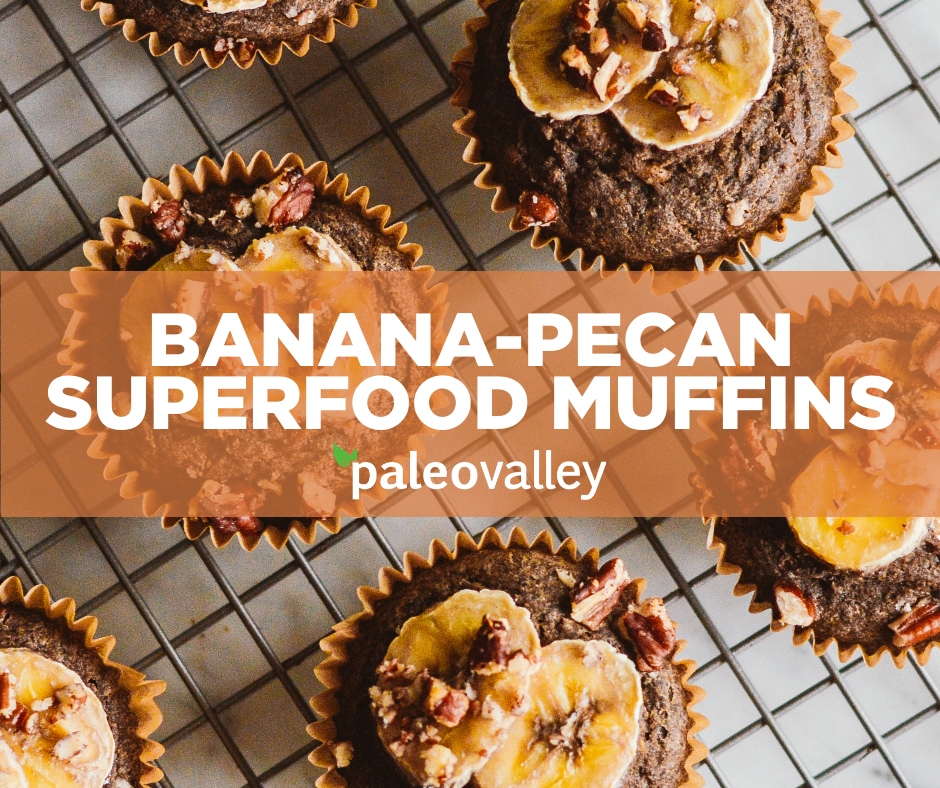 Banana-Pecan Superfood Muffins
Prep time: 10 minutes
Total time: 25 minutes
Serves: 8-9 muffins
Ingredients
3 small extra ripe bananas, mashed well (roughly ¾ cup total)
⅓ cup + 1 Tbsp almond butter
1 large egg
½ tsp pure organic vanilla extract
1 cup almond flour
1 scoop Paleovalley Supergreens
1 tsp baking soda
1 tsp ground cinnamon
½ tsp ground nutmeg
¼ tsp allspice
¼ tsp sea salt
Thinly sliced banana + ⅓ cup chopped pecans for topping
Equipment
Large mixing bowl
Muffin pan
Directions
Preheat oven to 350ºF.
Add paper muffin tins to muffin pan.
In a large bowl mix almond butter, egg, and vanilla. Use hand mixer to combine, or whisk together vigorously. Add in your mashed banana and combine until smooth.
Add in almond flour and Organic Supergreens, then evenly sprinkle on baking soda, cinnamon, nutmeg, allspice, and salt. Use a large spoon spatula to gently combine until no lumps are present in batter.
Evenly distribute the batter into 9 muffin cups, about ⅔ of the way full. Top each with sliced banana and chopped pecans as desired.
Bake muffins for 12-18 minutes, or until inserted toothpick comes out clean. Muffins will rise and cracks should appear when done. Allow them to cool in pan for 5 minutes before transferring to wire rack to cool completely.
Serve.
Organic Supergreens Powder is an easy way to increase the nutrient density of any recipe! It turns everything from smoothies to baked goods into anti-aging, gut-healing superfoods with just one delicious scoop.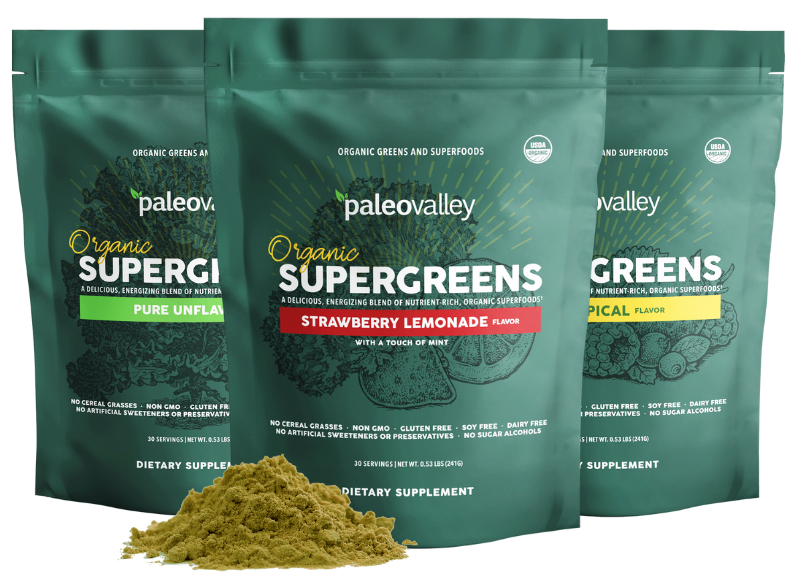 Click HERE to Try Supergreens RISK-FREE + Get up to 20% Off TODAY!