SOLD OUT: Click Here to be notified when they are back in stock.
Delicious, Nutrient-Dense, Cold-Processed,
Antioxidant-Rich, Organic Paleo Superfood Bar
Organic Paleo Superfood Bar
Quantity: 12 bars per box (60g per bar)
Made with certified organic, antioxidant-rich superfoods
Cold processed
100% gluten free, soy free, GMO free, pesticide and chemical free
Contains healthy proteins, fats, and vital nutrients
No added sugars, artificial sweeteners, or sugar alcohols
Naturally sweetened with a touch of organic wildflower honey

The Highest Quality Superfood Bar In The World
Paleovalley's Organic Paleo Superfood Bar is the highest quality food bar on the planet without exception. Most other food bars contain cheap, low quality ingredients but our superfood bars use incredibly nutrient-dense, organic ingredients and taste delicious! Most bars contain large amounts of refined sugar, gluten, soy, oats, legumes, and denatured proteins but we wanted to make an on-the-go snack that contains nutrient-dense superfoods known to improve health while avoiding all of the standard ingredients found in other low-quality bars.
Paleovalley Organic Paleo Superfood Bars are sourced from the highest quality, minimally processed, nutrient-rich superfoods and contain no gluten, no soy, no dairy, no oats, no refined sugars, no sugar alcohols, and no artificial sweeteners. You get an antioxidant-rich, deliciously flavored, superfood bar that you can take with you for a healthy snack anytime.
The optimal balance of healthy proteins, fats, vitamin and nutrient-rich superfoods, and a touch of sweetness from organic wildflower honey and organic dates promotes blood sugar stability unlike so many other food bars on the market today.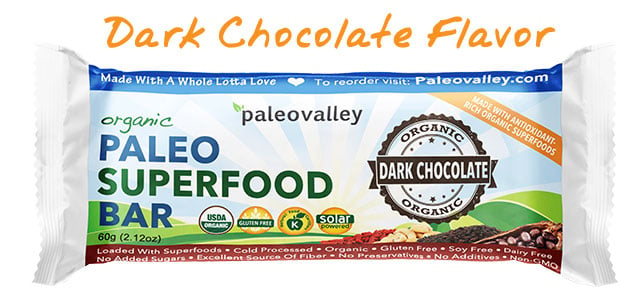 Most food manufacturers hope that you don't look at their ingredient list because of the low quality junk they put in their products. We are so in love with our superfood bars and put in so much effort finding the highest quality, whole food ingredients that we are more than happy to pull back the curtain and show you everything we put inside!

Organic Cashews
These nuts have a delicately sweet flavor and contain heart-healthy monounsaturated fats similar to those found in olive oil. They are an excellent source of copper, phosphorus, magnesium, manganese, and zinc.

Organic Wildflower Honey
Gives our bars a delicious, natural sweetness without the damaging effects of sugar. It has shown to have little to no effect on blood glucose levels while also lowering triglycerides, LDL cholesterol, and C-reactive protein (a marker of inflammation). It contains a wealth of nutrients, enzymes, and antioxidants that more processed honeys do not.

Organic Pumpkin Seeds
Contain a wide variety of nutrients such as magnesium, manganese, copper, protein and zinc. These little nutritional powerhouses also contain free-radical scavenging antioxidants.

Organic Dates
A great source of fiber, iron, potassium, and vitamins A, B, and K. They can help in protection against free radical damage, helping prevent stroke, coronary heart disease and the development of many cancers. Dates are easily digested allowing your body to absorb all of their benefits.

Organic Cacao
Contains more than 300 different chemical compounds and more than 20 times the antioxidant power of blueberries. It has been associated with lower risk of heart disease and stroke and can improve heart health, cholesterol, stress levels, and inflammation.

Organic Flax Seeds
Known for their high omega-3 fatty acid content beneficial for cardiovascular health and protecting blood vessels against inflammation. They are a very good source of fiber and have been shown to aid in digestive tract function.

Organic Sunflower Seeds
An excellent source of vitamin E. They also contain phytosterols which are believed to reduce blood levels of cholesterol, enhance the immune response and decrease risk of certain cancers.

Organic Coconut Butter
Contains medium chain fatty acids that increase energy expenditure and have antimicrobial properties that prevent illness. It is one of the few foods that contain lauric acid, a fatty acid that is anti-fungal, anti-bacterial and anti-viral.

Organic Chia Seeds
Found in Central and South America and are rich in the omega-3 fatty acid ALA (alpha-linolenic acid). They contain high amounts of dietary fiber as well as other minerals and nutrients.

Organic Vanilla
Contains vanillin - a natural antioxidant that gives vanilla beans their distinctive aroma as well as powerful liver-protecting abilities and anti-inflammatory properties.

Organic Goji Berries
A delicious fruit found primarily in the far east. They contain numerous trace minerals and vitamins… even packing more vitamin C by weight than an orange.

Organic Hemp Seeds
A superfood that can provide a balanced ratio of omega-6 and omega-3 fatty acids, proteins, vitamins A, E and D, and many B vitamins. They are also rich in sodium, calcium, dietary fiber and iron.

Unrefined Sea Salt
Contains over 90 trace minerals that are incredibly health supportive.

Organic Blueberries
Antioxidant and phytochemical rich powerhouses. They are high in potassium and vitamin C and may lower your risk of heart disease and cancer. They also have wonderful anti-inflammatory properties.

Organic Spirulina
A micro-algae that is 60% protein by weight and contains all essential amino acids. Spirulina is loaded with iron and vitamin K as well as other pigments with antioxidant properties.

Organic Chlorella
High in protein, fatty acids (including EPA), magnesium, zinc, iron, and chlorophyll, plus plenty of phytonutrients. It is also a powerful detoxifying superfood that helps your body eliminate unwanted metals and toxins.

Organic Acerola Cherry
Contains 65 times more vitamin C than an orange. The antioxidants and vitamin C contained in acerola helps boost the immune system, strengthen the liver, improve skin and improve your body's ability to regenerate tissue.
Other ingredients: Organic Jerusalem Artichoke Inulin, Organic Stevia, Organic Orange
Our 60 Day 100% Money-Back Guarantee
To show you how confident we are that this product will help you in your quest for optimal health and a leaner, stronger body, we are offering a 60 day money back guarantee! No questions asked, if you aren't satisfied simply return the unused portion and you will be refunded the full amount of your purchase.
Frequently Asked Questions:
What is the difference between Paleovalley Organic Paleo Superfood Bars and other bars on the market?
There is really no comparison. In every aspect Paleovalley Organic Paleo Superfood Bars are a superior choice. Other bars are full of overly-processed ingredients and loads of sugar. They frequently contain gluten, grains, oats, soy, rice protein, peanuts and other legumes, and fillers that give the bar weight but no health benefits whatsoever.
We use all 100% certified organic superfoods so you get a diverse spectrum of nutrients and enzymes in each bar. Our Organic Paleo Superfood Bars are also cold-processed, gluten free, soy free, grain free, legume free, and contain no refined sugars, artificial sweeteners or sugar alcohols. Many so-called "healthy" bars use very cheap ingredients that simply don't have any significant health benefits. Our goal was to make a truly healthy, nutrient-dense superfood bar that was healthy AND delicious…give it a try and we know you'll agree!
Are there any artificial ingredients in Organic Paleo Superfood Bars?
Absolutely not! When you look at our list of ingredients you'll find that you can actually pronounce each one. Every ingredient is certified organic and has unique health promoting properties.
Are Paleovalley Organic Paleo Superfood Bars gluten free?
Yes! As with all of our products our bars are 100% gluten free, grain free, soy free, and corn free.
Do Paleovalley Organic Paleo Superfood Bars contain sugar?
We do not use any refined sugar, artificial sweeteners, or sugar alcohols whatsoever. Our bars are only sweetened with organic wildflower honey, organic dates, and a tiny amount of organic stevia. Wildflower honey has been shown in studies to have little to no effect on blood sugar and has many other amazing benefits as well. It is a whole food that was available to our ancestors and contains a wealth of nutrients, enzymes, and antioxidants that more processed honeys do not.
Are Paleovalley Organic Paleo Superfood Bars high-heat processed?
No. Our bars are cold processed so that we do not denature the fragile enzymes, proteins, and nutrients found in the superfoods.
How long will each bar last?
Our bars have a shelf life of 1 year. We recommend storing them in a cool, dry place.
Do the bars need to be refrigerated?
No they do not. Our bars are completely shelf stable.
Do Paleovalley Organic Paleo Superfood Bars taste good?
100% yes! We spent a lot of time crafting a recipe that includes nutrient-rich ingredients and also tastes amazing. Give them a try…you won't be disappointed. If, for some reason, you don't love them just return them and we'll refund you every penny.
How many bars are in each box?
12 bars per box.
If I choose the Subscribe and Save option how does that work and what are the benefits?
Our Subscribe and Save program is a win-win for everyone! First off, it is 100% optional. You benefit by receiving a huge 30% off discount and having convenient auto-shipping so you never run out of bars. You have full control and can easily login to your account online to edit, change, or cancel your Subscribe and Save subscription. On your account page you can choose to add more or less bars, change the frequency of your deliveries (we have 2 week, 1 month, 2 month, & 3 month recurring options), change your address, billing, and even the date of your next shipment. We'll also send you an automated reminder email 48 hours before your next shipment to allow you time to reschedule or cancel your subscription as you see fit.
For us, we benefit because it helps us to keep our costs down by knowing how much we need to reorder every month. This way we can continue making high quality products that are still affordable.
If I order today how long will it take to be shipped?
Your order will be shipped within 24 hours. We also provide 2-3 day priority shipping to anywhere in the U.S. so your order should arrive in just a few days.